Bernice (Hagenbuch) Bogart: One of the Few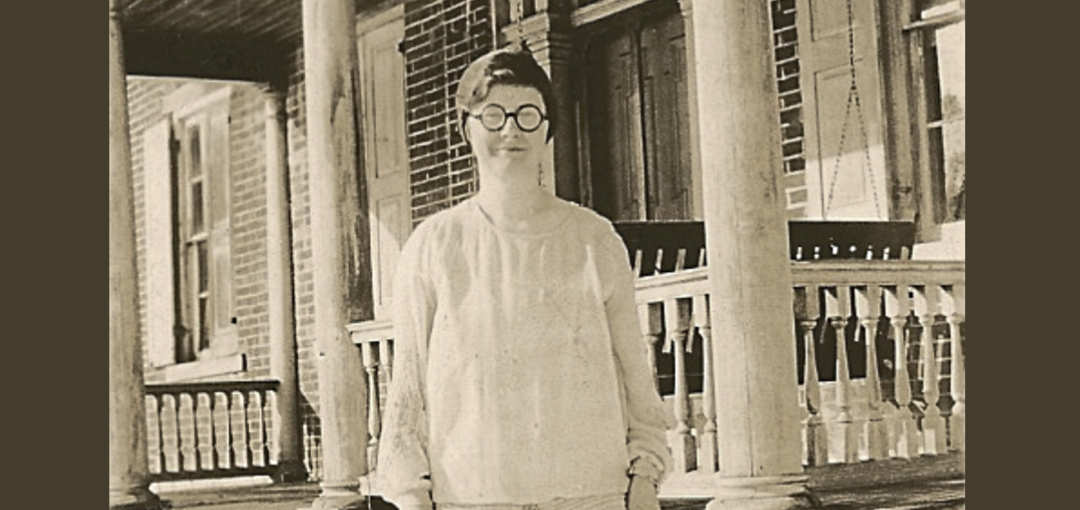 I always knew her as Bernice Bogart. She was one of many of my father's first cousins. Her father was Percy Hagenbuch, that great uncle of mine who first instilled in me a sense of family history. Bernice kept it going because she was one of the few who not only could tick off who was related to whom, but also had documented the births, deaths, and relationships of my great grandfather William's (b. 1807) descendants. These she had recorded on a large window shade with a drawing of a tree—each branch, limb, twig, and leaf representing a person for six generations. That window shade has been lost, but what it represented has stayed with me for more than 60 years.
Bernice May Hagenbuch was born in 1903 and died in 1992. She married Herman Bogart in 1927 and they farmed in Limestone Township, Montour County, Pennsylvania in the heart of that region's Hagenbuch Country. They had two children: Kenneth (b. 1932) and Leona (b. 1935). Their neighbors were aunts, uncles, cousins, and siblings. She grew up attending the "Hagenbuch church," Oak Grove Lutheran, where many of our ancestors are buried. Bernice was one of the oldest of my father's first cousins, so she knew the generation before her well including her father's first cousins, brothers, and sisters. And, she was her father's daughter as she shared her knowledge and interest in our Hagenbuch family history.
As a boy, I have memories of visiting her and husband Herman at their farm house near the California Elementary School where plenty of Hagenbuchs from my generation received their first educational experiences. Kenneth Bogart and his wife, Pauline, still live there. Between the school and the farm was the California grange hall where Limestone Township residents spent time.
The history of the National Grange organization is very interesting. It was an alliance of farmers who both promoted the business of agriculture and shared the social life of the farming community. When I was a boy, the adults would meet secretly upstairs in the grange hall, while we children would meet downstairs and play games. I remember that Bernice was in charge of the young ones when the meetings were being held. The one game I especially remember is "Buttony Button, Who's Got the Button."
In 1963, Bernice and Herman moved to the nearby village of Pottsgrove, PA. Herman died in 1970 and it was soon after that, with my growing interest in genealogy, that I began visiting Bernice in Pottsgrove. I had an enormous curiosity about the families I never knew much about—the Lindners, Fousts, and Reichards—as well as the stories about great Uncles Gene and Henry Bruce to name a few. Bernice added to the stories that my great Uncle Perce had reveled me with 10 years earlier.
Bernice died in 1992 and is buried beside Herman at Washingtonville Lutheran Church cemetery. She served as the historian of our local Hagenbuch reunion beginning in 1939 and continued in that capacity off and on for many years. Bernice was one of the few who could sit and tell family stories for hours and trace the relationships of those people who are not known by most. I like to think Andrew and I are carrying on her genealogical work.
To write this article I reached out to Bernice's granddaughters: Diane (Rathburn) Brosious, whose mother is Leona (Bogart) Rathburn, and Barb Robbins whose father is Ken Bogart. Diane carried on her grandmother's genealogical legacy back in the 1980s when she helped me with the publication of The Beech Grove. Barb got back to me posthaste. The following are some of Barb's recollections about her grandmother, Bernice:
Grandpa Bogart became ill at a young age and Grandma and my Dad, at the age of 14, ran the family farm. The farmhouse, at the time, had a shanty with a large brick hearth. I remember Aunt Leona telling the story about her mother would fill the large wrought iron kettle with water and make a fire to heat the water so she could do laundry. Aunt Leona said it didn't matter if it was 90 degrees; her mother went about her duties.

I have fond memories of going to Grandma's house in Pottsgrove for holiday meals. She would cook and bake and set out her best china and silverware for the event. She took very good care of her possessions. She generously passed on items to her children and grandchildren. She would document the items as to whom they had originally belonged to and sometimes would include a picture of the family member. She gave me her grandmother's china that I proudly display in my china cabinet and have never used them! Grandma was very nostalgic in that regard.

For years, Grandma kept little notebooks as a diary. She would note the date, weather and if anything significant took place on that day. Sometimes, she would mention that she had sewed herself a new dress or apron. She often made Barbie Doll clothing for me. When I look back on it, I realize that was one of her love languages; I don't know how she sewed those tiny dresses! Since we attended the same church, sometimes afterward we would find cutout cookies she had placed in the car for us.  She was a housekeeper, cook, baker, seamstress, a volunteer (fire co. and church), and family historian.
Andrew and I continue to research and tell the stories of our ancestors. But, we must not forget the few who gave us the love of our family history—those few who told the stories and recorded the names, dates, and places of our family which give us the foundation for our work. Thank you, Bernice Bogart!