Joseph Hagenbuch, Liberty Township Farmer: Part 2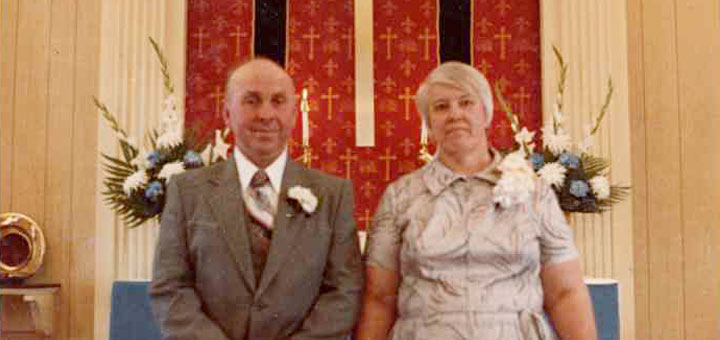 There are four areas of information that make up what we know about family members: personal details (names, dates, places), photos, ephemera (birth certificates, marriage licenses, letters, diaries, etc.), and family stories.
One is fortunate if they had a relative who passed family stories on to them. These oral histories make our ancestors come alive in our memories, and we are then responsible to pass them on to future generations. I was fortunate to have several relatives in my life who passed those memories to me: my great Uncle Percy Hagenbuch; his daughter, Bernice (Hagenbuch) Bogart; and my father, Homer Hagenbuch.
In the same vein, my third cousin, Linda Hagenbuch, was fortunate to have her grandfather, Raymond Hagenbuch, and her father, R. Larue Hagenbuch, tell her family stories about her branch of the Hagenbuch family. The patriarch of her family was Joseph Hagenbuch (b. 1852, d. 1938) who lived the last years of his life on the farm located near the Hagenbuch family church, Oak Grove Lutheran.
Following are some of those stories as sent to me by Linda Hagenbuch who lives in Lewisburg, Pennsylvania:
My grandparents, Raymond Joseph and Emma Charlotte "Lottie", always lived at the farm where Joe now lives. There was an original brick house that burned in 1920, then the present house was built. According to the original newspaper clipping I have, Mr. and Mrs. Joseph Hagenbuch and son escaped before the building became a "veritable inferno." The family escaped in scant attire (10:30p.m.) and the house was burned to the ground. My grandfather, Raymond, was not yet married–that happened the following year on June 18, 1921. Raymond and Lottie went to housekeeping there and lived with Raymond's parents. In fact, they lived there the rest of their lives. When my great grandfather died on May 14, 1935, my grandfather, Raymond bought the farm from his mother.
My father, Raymond Larue was born in that house on May 26, 1922. My father married my mother, Dawn Rosemarie Shultz, on May 1, 1948. Her father gathered apple blossoms for their wedding flowers. Even though my father re-married (Lera Hagenbuch), he is buried next to my mother, Dawn, at Washingtonville, only a few gravestones away from my paternal grandparents.
The story goes that my great grandfather Joseph Hagenbuch bought the Stump farm in Montour County when he was approximately 65 years old. Many thought he was unwise, telling him he would never pay it off before he died. He took great pride in proving them wrong. He walked barefoot to town to borrow the needed money from Mrs. William Mourer, a friend who lived on Lower Mulberry Street, Danville. In March of 1920, only four or five years later, the original brick farmhouse burned to the ground. My grandfather Raymond told me that he didn't even have time to grab a coat on his way down the steps of the burning house. Andrew Taylor remembered a pail of buttermilk being thrown on the out-kitchen door in a frantic effort to extinguish the flames; the buttermilk only fueled the fire.
When the German church that stood across from the Oak Grove schoolhouse was demolished, the wide, flat pews were taken down to my great grandfather's farm and were used to make the doors of the wagon shed. That wagon shed was part of my childhood, and my grandfather told me more than once where the wide boards of the doors came from. The shed was razed just a few years ago.
My father told me that he and his classmates helped my great grandfather Joseph clear the field of stones from the German church's foundation during recess. He also took great delight in telling me the story of a classmate putting a skunk in the crawlspace under the one-room schoolhouse. The teacher, Miss Blue, was not pleased.
Dad also told me the story of the large oak tree that stands catty-corner from my uncle's ranch style house on the curve above my grandfather's farm. A man was under contract to timber out the woods that can be seen from the church. When he didn't meet the deadline, he talked to my great grandfather, expecting to pay a penalty. My great grandfather told him that if he left the large oak standing, he would not charge him any late fees. That big oak is still standing today.
It was my grandfather, Raymond, who told me the story of Fanny Schrawder setting up her moonshine wagon on the corner across from that oak tree on the nights that Oak Grove had its festivals. I was sitting on the porch swing next to my grandfather as he told the story, and he gave one of his quiet chuckles as he said that the crowd around her wagon was bigger than the festival crowd. After paying Fanny a visit, the men would head to the festival where fights would break out. Oak Grove was once known as Rowdy Corner. My grandfather told me that it was he himself who shimmied up the pole to change the sign from Rowdy Corner to Oak Grove.
When we look at the photos of our relatives from the past it provides a two dimensional study of those once living and vibrant people. To obtain three dimensions, a full facet of these folks, we must have their stories, sad and funny, dramatic and mundane. Like Linda Hagenbuch, great grand daughter of Joseph Hagenbuch, we must all take the time to gather those stories, and pass them on to the future through both the written and oral word.