A Conversation with Andreas Hagenbuch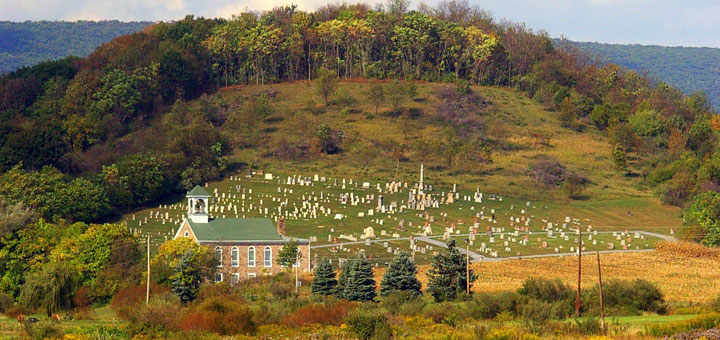 If family historians only worked with names and dates, they would not get to know the type of people their ancestors really were. Many of us have photos of our relatives and ancestors back through the late 19th century. Photos help us formulate an idea of the character of our relatives, especially photographs that show them in action. I not only know through family stories that my Uncle Perce had a keen sense of humor, but also the early photos of him prove that as they show him riding a goat, joking with cousins, and racing a horse drawn sleigh down the main street of Milton, Pennsylvania.
But, what about our earliest ancestors? We have no photos of Andreas Hagenbuch or his children or their children. I have spent many hours trying to picture Andreas and just as many wondering what it would be like to sit and talk with him.
For a bit of fun, this article will explore my ideas of what it would be like if Andreas was interviewed towards the end of his life. Some of this interview is based on the few facts we know about him, some is based on local stories about him, and most is just whimsy: speculation as to his personality through the experiences that molded his character.
Don't read this thinking it's the gospel truth. But, think out of the box and remember that Andreas was once a very alive person who experienced joy, despair, love, fear, excitement–all the same feelings and experiences that we in the 21st century have. So, here goes. Enjoy!
John Smith (a fictional character) was a young correspondent for The Pennsylvania Gazette who traveled to Reading, Pennsylvania in 1784 on some business. Always looking for a new story, he heard about an elderly man and his family living in northern Berks County. This man, an early settler to the area, had lived through the years of the French and Indian War by protecting his family and neighbors, married three times, had twelve children, his four sons serving during the Revolutionary War, and had a reputation as a businessman and "elder statesman" of the area. Mr. Smith believed this man, Andreas Hagenbuch by name, might be an interesting fellow with a story to tell.
John received directions to the home of "the alt Hagenbuch" from a tavern keeper and several craftsman who did business with the Hagenbuch family. Being told that it would take more than a day's ride to reach their farm in Albany Township, John started out early one morning before the sun was up and pushed on during the day, making no stops until he was in the rolling hills of what the local folks called the Allemaengel. Near dark he passed by a small Lutheran church, New Bethel, which was one of the landmarks he was given for directions. Mr. Smith knew he was close to the Hagenbuch home. In a short time, nestled between steep yet short hills no longer covered with the large hardwoods of fifty years previously, John sighted several small lights glowing ahead of him. As he came closer to the barn which loomed in the darkness, he could see a man standing in front of a house holding a lantern.
(The remainder of this article is told in first person by John Smith. He writes it in English, not using the Pennsylvania Deitsch dialect as spoken by the Hagenbuch family. Furthermore, he is familiar with the culture which he refers to as the misnomer "Dutch.")
It was a spring night, a bit cool and already dark, when I came to what I believed was the home of Andreas Hagenbuch. The man standing outside with a lantern introduced himself as Michael Hagenbuch who appeared to be about forty years old. I recognized the name as being the son of Andreas, being told that by the folks in Reading; and I was surprised that someone was waiting for me outside the house with a welcoming light. But, Michael explained in his English laced with that Dutch accent that the word had spread up the valley that a traveler was coming close and it being dark, his father Andreas had told Michael to watch for the traveler and ask him to stay the night. As I dismounted beside me appeared two boys who silently took the reins of my horse and led it off to the barn. Michael explained that his sons would take care of the animal while I was invited inside.
However, before entering, I drew Michael aside and told him, to his surprise, that I had come to meet his father, that I had heard stories about his family, especially about the patriarch, Andreas, and wanted to interview him for The Pennsylvania Gazette. As I related this, Michael must have noticed that I was sniffing the air as I had discerned an unpleasant yet familiar odor. Being a man who traveled much, I knew that the smell came from a tannery.
Michael looked at me a bit askance. "You must be smelling our tannery. Maybe you don't want to accept my father's hospitality because of the odors? I can assure you that the odor does not present itself inside our home."
He opened the door to the house and continued gruffly, "My father will decide if he wants to talk with you about his life." I was now worried that my presence was looked upon suspiciously. But, intrigued by just the few moments I had already spent in this place, I was determined to get whatever information I could about the family and especially the elder Hagenbuch.
I stepped into a dimly lighted room and looked across into the kitchen which the Pennsylvania Dutch call a Kich (pronounced "kick"). From the firelight of the kitchen hearth I could see several women of different ages and a few children. Although the evening meal had ended, all were active and busy. They ignored me as they probably knew that I was not only a stranger but also not of their culture. Michael led me into the room to the left. I had been in Dutch homes before so I knew this was what they called the Stub (pronounced "stoop") because of the large trestle table in the corner surrounded on two sides by built-in corner benches. In another corner was a fireplace with an interesting arrangement. The hearth not only was used as a fireplace but drafted into it was a 10 plate stove, a warming piece that these people were fond of. And, I figured there was probably another fireplace in the room beyond with a corner fireplace abutted to the one I was viewing.
Although warm outside, there was a small fire burning. Similar to other Dutch homes I had been in, the inside of the house was neat and in order. It was much larger inside than what I expected, looking as if the original dwelling had been one or two rooms but had been added on with a few more rooms and an upper story. The table with the corner benches was already set for the morning meal while another table in the opposite corner held several rolls of what looked like linen fabric. There were two women doing something with this linen, possibly measuring it and speaking quietly in their own language. They ignored Michael and myself as if we were not there.
I also noticed that in the corner with the benches and table there was a high shelf with several books. Again, knowing some of this culture, I recognized this as the Heilige Eck–the holy corner that not only would hold the family Bible, but also other books of importance such as ledgers, an almanac and possibly a religious song book. There seemed to be a larger number of books in the Eck than what I would expect from a farm family in the north of Berks County.
What was most amazing to me was the number of people inside this house and all very active. I could identify three generations in attendance. My quick judgement was that Andreas and his wife were sitting by the corner fire. In addition to the women hovering over the linen material, two women were busy with some close sewing by lamplight. However, with all these people distributed around the house (upon entering the first room I had also noticed a few children and a woman descending the corner stairway to my right), all was orderly and quiet.
Michael brought me forward to the fire as the older man and his wife stared up at me. Although seated, I could see that the man was of a short stature, stocky, yet large boned. Instead of showing suspicion as all the other folks did, the elderly Hagenbuch raised himself slowly from the family throne and with twinkling eyes and in that same accent stated, "Welcome to my home! I am Andreas Hagenbuch. What is your name and will you spend the night?" Glancing over at one of the young women, he spoke to her in Dutch. Recognizing a few words I understood that she was to get some refreshment for me. Son Michael pulled up a chair and asked me to sit down. I gave a slight bow to Andreas's wife and sat, relieved that the elderly man seemed to accept me.
I introduced myself and explained to Andreas, the best I could, that he had a reputation, a very good reputation, and that I wanted to ask him some questions for a Philadelphia newspaper story. Andreas was dressed in a linen shirt and blue jacket with no sleeves, what some call a waistcoat. On his head was a small cap, most likely warming a balding pate. Unlike most men he was not wearing linen breeches, but instead heavy leather breeches, looking stained and held up by a wide brown leather belt. The man was not fazed by the description of what I wanted and in his language spoke to his wife. She murmured something and left as a few of the other young women went with her, gathering the children with them to go into the back room which I heard them refer to as the Kammer.
Michael again spoke in Dutch to his father. Andreas nodded and arose. "Let us move over to the Eck where we can enjoy some drink and food. We can talk there." We moved across the room and sat cater-cornered from each other on the Stub benches; son Michael sitting at the far end of the table. Another young woman appeared with a plate of cold sausage, cheese and bread (spread with thick butter), and three small mugs. The three of us sat in silence as we had some nourishment. As I lifted the mug to my lips, I knew this was a flavored brandy, probably watered down a bit. A taste of apple and the slight burn of the liquor moved onto my palate and down the throat. Michael continued with a half frown, but as I glanced at Andreas, he was smiling again and asked, "Good, yes?" I nodded and sat back comfortably on the bench resting my hands on the table in easy reach of the brandy and tasty foods.
Andreas quietly spoke in Dutch to Michael who then leaned back in his chair and seemed to relax (up to that point he had been leaning towards me as if to protect his father from my presence, and seemed quite menacing). The elder Hagenbuch became silent and gazed long into my eyes. In what I would soon find was his usual matter-of-fact, self-assured way, he stated, "You say I have a reputation? I suppose after fifty years living here, raising my large family, and building a community of believers in this land which God has blessed, I suppose I do have a reputation. But, all that I have are gifts from God and his Son, Jesus Christ. My family and my community are the blessings I have been given." He paused a moment then continued as he gazed into his mug. "I will answer your questions and attempt to explain my life." Another pause, then looking at Michael he said, "Son, put a bit more wood on the fire and ask your wife Eva to refill our mugs. I believe it might be a long night."
(To be continued…)