Stories My Father Told Me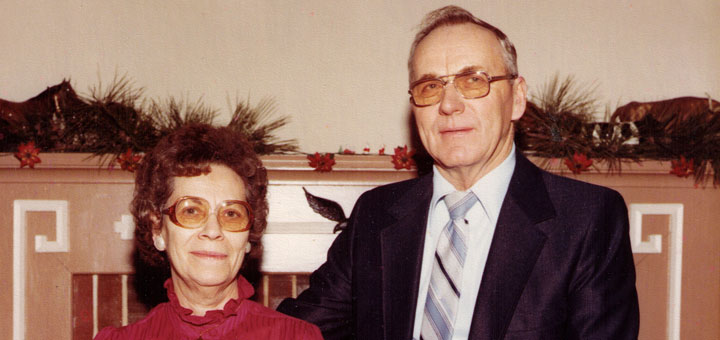 As stated in previous articles, family history is more than names and dates. Most interesting can be the family stories that have been passed on from one generation to another. Oral traditions are often like the child's game, "Gossip", where a story is whispered from one player to another. When the last person retells the story, it is usually different. But, as long as we remember that family stories have at least a grain of truth in them, they can be appreciated, cherished, and retold as such.
During the last years of my father's life, I had many opportunities to listen to his stories about the family; about the many years he spent as a farmer and laborer in the tri-county area of Pennsylvania: Montour, Northumberland, and Union; and about his memories of times past.
My father, Homer Sechler Hagenbuch, was born in 1916 and died in 2012. As with many of us growing older, he enjoyed sharing his stories with others and sometimes got caught up in retelling the same story over and over! But those stories, since I have heard them so many times, became ingrained in my memory and certainly should be passed on through the family.
Traveling east on Route 254 from Milton, PA to Washingtonville, PA one passes several farms. About a mile outside of town on the right is a brick house with a red barn – a beautiful site with well kept buildings, typical of Pennsylvania. Whenever we passed that farm (and I could predict the exact spot where he would begin), Dad would state: "That's where I was born. Mom said I almost got here before the doctor." I don't even know if this qualifies as a family story. But how many people can point to an old farmhouse and state that their parent was born there 100 years ago?
My sister Barb and I were interviewing our parents several years ago to create an oral history of their life. This is important for all of us to do. We had a list of questions, wrote down their answers and then transferred them to a document on the computer. Barb and I had a good time doing this; their answers and memories are classic.
One of the questions was: Did you ever go swimming as a youngster and what did your swimming suit look like? For a couple who was born in 1916 and 1920 (my mother, Irene "Faus" Hagenbuch), this did not elicit a simple answer. My mother looked sort of blank then told us that girls in those days did not go swimming. However, my father's story went like this:
Well, Paul Roat (his cousin) and I went swimming in the Chillisquaque Creek one time. We were teenagers. There was another fellow with us. I can't remember his name but he smoked a cigarette! Swimming suits? We didn't have any so we just shed what we had on and went in and splashed around a bit. Then, that fellow with us floated up on his back, stuck his middle up and said, "Hey, look at the pickle on the plate!"
Dad looked at his daughter Barb in a shocked way. "Whoops, I guess I shouldn't have told that story!"
Barb and I, and even our mother had quite a chuckle over that story; and not just the story, but the way Dad was embarrassed saying that in front of his daughter.
On that day, Barb and I also asked about Dad's armed service record. Dad was 28 years old in early 1945 toward the end of the war. He lived in Washingtonville with Mom and the two oldest children, Barbara and Bobby. He had several jobs, but also helped out his father and uncles on their farms.
Although he had brothers and cousins in the military at that time, he had not enlisted. But, in 1945 he was drafted. Even though the war in Europe was winding down Japan was still a very active threat in the Pacific. Dad was trained at Fort Knox in the armored division and was not sent overseas. He was honorably discharged in 1946. When we asked him about his military service, both he and Mom became very serious.
I think Mom spoke first telling how scary it was with two little children; blackouts in case of possible air raids and Dad being away. Although Dad was not overseas, she still felt the trauma of war and the unexpected. Dad talked very little about the experience, a few words about how difficult it was being away from home and family.
Years later, towards the end of his life, Dad talked with me more about those days. He never said it outright, but I knew through his voice and what little he shared that he did not enjoy the military experience; being in close proximity in the barracks and ranks with men who smoked or drank and who might not have had the same family values he did.
After the war, he was stationed at New Cumberland, Pennsylvania guarding German prisoners. He hitchhiked home on weekends to be with the family. Dad rarely showed emotion, but he had a break in his voice as told me that one of the worst days of his life was when he left Mom, Barb and Bob in Washingtonville and was driven to the train station by his father to leave for Fort Knox. He told me he cried on that day.
My father was a school bus driver between 1958 and about 1966. He drove a small 36 passenger bus. The bus route, which he took immediately after the milking was done in the morning and immediately before the night milking, was short; from "California" school through the countryside down through Limestoneville.
Before I started school in 1959, I remember raiding the dash pocket of the bus for squirt guns which he took from the school kids. In those days if a child was misbehaving (usually only the boys!), he could stop the bus, take him by the collar and move him to the front, no questions asked, no paperwork to complete, no explanation to parents. Dad even stopped the bus and took misbehaved boys off the bus and made them walk home. He would always tell the story about one young fellow, a real terror, who he would "shake until his shoes fell off."
My father's middle name, Sechler, was to honor his mother's family. Hannah "Sechler" Hagenbuch took care of her father, Samuel Sechler toward the end of his life; Grandpap Sechler died in 1928. Dad would tell the story of his Grandpap Sechler, who was hard of hearing, having an elderly friend over for a visit who was also hard of hearing. As long as it was still light out, the two could understand each other sitting across the table as they could see the lip movements. But, as it got dusk, Hannah noticed that her father and the visitor were shouting a lot of "what, what?" as they could neither hear nor read lips in the fading light. Hannah finally grabbed one of the kerosene lanterns, lit it and plopped it down between the two men and quipped, "Now, can you hear each other better?"
My father and mother would tell us stories about how they met and of their dating experiences. Dad would laugh when he told the story of how Mom, attending a local dance one night, was told by one of her friends that she should try to get a dance with "that Hagenbuch boy", as she pointed across the dance hall. Dad and his younger brother Wilmer resembled each other and the friend had pointed out Wilmer. Mom made it a point to have a dance that evening with "that" Hagenbuch boy, but it was not the one the friend recommended. It was Homer instead of Wilmer!
My mother, Irene, worked as a young girl at Eyer's store in Turbotville. The owner, Pop Eyer, was a real jokester. One summer weekend there was a box social. Irene, being sweet on Homer Hagenbuch, made up a box lunch with all sorts of good foods, including sandwiches of homemade bread, hoping that Homer would bid the highest for her lunch and then share it with her.
Unbeknownst to Irene, Pop Eyer put a string in one of the sandwiches. Homer certainly wanted to share the lunch that Irene made, so he bid on it until he won the prize: the lunch and time with Irene. Of course, my parents always laughed when they told the story ending with Dad saying he wasn't sure what Mom's game was when he bit into the sandwich and had a string hanging out of his mouth for all to see and laugh about.
I cherish these and other stories that my father and my mother related to me. After Mom's stroke in 2008 she could not remember the family stories she once told. It was too late for me to learn more from her memories. And during the last few years of Dad's life, he only had a few of the same stories he would tell. Unfortunately, he could not remember a lot of details about many of the questions I would ask about the family.
So don't wait too long! Record and write down those family memories. To be sure, some may be too private to share with everyone, but they must be available for future generations so there is a window into the family past.