Deitsch Cooking: Red Cabbage with Quince or Apples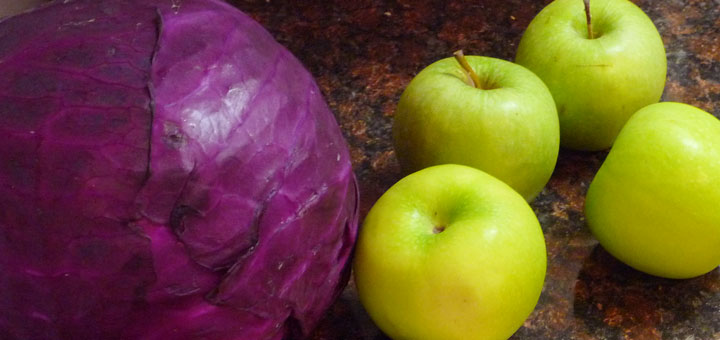 Cabbage was one of the staples of the Hagenbuchs and other Pennsylvania Deitsch families. Most notably, it was fermented in order to make sauerkraut. However, there are other ways our Deitsch ancestors used cabbage too.
One of these was as part of a dish that combined red cabbage and the fruit, quince. This wonderfully versatile recipe can be served as a side or mixed with a meat, such as sausage, to create a one pot meal.
Quince is less common today than it was in the 18th or 19th centuries, when it was planted in Pennsylvania orchards. If you haven't tried quince, it looks a bit like a yellow pear with a hard, acidic flesh. When cooked, though, it softens and becomes sweeter and more fragrant. Given that quince can sometimes be difficult to find in stores, they can be replaced by a tart apple variety, such as a Granny Smith.
Recently my wife, Sara, was planning to make pelmeni. These small Russian dumplings are filled with meat and wrapped in dough. Though not a family recipe, Sara's maternal grandparents immigrated from Eastern Europe in the 1950s and would certainly have approved of such a food!
American cuisine is frequently a fusion of different cultures and tastes. In keeping with this spirit, we decided to use Deitsch red cabbage as a side dish for the Russian pelmeni. I made the cabbage, while she was in charge of the pelmeni.
Below are both of the recipes, along with several images showing how the meal turned out. Even if you don't try cooking pelmeni, which can be time intensive, consider pairing Deitsch red cabbage with one of your favorite main dishes.
Red Cabbage with Quince or Apples
From the book Pennsylvania Dutch Country Cooking by William Woys Weaver. According to Weaver, this recipe comes from the Lotz family of Bethlehem, PA.
Makes 8 to 12 servings
2 tablespoons packed finely chopped slab bacon
1 medium onion, chopped
3 pounds red cabbage, finely shredded
1 pound quince (or tart apples), peeled and shredded
1/2 cup raspberry vinegar
1/4 cup honey
2 teaspoons sea salt
1/2 teaspoon cayenne pepper
Heat the bacon in a large saucepan and fry the onion in it until transparent. Add the cabbage and stir to coat with the onion mixture. Cover the pan tightly and reduce the heat to a low simmer. Steam the cabbage 30 minutes without lifting the lid. Then add the quince, vinegar, honey, salt, and pepper. Cover and cook an additional 25 minutes, stirring the mixture from time to time. Serve hot or at room temperature.
Pelmeni
From the book The Dumpling Cookbook by Maria Polushkin. Pelmeni originated in Russia in the region of Siberia.
Makes 70 to 80 pelmeni
Dough ingredients:
4 cups all-purpose flour, plus additional for shaping
3 eggs, lightly beaten
1 cup warm water
1 1/2 teaspoon salt
Filling ingredients:
3/4 pound ground beef
1/4 pound ground pork
1 medium onion, very finely chopped or grated
1 clove garlic, pressed
2 tablespoon finely chopped fresh dill (do not use dried)
1 teaspoon salt
Several grindings of black pepper
2 tablespoons of water
7 to 8 quarts of salted water
Serving ingredients:
1/4 cup butter, melted
Lemon wedges
Sour cream
Curry powder
In a bowl, mix together the flour, eggs, water and salt to make a firm dough. Remove to a well-floured surface and knead until the dough feels smooth and satiny, about 10 minutes. Form the dough into a ball. Cover and let rest for 30 minutes.
Meanwhile, mix together the beef, pork, onion, garlic, fresh dill, salt, pepper and 2 tablespoons of water. Refrigerate until ready to use.
Divide the dough in half. Cover one half and roll out the other half to 1/8 inch thickness. Cut out rounds using a floured 2 1/2 or 3 inch cookie cutter. The rim of a wine glass works well too.
Place about 1 teaspoonful of filling in the center of each round. Bring the two edges together to seal in the filling, then pinch the 2 corners together. Dip your fingers in a small bowl of water while you are doing this so that the edges are well sealed.
Bring the salted water to a boil and drop in about 10 to 12 pelmeni at a time. Cook for 8 minutes or until the pelmeni float to the top of the water. Repeat until all of the pelmeni are cooked.
Remove with a slotted spoon to a well-buttered baking dish. Pour a little melted butter over the pelmeni and keep them warm in a low heat oven until all are done.
Serve with lemon wedges, sour cream, and curry powder for extra flavor.