Hiram (Jr.) and Bessie "Lake" Hagenbuch Family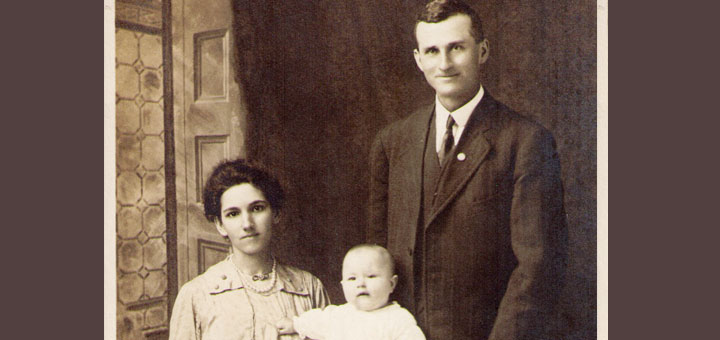 Several articles have been featured on this website about Hiram Hagenbuch (Sr.) and his wife Mary Ann "Lindner" Hagenbuch. Hiram, born 1847, was the son of William Hagenbuch, born 1807. Hiram, Sr. was the great great grandson of Andreas and great grandfather of Mark Hagenbuch.
Hiram and Mary Ann Lindner had 12 children: Joseph William born 1873, died 1880; Henry Bruce b. 1875, d. 1897; Francis Eugene b. 1877, d. 1913; Kathryn Jane b. 1879, d. 1961; Percy b. 1880, d. 1967; Israel b. 1883, d. 1965; Julia Rebecca b. 1884, d. 1968; Hiram, Jr. (Harry) b. 1886, d. 1979; Clarence Charles b. 1889, d. 1967; Franklin Walter b. 1890, d. 1930; Mary Ann b. 1892, d. 1896; and Luther b. 1896, d. 1982.
This article will detail the family of Hiram, Sr. and Mary Ann "Lindner" Hagenbuch's eighth child, Hiram, Jr. b. 1886 who was called "Harry." Hiram, Jr. was born at the home of his parents just north of Milton, PA. He married Bessie Edna Lake, who was the daughter of Watson and Martha Lake, on August 23, 1912. Hiram, Jr. died June 15, 1979. Bessie "Lake" Hagenbuch was born December 24, 1890 and died October 5, 1961. They are buried at Oak Grove Lutheran Church Cemetery, Montour County, PA.
Hiram (Harry) and Bessie had five children: (1) Kathryn Martha b. 1913, d. 2005, married in 1947 to William Joseph Maust; (2) Roy Harold b. 1916, d. 2010, married in 1942 to Mildred Isabel Yingling; (3) Paul Frederick b. 1918, d. 1982, married to Betty Leech; (4) Clyde Watson b. 1920, d. 2012, married in 1958 to Jean Mary Ulrich; (5) Helen Irene b. 1923, d. 2010, married in 1942 to John Earl Styer.
Kathryn and William Maust (b. 1903, d. 1985) are buried at Columbia Hill Cemetery in Montour Co., PA. They had one son, Joseph William Maust b. 1948 who was married to Nancy Wheaton.
Roy and Mildred "Yingling" Hagenbuch (b. 1923, d. 2000) are buried at Oak Grove Church Cemetery. They owned a farm in Allamuchy, New Jersey part of the original Rutherford/Stuyvesant land grant and estate, and had nine children: (1) Barry Scott Hagenbuch b. 1943, m. 1962 to Bonnie Jane Hansler with children – Barry Scott, Jr. b. 1963, Christine Marie b. 1964, Susan Ann b. 1965, Scott Anthony b. 1967, Sarah Jane b. 1978; (2) Nona Rae b. 1946, m. first in 1965 to John Cournean Jr., and second in 1991 to Joseph Coffill, children – Kenneth John b. 1967, Kathleen Reneé b. 1972; (3) Peggy Lou b. 1948, d. 2009, m. 1969 to James Monahan; (4) Roger Harold b. 1951, m. 1973 to Wanda Grey Jones; (5) Michael Maxwell b. 1953, d. 1955, buried at Oak Grove Church Cemetery; (6) Holly Hope b. 1957, m. 1982 to Frederick Bucalos with one daughter Heather Hope b. 1984; (7) Heidi Lisa b. 1960, m. 1987 to Carl Wallace with children – Jason b. 1988, Rhett b. 1990, Rachel Isabella b. 1993, Emily Juliet b. 2001; (8) Manuel Christopher b. 1962, m. first in 1984 to Winette and second in 1992 to Rosanne Rae Chesna, children – Courtney Dee b. 1985, Alyssa Maree b. 1987, step daughter Stephanie b. 1983, step son Stephen (Hagenbuch) b. 1986; (9) Jill Adele b. 1964, m. 1996 to Patrick McDonald with one son – Maxwell b. 1998.
Paul and Betty "Leech" Hagenbuch (b. 1924, d.1973) are buried at Upper Cemetery, Milton, PA. They had three daughters: (1) Teresa Irene b. 1948, d. 2009, m. Robert Harris with one daughter, Sharon "Harris" Swartzlander; (2) Linda Charlene b. 1961, m. first to Robert Harris and second to Raymond Graybill, with two daughters – Kristy "Harris" Knouse and Raylin "Graybill" Hall; (3) Roxanne Kay b. 1963, d. 2002, m. Roger Arnold.
Clyde Hagenbuch is buried at Oak Grove Church Cemetery. He and Jean "Ulrich" Hagenbuch (b. 1934) had three children: (1) Cathy Jo b. 1958, m. 1976 to Kit Patrick Kelley with children – Ty Adam Kelley b. 1983 and Cole Patrick Kelley b. 1985; (2) Carey Wayne b. 1961, m. 1985 to Crystal Kremer; (3) Craig Wade b. 1964, m. 2005 to Angela Milewski.
Helen "Hagenbuch" Styer is buried at Oak Grove Church Cemetery. John (b. 1923) and Helen Styer had four children: (1) Paula Diane Styer b. 1943, m. first in 1961 to Kenneth Kinney and second in 1968 to Bernard Kostelnick, with four children – Bud Kinney, Patricia "Kinney" Tracy,  Jeff Kostelnick and Brian Kostelnick; (2) James Leroy Styer b. 1945 , m. first in 1967 to Bonnie James and second to Mary, with two sons – Bryan and Todd; (3) Robert Martin Styer b. 1946, d. 2016, m. in 1967 to Betty Bastian with children – Deb "Styer" Guiswite-Smith, Robert, Jr. and Betsy "Styer" Hans; (4) Nancy Marie Styer b. 1959, m. in 1979 to Harry Carl with children – Melissa married to Robert Berkheimer, Jr with two sons – Robert III and Brayden, Amy married to Tony Bostian with two children – Jace and Ellyanna, and Jessica married to Howard "Manny" Young with two sons – Sean and Aaron.
Much of the information for this article was provided by Linda "Hagenbuch" Graybill, Holly "Hagenbuch" Bucalos, Nona Rae "Hagenbuch" Coffill, Melissa "Styer" Berkheimer, and Cathy Jo "Hagenbuch" Kelley – all first cousins. Cathy Jo wrote that she and her brothers called Hiram, Jr. "Pappy" and when they came home from school they knew he had been to their house "because the weeds were pulled along the side of the road and tossed to the side."
Her father Clyde (who was a pillar of Oak Grove Church, the Hagenbuch Church), was born and died at farmhouses within 1/2 mile of each other on Mexico Road, Liberty Twp., Montour Co., PA. He owned a farm along Mexico Road but also worked at nearby Narehood's Stone Quarry and Chef Boyardee in Milton where he retired after 19 years all the while still farming. Clyde was a reserved man but Cathy Jo remembers spending Saturday nights at Stamm's Dance Hall in Pottsgrove where he whooped and hollered while square dancing. His brother Paul was always there along with Paul's wife, Betty, who called the dances.
Kit and Cathy Jo Kelley established White Frost Farm in 2005 selling produce and grains at local farmers' markets. They considered using horses to farm, but Clyde was not in favor of that idea (he knew about farming with horses!). Carrying on the farming tradition (this clan like many, many other Hagenbuch clans were primarily farmers), Kit and Cathy Jo used some of Clyde's farming equipment: combine, disk, and harrow. White Frost Farm consists of 40 acres and has been in the Kelley family for 3 generations.
In 1962 my parents, Homer and Irene "Faus" Hagenbuch, took my brother David and me to Roy and Mildred Hagenbuch's farm in New Jersey. This was a two or three day "vacation" for my father as he would leave our farm and help Roy for those few days on his farm! Manuel was just a baby and I remember at breakfast his father Roy would feed him fried egg after fried egg, maybe 5 or 6 in all. I have fond memories of the days we spent with those Hagenbuch second cousins.
John Styer is still living and, like Clyde and so many others of the Hagenbuch clan, John was a mainstay of the Oak Grove church. He and Helen were always in attendance on Sunday mornings and helped at the popular church festival held on Saturday of the July 4th celebration. John was my Sunday School teacher for several years when I was a boy. He was a hard worker and owned a farm along Mexico Road; but also worked at Beavertown Block near Middleburg, PA.
Uncle Harry was a "character," much like his older brother, my Uncle Percy who has been written about in other articles. For many years when I was a boy, Uncle Harry was always seated in the same pew at Oak Grove Church. My father told me the story of Uncle Harry and his neighbor, Raymond Acor. They both raised chickens and had a friendly feud about those chickens which lasted for several years. It seems that in the middle of the night, Uncle Harry would go next door, open the door of Raymond's chicken coop and scatter cracked corn along a path to his own chicken coop. In the morning, Raymond would be at Uncle Harry's front door complaining that he had stolen his chickens! Uncle Harry would comment that the chickens just found their way over, but who could tell whose chickens were whose? A few days later, in the middle of the night Raymond would pull the same trick on Uncle Harry and the chickens would all end up at the Acor farm.
As a boy growing up in Montour County my great uncles, great aunts, and several of my father's cousins owned farms in a sort of "enclave" which was bordered on the north by California (Limestoneville) School, on the south by Oak Grove Lutheran Church (the Hagenbuch church), on the east by Washingtonville, and on the west by Pottsgrove. This area is bisected by Mexico Road which ends at the Upper Chillisquaque Cemetery (which, by the way, is where Samuel and Mary "Davis" Sechler are buried – of love letters fame). Uncle Harry, his son Clyde and family, and his daughter Helen Styer and family all owned land along Mexico Road. Their son, Paul, owned a farm near Turbotville and their daughter Kathryn Maust lived just south of Oak Grove Church. Many times when traveling down Mexico Road with my father Homer, we would pass the area where Uncle Harry owned several small houses and an old one room schoolhouse. My father would exclaim, "There's Harry Town."
The photograph below appeared in a previous article, and a complete list of the people in it can be found there. In the image are Clyde Hagenbuch, Roy Hagenbuch, Kathryn Hagenbuch (Maust), and Helen Hagenbuch (Styer). Also in the photo are Mildred "Yingling" Hagenbuch's father Harvey and her two sisters, Helen and Ida.