Merry Christmas in Photos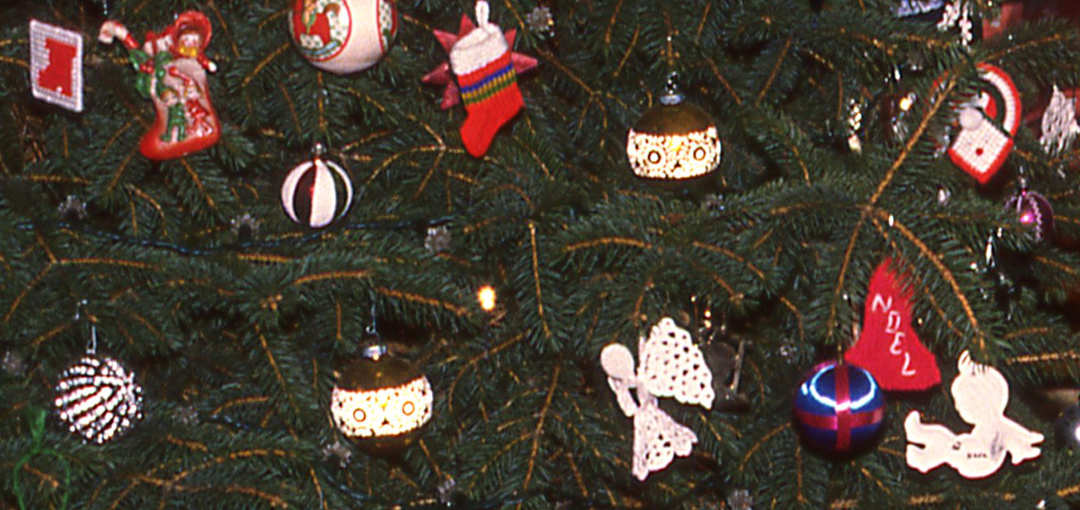 The final article in the series "My Uncle Charles" will take a brief hiatus as we celebrate Christmas with some vintage photos from the archives.
Andrew and I are forever touting to save your photos and identify them. So, it is with joy that I share these photos with you of Christmases past in the Hagenbuch family.
This photo was probably taken about 1965. My mother, Irene (Faus) Hagenbuch, loved to decorate for the holidays. I remember well this plastic cover which she would put on our mailbox which stood at the end of our farm lane near Limestoneville, Pennsylvania.
Mom enjoyed her crafts! During the last 20 or so years of her life she especially enjoyed ceramics. All of us in the family have ceramic pieces which she made and gave as gifts. This is a nativity set which she made and would appear a few weeks before Christmas.
My mother also made different Santas representing countries from around the world. She would place them on the mantle of the fireplace at their home near Montandon, Pennsylvania. I have a few of these Santas to remember her by.
In 1983 Santa Claus came to visit Andrew and his sister, Katie, at their home in Hummels Wharf, Pennsylvania. He read them a book and hoped they would be good children for their parents, Mark and Linda (Gutshall) Hagenbuch!
Santa visited the Hummels Wharf Hagenbuchs again in 1984. He made sure to get a photo taken of himself with these two cute children so that in the future they would remember his visit. Santa especially liked the Christmas tree decorations which included Chrismons (white and gold ornaments fashioned in the forms of centuries-old religious symbols), hand made by Andrew's and Katie's Oma—Ethel (Brandt) Gutshall.
Every year Santa would arrive in Hummels Wharf to check on the Hagenbuchs. In 1988 the jolly fat man in the red suit was photographed with Andrew, Katie, and their new sister, Julie. It seems that all three children had their own thoughts about Santa: (Andrew) "Here we go again!" (Julie) "What is this all about?" (Katie) "Santa is here. Hurray!"
In 1988 the Hagenbuch children reaped the rewards of Santa's night visit! There were lots of gifts to enjoy as we all remembered the visit of the three Wise Men to the baby Jesus' manger in Bethlehem.
All grown up now—Andrew, Katie, and Julie with their parents Mark and Linda. The year is 2000 and they are dressed in their Christmas Eve finery to attend church.
Here is a final quirky photo to wish everyone a merry, blessed and healthy Christmas season! As the virus is still among us, I am dressed for the occasion. In earlier times when sicknesses abounded in Europe, doctors wore "plague masks". Not understanding that masks might prevent the spread of disease, doctors wore this type of mask that had a large beak on it where they would place herbs to minimize the smell of death.
Merry "after" Christmas and here's to a grand New Year!