Regina Hagenbuch's Christmas Sweaters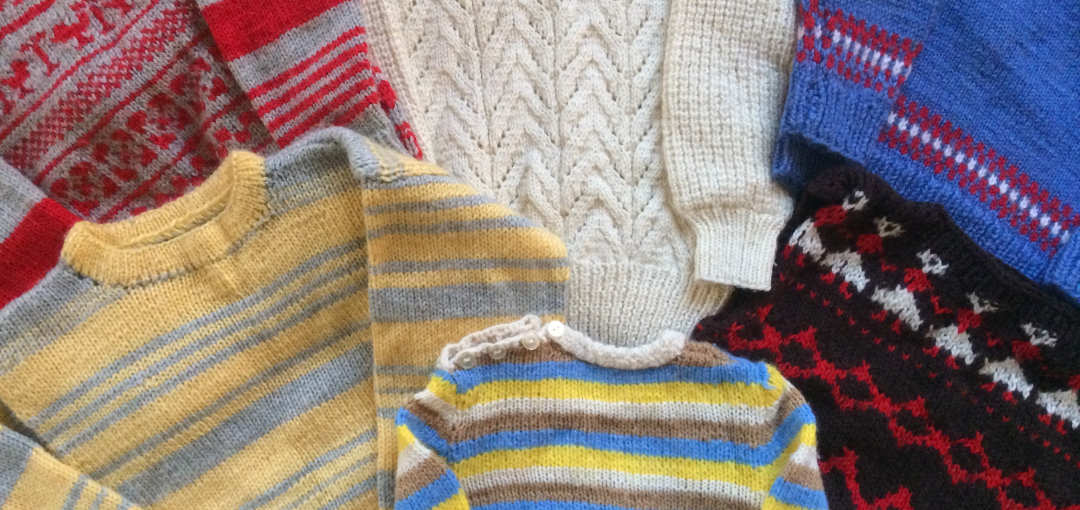 There is a story in our family that goes something like this: One Christmas when I was two years old, my parents wanted me to wear a sweater outfit that I had received as a gift. I refused. After the cajoling failed, I was finally made to wear it. Through the tears, I forced a smile and a holiday picture was taken!
Of course, this wasn't just any sweater outfit. It was one made and sent by a distant relative from Germany—Regina Hagenbuch. I have vague memories of Regina, since she visited the United States only once when I was five years old.
According to my father, Mark, he met Regina while traveling with my mother, Linda, through Germany in 1977. While searching for Hagenbuchs who may have been related, he found Regina living west of the Rhine River in Edesheim with her husband Jakob and sons Hans and Josef. The family owned a winery, which remains in operation today. A connection was made.
My parents returned to Germany in 1979, and Regina, now a widow, invited them to visit. She served a meal, and they talked for several hours in German, since Regina spoke no English. At that time, it wasn't clear how her deceased husband, Jakob, was related to our German ancestor, Andreas (b. 1715). Today, thanks to information from our distant cousin Ulrich Hagenbuch, we know that Jakob and Regina Hagenbuch were cousins on his branch of our family tree.
Regina and my father stayed in communication, and after I was born in 1981, she began mailing gifts of handmade, knitted children's clothing: sweaters, vests, breeches, and hats. When my sister, Katie, was born in 1983, she sent her knitted items too. My parents hosted Regina in Pennsylvania for three weeks during the summer of 1985, before my youngest sister, Julie, was born. Along with other gifts, Regina arrived with more handmade clothing. Eventually, she fell out of touch, and in the early 1990s my father received news that she had died. He has other stories and pictures to share about Regina as part of a future article.
To be honest, when I was a child I didn't care for the sweaters that Regina made. They were itchy and, well, not particularly stylish. Sometime in the late 1980s, my mother packed them away in a box, and there they sat for a few decades in some forgotten corner of the attic. The same could not be said of my Christmas sweater meltdown, which was frequently recounted!
My son, William, was born in 2019. Shortly after his birth, my mother presented me with a box full of clothing, including a number of Regina's sweaters. Perhaps it was the three decades that had passed since I last saw them, or maybe it was that I couldn't be forced into any of the clothes now. Either way, I was grateful for the gift and excited to sift through the handmade, knitted designs.
William actually wore his first Regina clothing last Christmas, before he was walking. This year, however, he was ready for the main event—suiting up in a sweater and breeches, just as I had done, most unwillingly, in 1983. Initially, he fussed and fought putting on the outfit. Things took a turn for the better when he was given an incentive to cooperate. With a mouthful of freshly baked cookies, he acquiesced. The camera came out, and many photos were taken!
It has been said that the most meaningful holiday traditions are those we make our own. In my family, Regina's Christmas sweaters have become such a tradition, one that reminds us of a special relative and the joys (or tears) experienced by children during this wonderful season.
Merry Christmas!