My Uncle Charles: Advice from Cousin John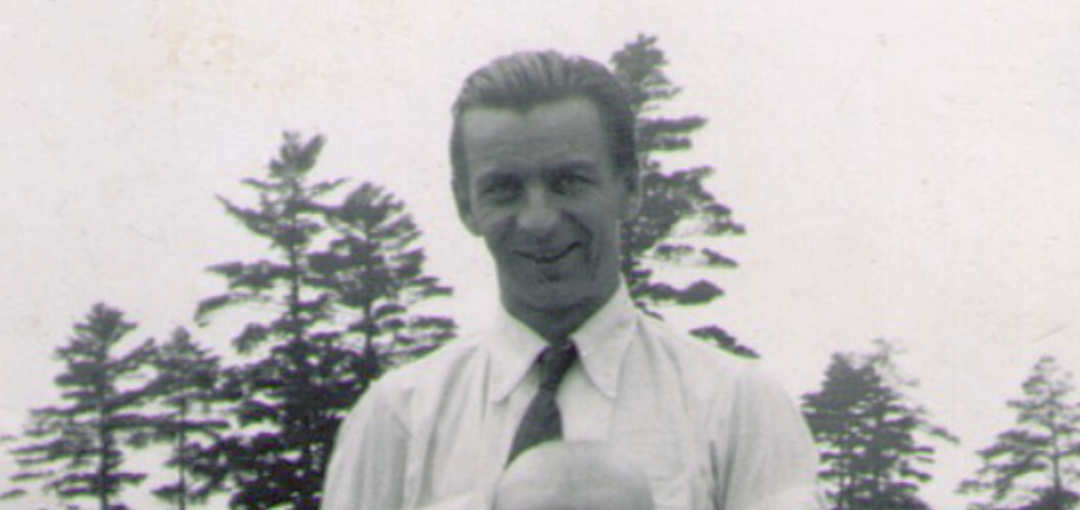 As mentioned in the previous article in this series, Charles Hagenbuch's first cousin, John, wrote to Charles sometime after he came home from Chicago. There he had attended the DeForest's Training two-week course on electronic engineering. Cousin John had "made it" by leaving Montour County, Pennsylvania, obtaining his Business Administration degree from George Washington University (GWU), and at this time—April 1936—taking courses at GWU to obtain his Master's Degree in accounting.
Personally, I never spent a lot of time with John. But, Linda, Andrew and I did visit him and his wife Ola in 1982 at their home in Annandale, Virginia. Andrew, Regina Hagenbuch from Germany, and I visited John and Ola again in 1986. They were wonderful hosts, both times taking us around the Capital. I remember always having in-depth discussions with John, not only about family but also his career. He was not only well-educated, but also had that Hagenbuch trait of a "down home" personality.
Below is the letter John wrote to his first cousin, Charles:
---
1918 F Street NW Washington D.C. Saturday P. M. 8:30 [April 1936]
Dear Charles: Want to apologize for not answering your letter sooner but seem to have been rushed for time. Am sorry you could not arrange to stay in Chicago but hope you do finish your radio course, especially when you are so interested in it. It may turn in to something worth while later for you.
As for choosing one's life work it is quite a problem. Hardly know what to tell you, especially when jobs are so scarce. I'm inclined to follow the accounting and business management line myself. Got my A.B. degree in Business Administration and will get my Masters degree either in that or accounting. Want to work for my certified Public Accountants degree if I ever get the ambition. Want to begin "prepping" for it in a few months and take the exam next June a year even tho I don't expect to pass it.
Would not advise you to make Civil Service [your] life's work. It is all right as far as the first few years are concerned but in the higher positions the pay is much lower than in private industry. Usually when one gets into Civil Service they are in a rut and stay there. There are only a few people I know who are really making good salaries under C.S. The girl you met when you were down here…the one I go with has a pretty good job under C.S. She has worked herself up and is now making $225 per month. But she works day and night and really puts out the work. She took all of her college work here at night, got 1 B grade and the rest all As. She is just finishing her Masters degree this summer. I'm not under C.S. myself. Have only a temporary appointment so things are rather uncertain for me. Have been thinking about getting with a private accounting or auditing firm as I have to do at least a years work for some such firm before I can get my C.P.A. degree.
Would like to see you come down here but it is quite difficult to get a job and get off in time for classes. In the larger schools down here classes usually start at 5:00 o'clock and in private industry they usually work that late or later. I was down here a year before I started to Geo. Wash. At first I took a little commercial work at a small school down here.
Have you ever thought about taking a short course at Penn State? Perhaps if you took a six weeks course there along some line it would lead into something. You know that's what Herman Schnure did. Of course I don't know what you are interested in but think your present plan with radio is very commendable. Also electricity might appeal to you. There aren't any such schools down here like that. Then too about the only positions down here are clerical or office work of some kind which pay only about $15 or $18 a week to start. And living expenses are terribly high in Washington. It costs about $75 per month just for living expenses, clothing and incidentals here. And then one cannot run around very much on that either.
Am making about $150 per month myself at my job, in addition to a little from tutoring some students in accounting and assistant to one of the professors at the University and wonder where all the money goes to.
When I come up home I will talk to you some more about it. Will probably get up within the next week or two but will make a flying trip up and back the same day so will probably not get to talk to you until I come up over the weekend, and that probably will not be till school is out in June.
Am taking some courses at two universities down here, in addition to working on my thesis, doing a little tutoring in accounting and an assistant to one of the professors at the University. So burn the midnight oil practically every night.
Haven't gotten to bed before one o'clock for so long that I don't know how it would feel. Thur. nite I had classes till 10:30 then began working on some exam papers and worked till 2:30 AM until I finished them. Last P.M. had a tutoring class in accounting till 12:00 so tonight and tomorrow am staying in and doing some of my reading for school work. Suppose you heard I had company from up home near Easter. Had planned on doing a lot of work but put it off till the week.
If you can find it possible to take a short course in something you are interested or get with some radio work I think it would be as good as anything. You see in any business there are always two large parts: the productive and the non-productive. In the productive part is where the money is to be gotten while in the non-productive, which is considered just an added expense, the cuts, where they occur are always applied first. All kinds of clerical and office work fall into the non-productive and are always cut first. Something like radio, or electricity is considered a service and once you can get located with some firm, there is usually a prospective future. This is due partly to the fact that most companies have to stress the service they give in order to get sales. Today service is a larger factor than prices of products among large corporations and firms.
Will talk with you when I get up some week and more about things.
Sincerely, John
---
The contents of the box reveal that Uncle Charles was looking at several places for employment, as cousin John mentioned in his letter. Found in the box is a pamphlet from Franklin Institute in Rochester, NY entitled "How to Get a U.S. Government Job." Furthermore, there are higher education pamphlets from Rider College in Trenton, NJ and Tri-State College at Angola, IN. Uncle Charles was doing all he could to research ways to further his education to move away from the farming community of rural Montour County, PA.
We can't be sure what happened following the letter which Charles received from John in the spring of 1936, or if John gave Charles personal advice when he went home to be with family in June of that year. However, a family story has come down from my first cousin Leon Hagenbuch whose father was my Uncle Lee—the youngest brother to Uncle Charles. It seems that sometime between late 1936 and 1938 Charles was missing when the rest of the family got up in the morning to begin the barn work. His father (my grandfather Clarence) told the family that in the middle of the night he had driven his son Charles to work on a farm in New Jersey. That's where he was!
The 1940 census lists Charles as living in Clinton, New Jersey and working as a "milker" at nearby Blossom Hill Farm. He was receiving an annual salary of $600. He most likely continued to work there for several years until after World War II broke out.
We leave off my Uncle Charles's story at this time but will continue it with his induction into military service. Then, the remains of the box will continue to be examined, realizing that it is still a mystery as to how it came to be housed in my cousin Leon's attic.