Discovery: The Sunday School Book of Henry Hagenbuch (b. 1833)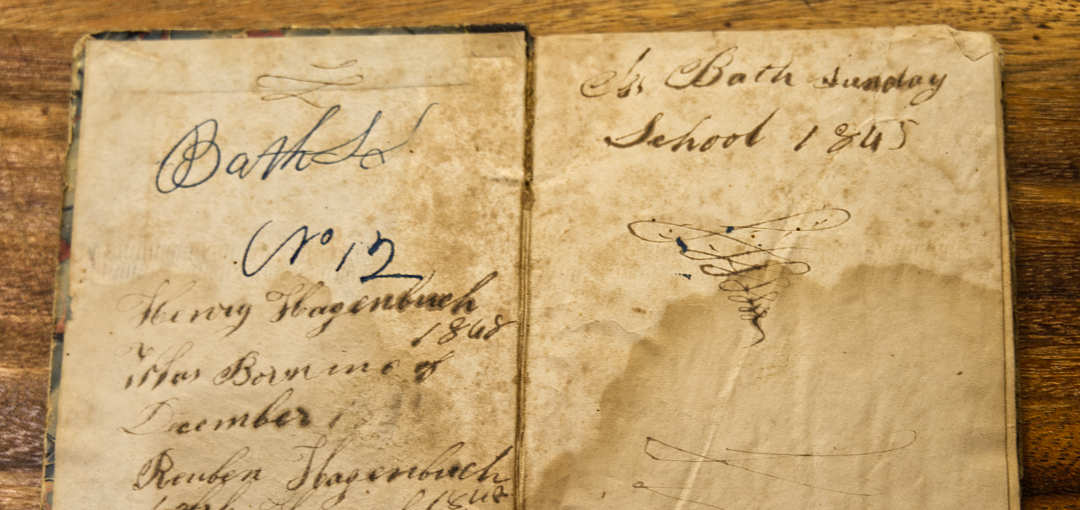 Our Hagenbuch family is full of mysteries. Some arise from our inability to know the thoughts and intentions of our ancestors, while others stem from fragmented historical records. Both complicate the process of telling our family's story. Yet, every so often we stumble upon something that brings into focus our murky view of the past and solves a longstanding puzzle.
In early January, I opened my mailbox to find a letter from Walter "Walt" G. Hagenbuch of Massachusetts. Walt had written in hopes of learning more about his family line and to share some of what he knew about his great grandfather, Henry Hagenbuch (b. 1833). I excitedly read the message, then emailed a scanned copy of it to my father, Mark.
The letter was fascinating for several reasons. First, though he didn't know it at the time, Walt was descended from one of the more poorly documented branches on our tree—the family of Henry Hagenbuch II (b. 1786). Second, and even more importantly, Walt had in his possession an interesting heirloom, a Sunday school book owned by his great grandfather, Henry III (b. 1833).
Walt's letter briefly described the book as including a list of family names written on the flyleaf, a page just inside the front cover. He couldn't determine who these people were, except for the name of his great grandfather, Henry. I, however, had a hunch who they might be. Within a few hours, I replied to Walt's letter using the email address he provided and requested a photograph of the Sunday school book. Then I waited.
Before going any further, it is necessary to provide some background of this family line. The first Henry Hagenbuch in America was Andreas' (b. 1715) eldest son, Henry (b. 1737), who was born after his parents arrived in Pennsylvania. This Henry also had a son who he named Henry (b. 1786). For decades, little was known about Henry II. Some genealogists thought he died young, while others omitted him altogether.
Recently, a series of discoveries shed light on Henry II's life and family. This began when record of his service as a Marine was uncovered. Next, his wife Elizabeth (Göbel) Hagenbuch (b. 1792) was identified and baptism records for many of his children were found, such as for his eldest son, Joseph (b. 1811). Even so, Henry II's family remained enigmatic and was, at least in part, assembled using conjecture.
Take, for instance, his supposed son Stephen Hagenbuch (b. 1828), who was born in Northampton County, PA and moved to Ohio around 1850. Genealogists have long sought to correctly place this Stephen on our family tree. But without a baptism record or family Bible, this was nearly impossible. Two years ago, after much deliberation, I noticed a gap in the birth order of Henry II's children and inserted Stephen there. I was pleased to have found a home for him, although the lack of physical evidence gave me little confidence in my work.
A day after emailing Walt, I received his response, and our communication was off and running. Over the next several emails, we settled on his family line as: Andreas (b. 1715) > Henry I (b. 1737) > Henry II (b. 1786) > Henry III (b. 1833) > William George (b. 1875) > John Henry (b. 1898) > Walter. Arriving at this conclusion was complicated by the existence of two Henry Hagenbuch's of a similar age: Henry III (b. 1833) and Henry W. (b. 1834). Any confusion was cleared up when Walt sent photographs of the Sunday school book.
The small volume, published by the American Sunday-School Union in 1835, contained the story of The Sisters. According to the publisher's catalog, it was "a beautiful story, illustrating the history of two sisters—Laura and Sarah Morrison—the value and right use of time, the sin of wasting it, and the way of redeeming it." Research shows that during the 19th century the American Sunday-School Union sold children's literature written with strong religious and moral themes.
Just as Walt described, the book's front flyleaf contained handwritten names, numbers, and doodles. They appeared to have been penned by his great grandfather, Henry III, and have been transcribed as follows:
Left Page
Bath Sch.
No. 12
Henry Hagenbuch
1848 [appears several times]
Was born in 6 of
December 1833 [quite faded]

Reuben Hagenbuch
Joseph Hagenbuch
John Hagenbuch
Jacob Hagenbuch
Stefen Hagenbuch [Stephen]
Elibet Hagenbuch [Elizabeth]
Catherine Hagenbuch
Sary Ann Hagenbuch [Sarah Ann]
Right Page
Bath Sunday
School 1845
H
Hagen
Using the above information, we know that the book was originally connected to a Sunday school in Bath, Pennsylvania, close to where Henry III was born. We can also see Henry III's birthdate, December 6, 1833. This matches the birthdate engraved on his tombstone and suggests that he was the author of the handwriting on the page.
A list of Hagenbuch names follows. My hunch was that these were Henry's brothers and sisters. To confirm this, I searched his siblings in Beechroots. The two matched in every way but one: Henry's eldest sister, Maria Ann Hagenbuch, was missing from the flyleaf. Why did Henry omit her? It seems that he scribbled in the book around 1845, according to the date on the right page, when he was 12 years old. Sadly, his sister, Maria Ann, had died in 1842. If he only recorded the names of the living, she would have been left out.
Increasingly, the importance of the Sunday school book became clear. Its discovery provided the best, primary source documentation of Henry II and Elizabeth (Göbel) Hagenbuch's children. What's more, the Sunday school book confirmed my belief that Henry II had a son, Stephen, and corroborated the names of his siblings in Beechroots:
Joseph Hagenbuch (b. 1811, d. 1872)
Maria Ann (Hagenbuch) Scholl (b. 1813, d. 1842)
Elizabeth (Hagenbuch) Dieter (b. 1816, d. 1897)
John Hagenbuch/Hagenbaugh (b. 1818, d. unknown)
Jacob Hagenbuch/Hagenbush (b. 1820, d. 1872)
Reuben Hagenbuch (b. 1825, d. 1874)
Stephen Hagenbuch (b. 1828, d. 1899)
Catherine (Hagenbuch) Miller (b. 1830, d. unknown)
Henry Hagenbuch III (b. 1833, d. 1896)
Sarah Ann (Hagenbuch) Knappenberger (b. 1838, d. 1910)
Walt had more to share too. He provided a wonderful picture of his great grandfather, Henry III, as well as a tool chest marked with the name "H. Hagenbuch" on one side. Census records show that Henry III worked as a carpenter and, according to Walt, the chest once held the many tools of his trade.
What can we learn from the forgotten scribbles of a boy? In the case of Henry Hagenbuch III and his Sunday school book, quite a lot! Thanks to his informative doodles and the efforts of his descendants to preserve these, we are now able to better understand this branch on our family tree and start to explore the stories of those who are connected through it.