James H. Hagenbuch's D-Day Uniform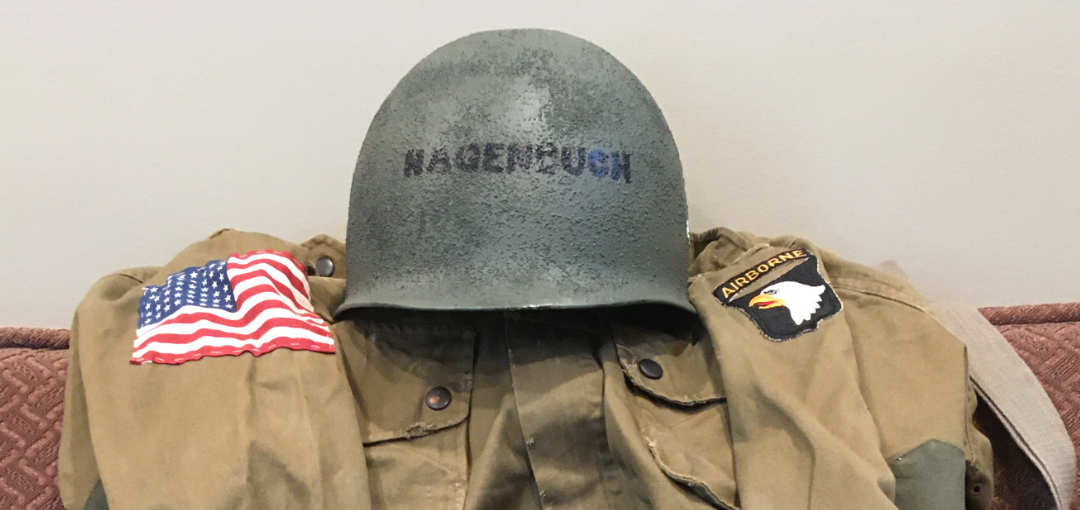 I just can't get James "Jimmy" H. Hagenbuch out of my mind. Since first writing about this cousin who parachuted behind enemy lines on June 6, 1944 as a soldier in the 101st Airborne Division, I visualize his story over and over again. Andrew and I wrote his story in the summer of 2020, and Andrew added a postscript in November of 2021. Telling Jimmy's story at the Hagenbuch Reunion on June 18th brought it all back again.
I have a very good friend from Virginia whom I have reenacted with for many years. Bruce and I have reenacted French and Indian War, Revolutionary War, Civil War, and even 18th century civilian. Bruce is a well-educated, military historian who served in both the U.S. Army and U.S. Marine Corps. He enjoys collecting uniforms, some even of the World War II era. When he read the story about Jimmy Hagenbuch, who was a member of the "Screaming Eagles" and was killed on June 7, 1944, Bruce offered to donate a uniform and helmet to the Hagenbuch archives. The World War II era uniform is exactly what Jimmy would have worn in his parachute jump which heralded D-Day: trousers, jacket, and helmet. The correct patches, 48 star flag and 101st Airborne patch, are on the shoulders.
The helmet had no insignia on it before Bruce gave it to me. So, Bruce painted on the spade and circle as is shown on Jimmy's actual helmet which was found by a World War II memorabilia collector in France. The spade represented the 101st Airborne Division, 506th Parachute Infantry Regiment. The circle meant that Jimmy was in the 1st Battalion. Bruce also sent a paratrooper wings pin, though Jimmy would not have been wearing this on his jump into France on D-Day. In fact, Jimmy gave the pin to his girlfriend, Jeanne P. Kieser, before shipping out overseas.
A few days before the Hagenbuch Reunion, I decided that the uniform and helmet should be part of the reunion display. However, the name "HAGENBUCH" had not yet been painted on it, so my wife Linda sketched it out and my brother Bob painted it in. Surnames on the helmets were not regulation, but the men in combat would often have them painted on, in case they were killed and needed identified. (Their dog tags helped with this purpose too.) The day before the reunion all seemed correct with the things Bruce sent me—items that would honor Jimmy Hagenbuch. As my brother Bob and I looked over the uniform and helmet, he noticed a bulge in the left jacket pocket. Reaching inside, I pulled out a "cricket," a clicking tool that was used by the 101st Airborne to identify other soldiers as they fought through the hedgerows of Normandy! Bruce had put a reproduction cricket in the pocket, something I had not noticed before.
This led me into doing research on the cricket. I had remembered the cricket being used in the movies The Longest Day and the TV series Band of Brothers. That "clic clac" is an unmistakable sound. Because of secrecy, I found out that they were given out to the soldiers of the 101st Airborne only a day or two before jumping into France on June 6, 1944. The U.S. Army did not want the Germans finding out about the crickets to keep them from replicating their sound. The crickets were made by a toy company in London, and they were only used for a 24 hour period, June 6–7. Once again, this was so the Germans could not use something similar. The cricket that Bruce provided was the piece de resistance for the uniform items, and it helped to bring our hero-cousin Jimmy Hagenbuch to life.
It's people like my friend Bruce who keep our Hagenbuch research going. Bruce has no ties to the Hagenbuch family. Yet, like many of us, he realizes the importance of keeping history alive, especially when honoring those who fought for our country. Jimmy certainly knew that his job was to keep the Axis Powers of World War II—Nazi Germany, Imperialist Japan, and Mussolini's Italy—from squashing freedom throughout the world. He was committed to fight, not only for our freedom, but also the freedom for millions of people in other countries.
I am finishing this article on July 4—the Glorious Fourth! Along with others of our family who have had pride in the United States to stand up with words and deeds to support the Declaration of Independence and honor the Constitution, Jimmy is an example for us all. Rest in peace, Jimmy Hagenbuch, and God bless America.