75th Hagenbuch Reunion Provides Unique Experiences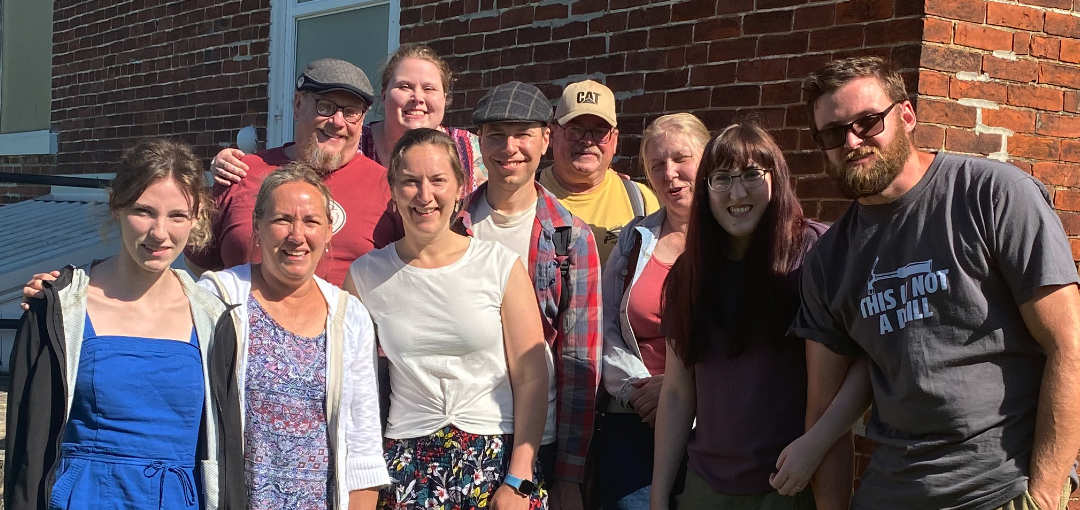 Along with the usual good food and warm fellowship, the 75th Hagenbuch Reunion gave the attendees an informative and visual presentation about our family history, many displays from the family archives, and participation in an abbreviated German church service.
To say that Andrew and I worked hard to provide these experiences for our family is an understatement, but it was all worth it. Although about 40 were in attendance—a smaller number of folks this year compared to 2018 when we had twice that number—all of us had a greater opportunity to spend quality time with each other. In fact, most of the attendees spent over five hours enjoying each others' company!
The day started out cool and rather dreary, so we needed jackets and sweaters when the cemetery tour was conducted. But, the advantage of being inside at St. John's Church, utilizing the sanctuary for the church service and fellowship hall for the potluck lunch and presentation, meant that we were out of the weather. By the end of the day, it was warm with the sun shining brightly.
The German church service began a few minutes after 11 AM with me welcoming the congregation and reviewing the order of service. Our now-English speaking family were schooled in their one German response to my "Der Herr sei mit euch" (The Lord be with you); their response being "Und der Herr sei mit dir" (And the Lord be with you). The prayers and the hymns were given by me in German, then the congregation gave the same prayers and hymns in English. The scripture readings were comparative to not only family tradition, but also to the ways of the world today: Joshua 24, Psalm 2, and Matthew 20 (the parable of the vineyard owner). My "Predigt" (homily) was a short history lesson about St. John's along with a reminder that our ancestors were solid Christians. The hymns were led by pianist Karen (Beaver) Richie, a Hagenbuch relative who is the Oak Grove Lutheran Church organist. They would have been familiar to our ancestors of the last 300 years: "Fairest Lord Jesus" and "A Mighty Fortress is our God" written by Martin Luther.
The church service was followed with the cemetery tour led by Andrew and me. We walked the crowd among the graves and introduced them to the two brothers, Conrad (b. 1790) and Charles (b 1811), who were grandsons of the patriarch Andreas Hagenbuch (b. 1715). The men came to the Delaware Run area from Columbia County and attended church at St. John's beginning in 1830. The folks also met the brothers' children and grandchildren: Civil War soldier Solomon D. Hagenbuch, photographer Henry W. Hagenbuch, and the families of Scales, Mackey, and Heiny. The weather was cool, but it did not chill the interest of our family as they learned the stories of their ancestral relatives. As Andrew and I tag teamed with stories about the people interred in that beautiful burial spot, I saw interested faces and relatives bonding together as a family over the history of those who came before them.
After the tour, we all recessed to the warm fellowship hall where everyone donned a name tag and completed a listing with their name and address. As the food was spread out on the serving tables and people got out their paper plates and tableware, they took some time to continue visiting with new and previously known cousins, as well as looking over the many displays from the Hagenbuch archives. I had gathered together more than enough items to cover two long tables: a 101st Airborne uniform and helmet similar to what Jimmy Hagenbuch (b. 1922) wore on his parachute jump on D-Day, a 1978 wine bottle from the Hagenbuch winery in Germany, the medicine bottle from Charles C. Hagenbuch's (b. 1835) drug store, the enormously important Fraktur of Andreas's daughter Anna Elizabeth (Hagenbuch) Reichelderfer (b. 1754), a map of where Andreas' homestead is located in Berks County, and many photos of our family, the oldest being from 1880.
The blessing of the food was given by Gerald "Butch" Shuler and then the feast began. Homemade barbecue hamburger was provided for all made by my wife Linda Faye. The recipe for this is a staple in the central Pennsylvania area. In addition there were salads, fried chicken, baked corn, desserts, and many other delectable items. No one rushed through the meal and people moved around as they ate, stopping to talk to others. It was a relaxed atmosphere of "relative" fellowship. Some announcements were made including to donate to the church for welcoming us, to count the candies in six small jars (which then became prizes) provided by Fran (Hagenbuch) Van Kirk, to continue looking over the archival displays, and to "save your fork for cake."
Finally, the piece de resistance came out! My wife Linda Faye had made a special cake for the occasion, tres leches, which is the moistest, sweetest cake that anyone could ever enjoy! Crowning it was a fondant representation of the Hagenbuch crest in full color—the Beech tree and fence. This was enjoyed by everyone as the visiting continued. After clearing the tables, we were ready for the extensive family history lesson provided by Andrew.
Andrew's slide presentation was entitled "One Family Together." With the use of many photos and even a video from a cousin, Robert Carl who could not make the trip, Andrew traced our family from its origins in Switzerland beginning in the 1500s up to the present with Hagenbuchs and allied families spreading out across the United States. Andrew traced family lines from Andreas' Hagenbuch's (b. 1715) four sons: Henry (b. 1737), Michael (b. 1746), Christian (b. 1747), and John (b. 1763). He and I had hoped to have representatives from each of these lines, but travel constraints and health issues deterred descendants of Henry and Christian from attending.
Since this Hagenbuch reunion, 75 years in the making, was started in 1938 by descendants of Michael, it was no surprise that all the reunion attendees were from his line, except one! Norma (Penman) Hurter was present with her husband, Skip. Although she is a descendant through Michael, she is also from John's line too! Her family was featured in the 2019 article "Kissin' Cousins". Norma's grandfather, Andrew Pierce Hagenbuch (b. 1881), was born from the marriage of two Hagenbuch cousins from Columbia County, Pennsylvania. Andrew Pierce's parents were third cousins, Andrew Creveling Hagenbuch (b. 1837) and Margaret Alice Hagenbuch (b. 1843). Andrew Creveling is a descendant of Michael (b. 1746), and his wife Margaret Alice is a descendant of John (b. 1763) which makes Norma a "double Hagenbuch," full of family DNA, and her own 6th cousin! Norma shared many photos of her Columbia County family with us and related interesting family information.
Andrew's presentation was so all encompassing and interesting that it made an impression on all of us. It was not only educational in the sense that we were able to trace our family lines with names, dates and places; but also it was filled with fascinating stories of individuals whom Andrew and I have researched. These included the early history of our family in Switzerland and Germany, why our name is pronounced different ways, the frontier adventures of Andreas and his family, the liquor distilling operations of Christian (b. 1747), and the probable sale of that whiskey in his brother Henry's (b. 1737) Allentown tavern. Other more recent stories were recounted such as the travels of J. C. and Jack Hagenbuch on the Klamath River in California and the death of "screaming eagle" Jimmy Hagenbuch on June 7, 1944. Links to the stories mentioned in the presentation can be found at the end of this article.
Andrew concluded with the reasons why we continue to research our family so extensively, some of our successes, and the mysteries yet to be solved. His final statement was:
Not all of the people we have explored today are our direct ancestors, but as Hagenbuchs these are our stories. And while we are connected by blood, it is these people and their stories that unite us as one family together.
As in the past when the Hagenbuch Reunion was first started, following is a list of everyone who attended, although not all of these folks could spend the whole time with family due to previous commitments. In no specific order: Karen (Beaver) Richie, Barb (Bogart) and Mike Robbins, Julie (Harris) Charleton, Dean and Shirley Beaver, Pamela Beaver, Leon Hagenbuch, Joe and Noah Robb, Kathleen (Robb) and Butch Shuler, Todd Hagenbuch and children Anna and Abe, Norma (Penman) and Skip Hurter, Bob and Marcia Hagenbuch, Fran (Hagenbuch) and George Van Kirk, Barbara (Hagenbuch) Huffman, Tom Huffman and Susan Arms, Caroline and Melanie (Huffman) Claxton, Olivia (Claxton) and Arik Beagley, Rachel (Hagenbuch) and Ed Powers, Sue (Taylor) and Glenn Hertzler, Luther and Crystal Gutshall, Katie (Hagenbuch) Emig, Mark and Linda Faye (Gutshall) Hagenbuch, and Andrew Hagenbuch.
As previously mentioned, the 75th Hagenbuch Reunion was a smaller affair than in 2018. However, everyone there enjoyed themselves as evidenced by the fact that most were present beginning with the German church service at 11 AM and left only after the end of the family history presentation which concluded around 4 PM. Even as the reunion wound down, many folks stayed around to talk and visit for another hour or more.
The 76th Hagenbuch reunion has not yet been scheduled. It may be set for 2023 or later depending upon interest. Regardless, Andrew and I hope that whenever it does occur, we can have representatives from all four sons of Andreas and even a few of his daughters. Fingers crossed that our family stays connected. As I have often said and written: very few families can trace their history so extensively with such interesting stories. We Hagenbuchs and our allied families are a great bunch of folks!
---
Stories and Articles Mentioned in the "One Family Together" Presentation