Franklin Walter Hagenbuch Family, Montour Co., PA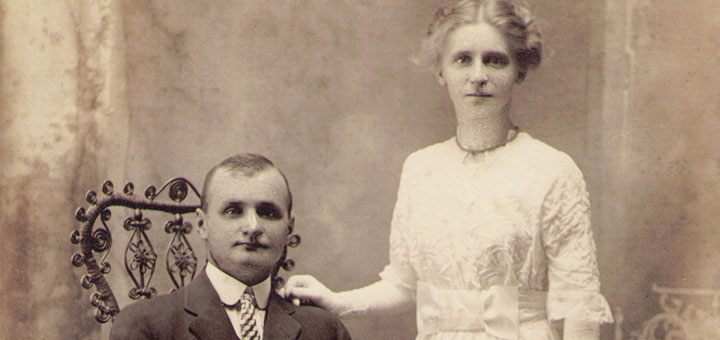 Several articles have been written about Hiram Hagenbuch and his wife Mary Ann "Lindner" Hagenbuch. Hiram, born 1847, was the son of William Hagenbuch born 1807. Hiram was the great great grandson of Andreas and great grandfather of me, Mark Hagenbuch.
Hiram and Mary Ann Lindner had 12 children: Joseph William born 1873, died 1880; Henry Bruce born 1875, died 1897; Francis Eugene born 1877, died 1913; Kathryn Jane born 1879, died 1961; Percy born 1880, died 1967; Israel born 1883, died 1965; Julia Rebecca born 1884, died 1968; Hiram (Harry) born 1886, died 1979; Clarence Charles born 1889, died 1967; Franklin Walter born 1890, died 1930; Mary Ann born 1892, died 1896; and Luther born 1896, died 1982.
Franklin Walter, as thought for most of Hiram and Mary's children except for the few eldest, was born just north of Milton, Pennsylvania, on the farm which Hiram and Mary Ann owned–the old fair grounds. He was baptized at Oak Grove Lutheran Church, the "Hagenbuch church", on July 26, 1891.
On June 16, 1914 he married Pearl Viola Steinman. Pearl was the daughter of Andrew James Steinman born 1849 and Martha A. Moser born 1867. Franklin and Pearl had three sons. The eldest was Hiram John born May 21, 1916 and died August 23, 2006. Hiram was married to Helen Yingling who was born in 1918 and died in 2002. They had no children. Hiram and Helen are buried at Harmony Cemetery, Milton, PA.
The second son of Franklin and Pearl was Herman Daniel born July 11, 1919 and died May 2, 1998. Herman was married to Bertha Flick. Bertha was born in 1923 and died in 1992. They had five children: Hester, Herman Jr. (Danny), Harold Leroy, Pearl, and Cynthia (Cyndy). Herman is buried at Milton Cemetery in Milton, PA. Bertha (remarried in 1976 to Malcolm Brown) is buried at Oak Grove Lutheran Church Cemetery, Montour County, PA.
The third son of Franklin and Pearl was William Robert (Bill) born December 26, 1924 and died August 5, 2007. He is buried at Oak Grove Lutheran Church Cemetery. In 1946 he married Carrie Virginia Welliver. Born to them were three daughters: Frances, Wilma, and Viola. Thanks to Frances (Fran) Van Kirk for some of the information in this article.
Hiram and Herman were born at a farm on Mountain Road, Montour Ridge, Montour County. William, on the other hand, was born on the farm that Franklin and Pearl owned in Liberty Twp., Montour County (now Narehood Road). This is a few miles from the Montour County Hagenbuch homestead which was last owned by Andrew, Bruice, and Julia Hagenbuch–about 2 miles from Oak Grove Lutheran Church. Several other Hagenbuchs had adjoining farms in that same area.
The farm on Narehood Road was first purchased in 1918 by Franklin's brother, Clarence. He paid $3500 for 66 acres. On March 19, 1921 Clarence sold the farm to Franklin for $4850.  After he died in 1930 and the will was probated, his widow Pearl received the farm. In 1964, Pearl transferred the deed to her son, Hiram. In 1998 the farm was sold to Franklin's great grandson, Bill Smith, son of Wilma "Hagenbuch" Stevenson. So, the 66 acres has been in the Hagenbuch family for almost 100 years.
"Great Uncle Frank" died on August 7, 1930. According to his obituary, Franklin died "after a lingering illness of pernicious anemia." His widow, "great Aunt Pearl" lived until Sept. 12, 1972. They are buried at Harmony Cemetery, Milton, PA.
I remember Aunt Pearl as a small statured woman, strong of will, who attended Oak Grove Church along with her son and his wife, Hiram and Helen.  They lived on the same farm that had been Franklin's until their deaths.
Bill, Carrie, and their daughters all attended Oak Grove Church as I did when I was growing up; likewise did Bertha "Flick" Hagenbuch and her five children. Every Sunday at Oak Grove, along with many other Hagenbuchs and related families, I would be with these second cousins: Fran, Wilma, Viola, Hester, Danny, Leroy, Pearl, and Cyndy; in the choir and Sunday School class. Fran, Wilma, and her sons Bill Smith, Christopher Smith and his family still attend church at Oak Grove.