Letters From Nana, Part 3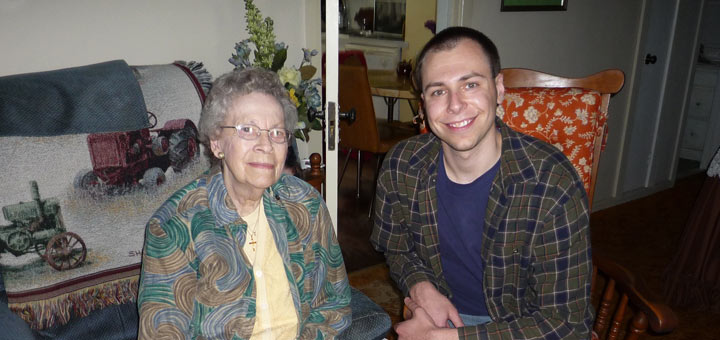 The first part and second part in this series examined letters and postcards that Nana, Irene (Faus) Hagenbuch (b. 1920, d. 2011), sent to me between 1999 and 2001. This article—the final in the series—will examine some of the correspondence I received from Nana during the period of 2002 to 2008.
6/6/2002
Dear Andrew,

We hope you had a safe trip.

We are having lots of rain today. It'll be nice that things will grow now.

Will be thinking of you.

Love,
Pop and Nana
During the summer of 2002, I was living in Keene, New Hampshire. I had received an internship with Ken Burns' company, Florentine Films, which is located in the town of Walpole.
In response to the first article about Nana's postcards, my Uncle David Hagenbuch commented that while he served in the Navy, Nana's letters managed to find him "halfway around the world." Nana was a diligent writer and, if she knew you had moved or were traveling, she would be sure to get your address and send something!
6/24/2002
Dear Andrew,

Finally, I meant to write all last week and so much going on here to get ready for U. Bob & A. Marcia to come, plus reunion, etc.

A. Barbara washed window that we hadn't gotten to and dusted shelves too high for me.

Your mother showed & used our new [carpet] shampoo machine. She did such a good job too.

When U. Bob's were here they put new outdoor carpet on the back porch that really needed it.

We had such a nice week and with our family being together, we missed you. Hoping we can spend some time together before you go back to Ithaca.

We are having some humid weather for a few days. We need rain. I must water a couple bushes we planted. The garden is growing better. At 1st it was windy and cold and the green leaves didn't come up good. I had to plant them over. Now there are more up.

Do you like it there? Are you doing what you want to do? We hope all is O.K. and you have a nice summer. Take care.

We love you,
Pop & Nana
One thing I really like about this letter is that Nana stamped it with little graphics of ladybugs. It's a nice touch. The letter also highlights the importance of cleaning, gardening, and housework in the Hagenbuch household. In 2002, Nana was 82. Yet, she kept busy. Whatever she couldn't do anymore, she relied upon family for help with.
There is no date on this next postcard. However, the smudged postmark appears to say July 1, 2002:
Dear Andrew,

Has the weather been hot there? Near 90º here.

U. Bob's have 99º. We had a nice shower. The rabbits are eating our green beans & beets off. The tomatoes have blossoms, also the zucchinis.

We are looking forward to having Julie and Erin this week.

Depending on the weather, we hope to go to the Millville Parade on the 4th.

Are you doing O.K.? We hope so. We will try to send a box of cookies soon.

Our Love,
Pop & Nana
In July of 2002, my sister Julie and her friend Erin Mattos spent some time visiting Nana and Pop. They even made me a bookmark and a card, which I found mixed in with the other correspondence from Nana.
The town of Millville is in Columbia County, Pennsylvania. It isn't too far from Katy's Church, where Nana's grandparents and great grandparents were buried.
8/1/2002
Hello Andrew,

Had a good flight. Beautiful clouds up there (like snow drifts).

97º here today. Nice inside.

See you soon.

Love,
Pop & Nana
This card is postmarked from Kansas City, indicating that it was written and sent while Nana and Pop were there visiting Uncle Bob, Robert Hagenbuch Sr., and Aunt Marcia (Monti) Hagenbuch. It's amazing to think that, though they were in their 80s, Nana and Pop were still traveling by plane to visit family.
Feb. 2, 2003
Dear Andrew,

We had enough sun for the groundhog to see his shadow.

Some snow still on the ground here. How about there?

Hope you are doing O.K. We saw your dad on T.V. in the parade.

Our Love,
Pop & Nana
Tucked in with this postcard are several photographs showing Pop measuring the snow depth outside the sun porch door. On the back, they are labeled "14in Feb. 2003." These were probably from the Blizzard of 2003 which hit Pennsylvania around the middle of February. The photos must of come with another letter that has since been lost.
After graduating from Ithaca College in the spring of 2003, I saw Nana and Pop more frequently. Because of this, Nana mostly sent me birthday cards, which I tended not to save since they had little writing inside.
In the spring of 2008, I decided to move to California. On the first day of my cross country trip, I made a stop to see Nana and Pop at their home. During the visit, Nana encouraged me go to the freezer and serve everyone homemade ice cream. I had a few bowls, and we sat and chatted for an hour or so.
Before saying goodbye, I snapped a picture of Nana and Pop, then asked Pop to take a photo of Nana and me. After mentioning something about the camera lacking a steering wheel, he agreed to press a button and take the picture. It is the last picture I have of Nana and me together.
I arrived in Oakland, California on June 1, 2008 and would spend nine years living there. Oddly enough, it was the act of moving away that brought me closer to my family, especially my grandmothers. One week I would call Nana and the next I would call Oma—Ethel (Brandt) Gutshall.
As a result of talking more frequently on the phone, Nana wrote to me less. Cooking was one of our favorite topics to discuss. When I told her that I had made molasses cookies, she wanted to know what type of molasses I was able to buy at the store. Brer Rabbit brand met with her approval, though she believed Blackstrap was a bit better.
Below is the last letter I have from Nana, which arrived inside a birthday card:
8/12/2008
Dear Andrew,

Excuse writing. This pen is not cooperating.

Hope you are doing O.K. It was really good to hear from you. U. Wilson's were glad to hear from you too.

We are doing O.K. Pop has xrays this afternoon. His taste has left him, but guess older people's does.

Suppose Sara has a summer job.

Washingtonville Fair is this week. I baked. Also made a wreath etc.

P.S. over

[backside of letter]

Pop had blood work and xrays. We haven't heard from the Dr. yet if there's something they can do. Will let you know.

Have a nice day on your birthday. Will think of you. We love you and hope to see you when you come in.

Love always,
Nana
Reading this letter now, one thing stands out to me: Nana signed it with her name only. Every other letter or postcard I had received from her was signed "Pop and Nana." To me, this makes her final letter feel more personal, and maybe it was.
Nana had a stroke in March of 2009 and, sadly, she was not the same after that. We could no longer communicate via the phone and, though I wrote letters, she was unable to reply.
Over the past few weeks, I've enjoyed revisiting Nana's letters and postcards, as well as sharing them with family. Not only has it given me a chance to ponder their contents and to remember my grandmother, but it has also allowed others to share their memories of Nana—Irene (Faus) Hagenbuch—and describe the many ways she touched their lives too.