The Wolfes of Columbia County, Part 2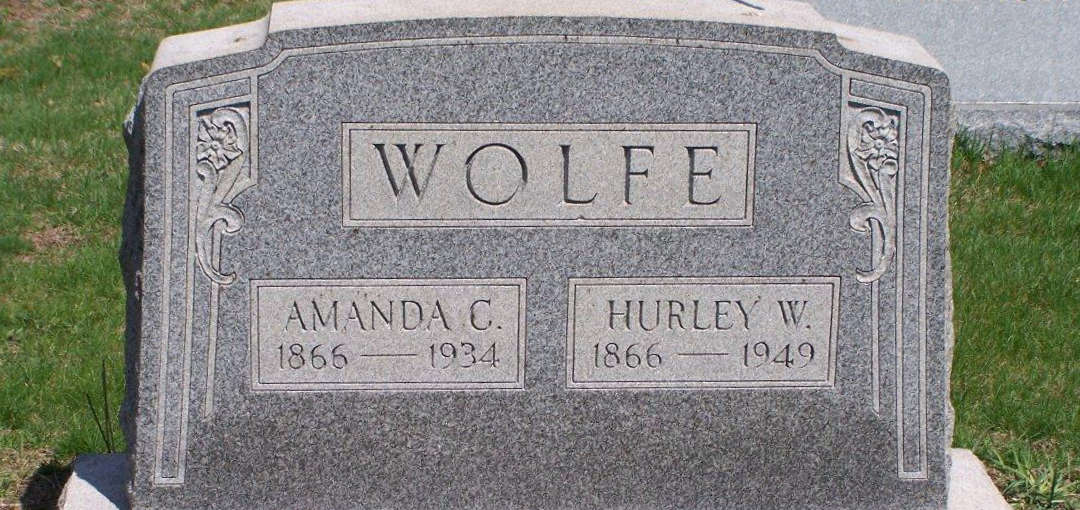 In part one of this series, our readers were introduced to the first four children of Stephen and Maria (Hagenbuch) Wolfe. Maria was born in 1830, daughter of John Jr. (b. 1791) and Christina (Hess) Hagenbuch who lived in and around Mifflinville, Columbia County, Pennsylvania. Eight more children were born to Stephen and Maria: Alice Susan (b. 1855, d. 1926), Adda Elizabeth (b. 1857, d. 1943), Esther Elizabeth (b. 1858, d. 1937), Martha Christine (b. 1860, d. 1962), Izora Catherine (b. 1864, d. 1952), Hurley William (b. 1866, d. 1949), Harvey Lloyd (b. 1869, d. 1950), and Frank Gilbert (b. 1871, d. 1923). As with the first four children, there are some interesting nuggets to be learned from researching these other children of Stephen and Maria.
The fifth child of the Wolfes is Alice who married Jacob Fetterolf in 1873. Eight children were born to the Fetterolfs: Elizabeth (b. 1875, d. 1958, m. Elmer Ellsworth Hagenbuch), Harry (b. 1878, d. 1940, m. Carrie Bobb), Minnie (b. 1880, d. 1963, m. Axel Anderson), Adam (b. 1886, d. 1968, m. Laura Getty), Edward (b. 1889, d. 1972, m. Edith Oman), Laura (b. 1891, d. 1901), John (b. 1893, d. 1977, m. Zula Stiner), and Elmer (b. 1896, d. 1985, m. Mary Fester). Of course, if one is reading these details carefully, it's noticed that Elizabeth Fetterolf married a Hagenbuch—Elmer Ellsworth (b. 1867)!
As in part one of this series where readers found that Elmer Wilson Hagenbuch had a connection to the Wolfe family, Elmer Ellsworth Hagenbuch was married to a granddaughter of Stephen and Maria (Hagenbuch) Wolfe. Elmer and Elizabeth had no children. He was mentioned in the same article as Elmer Wilson in July of this year.
The sixth child is Adda Elizabeth (b. 1857) who married Emmanuel Mauser in 1873. Emmanuel was a farmer. He and Adda had three children: Bertha (b. 1879, d. 1962, never married), Dora (b. 1881, d. 1963, never married), and Warren Hobart (b. 1898, d. 1939, m. Ida Bell Young). Warren and Ida had two daughters: Ruth and Miriam. Adda (Wolfe) and Emmanuel Mauser are buried at New Rosemont Cemetery in Espy, Pennsylvania.
Next in line is Esther Elizabeth Wolfe (b. 1858) who married John Barnhardt in 1888. Esther and John had one child, Enola "Nola" Marie, who never married. Enola was born in 1888 and died in 1965. Parents and child are all buried at Hillside Cemetery, Catawissa, PA. John Barnhardt died in 1903 and after his death Nola ran a boarding house in Catawissa. Later, she was a saleslady in a confectioner's shop in Catawissa.
In 1860 Martha Christine was born to Stephen and Maria (Hagenbuch) Wolfe. She married Lloyd Burger in 1897, and they lived in Lancaster, PA in the 1950s. They are buried at Hillside Cemetery in Catawissa. They had two children: a son Harold Lloyd (b. 1898, d. 1956) and a daughter Geron Irene (b. 1902, d. 1978). Harold was never married. He served in the United States Navy during World War I, attended college, and had a career as a construction draftsman. His work required him to move to places like Upper Darby, Delaware; Lansdowne, Pennsylvania; and Washington D.C. He is buried at the Hillside Cemetery in Catawissa.
Geron Irene Burger was also never married. She had her medical degree and last practiced as a chiropractor in Lancaster, Pennsylvania. Geron is buried along with the other members of her family at Hillside Cemetery.
The ninth child of the Wolfes is Izora Catherine (b. 1864, d. 1952). Izora married Lewis Lebo in 1890. They had two children: Bessie (b. 1894, d. 1986) and Harold (b. 1896, d. 1982). Harold was married to Florence Dinger, and they had three children: Robert, Jean, and Catherine. They lived in Allentown, PA. Harold and Florence (Dinger) Lebo are buried in Limerick, PA.
Bessie (b. 1894) married Henry Vincent who worked in the grocery business in Danville, PA.They had one son who died in infancy. When Henry Vincent died in 1972, Bessie moved to Sunbury, PA where I met her in either 1982 or 1983. Bessie was living in an apartment, and she shared the information about her family's relationship to the Hagenbuchs. However, the part of the conversation I remember most is that she began asking me questions about my religious beliefs: Was I saved? Was I ready to meet my Maker? Would I be ready for the rapture? I remember that the conversation got a bit unsettling, but Bessie was a kind lady whom I wish I had gotten to know better.
The last three children of Maria (Hagenbuch) and Stephen Wolfe are all sons. Hurley William Wolfe was born in 1866 and died in 1949. He was first married to Phoebe "Minnie" Creasy in 1887. But, Minnie died in 1895 and Hurley remarried Amanda Gitling in 1897. With first wife Minnie, Hurley had two children: Martha (b. 1887, m. Elmer Redline) and George (b. 1890, m. Helen Comstock). Hurley and second wife Amanda had three children: Lawrence (b. 1896, m. Nellie Hunsinger), Clyde (b. 1897, m. Mary Glodfelter), and Homer (b. 1900, m. Ethel Thomas).
Hurley William Wolfe was a farmer but also worked in a car shop while living in Mifflinville, PA. Hurley, his two wives, and all his children except for Clyde are buried in the Mifflinville Cemetery. Clyde and his wife, Mary, are buried at Lime Ridge, Columbia County, PA.
The next to last child, son Harvey Lloyd Wolfe (b. 1869, d. 1950), was married to Minnie Kinney and they lived in Nanticoke, Luzerne County, PA. Harvey first owned a livery stable, then a garage. They had five children: Helen (b. 1891, never married), Alta (b. 1893, died at the age of 21), Bernard (b. 1897, also died at the age of 21), Howard (b. 1902, m. Dorothy Hall), and Betty (b. c1895, d. at 3 months old). Just a month ago the article entitled "Alphabet Soup" featured the story of Howard Wolfe and Dorothy Hall whose daughter Shirley married John Zisch!
The last child of Stephen and Maria (Hagenbuch) Wolfe—number twelve—is Frank Gilbert Wolfe (b. 1871, d. 1923, m. Katherine Becker). Frank and Katherine are buried at Edgehill Cemetery, West Nanticoke, PA. Like his brother Harvey, Frank also owned a livery stable and then a garage. It is possible the brothers were partners in the same business at the same location.
Frank and Katherine (Becker) Wolfe had two daughters. Edna was born in 1907 and never married. She was a librarian in Bristol City, Virginia and then a teacher in Nanticoke, PA. Isabelle was born in 1908 and was married to Frank Morgan. Frank and Isabelle (Wolfe) Morgan first lived in Nanticoke where Frank was a machinist in the coal mines. Then they lived in Mount Penn, Berks County, PA where Frank was working in a milling factory.
As I wrote in part one when I introduced the Stephen and Maria (Hagenbuch) Wolfe family, it is large with 12 children and many descendants, some of whom married into other Hagenbuch families. Reading through all these descendants can be confusing. However, as with so many other families that are featured in our writings, all of these people are important, they had highs and lows in their lives, they had careers which supported their families, and they made positive contributions to their communities.
The information that has been shared about the Wolfe family is mainly names, dates, and places, yet much about their lives remains to be written. Through two articles and more than 2400 words, we have learned new details about Stephen and Maria (Hagenbuch) Wolfe, their children, and their grandchildren. They are not forgotten which is, without a doubt, one of genealogy's most important goals!