Pennsylvania Dutch Cooking: Green Tomato and Apple Datsch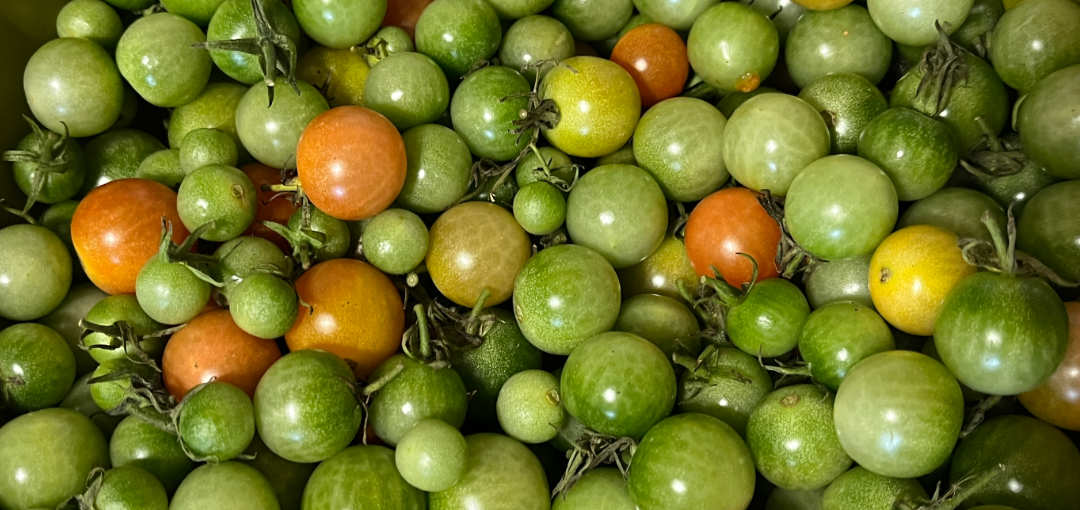 My wife, Sara, and I look forward to fall, not just for the cooler weather, but also for the plethora of foods that are harvested during the season. Squashes, apples, and sweet potatoes immediately come to mind, along with another that many people overlook—green tomatoes.
Yes, they are technically available throughout the summer. (Simply pick one before it becomes red.) Yet, as the days grow shorter and gardens begin to wither, any last tomatoes won't have a chance to ripen, leading to a bumper crop of green delicacies. Tart and crunchy, these tomatoes might not seem like a good choice for eating. However, as with many things, it is all in what you do with them. Best of all, most people prefer to discard green tomatoes, meaning they can be had for free!
Earlier this fall, word got around the neighborhood that Sara and I actually eat green tomatoes. Suddenly, we had more than we knew what to do with, mostly of the plum and cherry varieties. We tried a recipe for salsa verde that blended green tomatoes with other savory ingredients. The result was edible, but not worth trying again. We also made fried green tomatoes. This family favorite reminds me of my grandmother Irene "Nana" (Faus) Hagenbuch and the kitchen where she served me fried green tomatoes. I liked them then and love them now, especially with a bit of mayonnaise ketchup on the side!
Nevertheless, our preferred use for green tomatoes is neither savory nor fried. It is a baked dessert called Green Tomato and Apple Datsch (or in Pennsylvania Dutch, Griene Tomaets un Ebbel Datsch) and is featured in William Woys Weaver's cookbook, Dutch Treats: Heirloom Recipes from Farmhouse Kitchens. According to Weaver, datsch comes from the word Datschkuche which means "mush cake." It is a type of old-time flat bread, made without yeast, and consisting of mush, porridge, or mashed potatoes. Dutch Treats has an entire chapter full of datsch recipes including sweet apple datsch, hickory nut datsch, oatmeal datsch, peanut datsch, potato crumb datsch, raisin datsch (also called Bethlehem cake), St. Gertrude's Day datsch, and, of course, green tomato and apple datsch.
---
Green Tomato and Apple Datsch
Ingredients:
Fine breadcrumbs for dusting
2 cups all-purpose flour
1 tablespoon baking powder
1 teaspoon salt
1/2 cup sugar
1/2 cup tart green apples, pealed and shredded using a grater
1/2 cup green tomatoes, shredded using a grater (or finely chopped if using cherry tomatoes)
Zest of 1 lime
1 tablespoon poppy seeds
1 tablespoon freshly grated ginger
4 tablespoons melted butter
2 eggs with yolks and whites separated
1 cup sour cream
Poppy seeds for topping
Instructions:
Preheat the oven to 375ºF. Grease a 12-inch cast iron pan and dust with fine breadcrumbs. Next, sift together the flour, baking powder, salt, and sugar. Add to this the shredded apple, shredded green tomato, lime zest, poppy seeds, and grated ginger. Stir so everything is thoroughly mixed. Make a valley in the center of the mixture and add the melted butter.
Beat the egg yolks until light and frothy. Add the sour cream. Then pour this into the dry ingredients and whisk together until smooth. Beat the egg whites until they form stiff peaks and fold this into the batter. Pour the batter into the cast iron pan. Scatter poppy seeds on top.
Bake for 25–30 minutes until fully risen and golden. Remove from the oven and let cool to room temperature.
---
Sara and I have described green tomato and apple datsch as a slightly sweetened spongecake with a bit of crunch from the poppy seeds. It's a wonderful dessert that reminds us of our family's Pennsylvania Dutch heritage and also connects us with our neighbors. When they gave us green tomatoes, we returned the favor and presented them with slices of homemade datsch.
Cold weather has finally arrived in Pennsylvania. It was in the 20s this morning, frost is on the ground, and there is scarcely a garden to be seen now. Yet, as we gather together this week, let us pause to appreciate the warmth of the kitchen full of wonderful food, good fellowship with family and friends, and the beginning of the holiday season.
Happy Thanksgiving from our Hagenbuch family to yours!