Hi Jane! I'm Your Cousin Mark!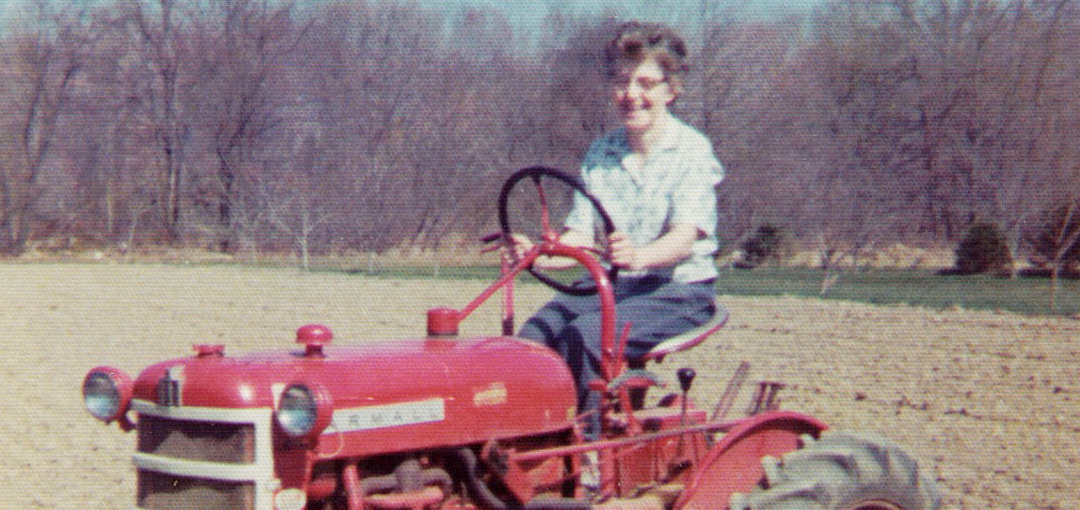 In 2010, we had to make the difficult decision to have Mom and Dad reside at Elmcroft Assisted Living facility in Lewisburg, Pennsylvania. Mom had a stroke the year before and could no longer take care of Dad (who always said, "Well, at least I can boil water!" Mom would laugh and disagree!). They settled in and after a few days when I visited them, the manager told me that there was another Hagenbuch there—Jane!
I racked my brain and finally figured out it was Ella Jane Hagenbuch, whom I had met in about the year 1981. I had visited Jane and her mother, Hannah Elizabeth (Pauling) Hagenbuch, at their home outside Montgomery, Pennsylvania in an area called Maple Hill. Jane's mother, who went by "Elizabeth," was still living at the farm which her husband, Paul Merton Hagenbuch, had worked for 30 years or so. The 1920 census records that Hannah Elizabeth Pauling was a music teacher and was 19 years old at the time. The 1930 and 1940 censuses record Elizabeth, then married to Paul Hagenbuch, as "wife." But, in 1950, she was again teaching in an elementary school, most likely music.
Paul died in 1976 and after the death of Elizabeth in 1991, Jane had gone to live at the assisted living facility. You see, Jane was mentally disabled. She certainly could take care of herself in most ways but when her mother passed away, she needed daily care for her life to be comfortable. Jane was a joy to talk to, although she didn't really remember me each time I would visit with her.
So, on that day when I saw her again after almost 30 years, I greeted her with, "Hi, Jane. I'm your cousin Mark. Do you remember when I visited you and your mother about 30 years ago at your home?" I remember that she laughed, and she held out her hand. Although I knew she did not remember me, we had a conversation about, well, just things! Jane was always so pleasant, laughing, and smiling.
After Mom died in 2011 and we moved my father to an assisted living facility very close to our home here in Dillsburg, I did not visit with Jane again. Oh, I should have! But, life gets away from one and I didn't think about her until just a few weeks ago when Andrew sent me a copy of her obituary and the reference I had made of her in an article from August of 2016. The article was about the modes of transportation that our relatives have taken over the years. I had included a photo of Jane on a tractor from 1976, the year her father had died. I am saddened that I had not been in contact with Jane during the past 10 years.
Ella Jane Hagenbuch was born on July 23, 1932 to Paul Merton and Hannah Elizabeth (Pauling) Hagenbuch. Her direct Hagenbuch line is: Andreas (b. 1715) > John (b. 1763) > Johann Conrad (b. 1790) > John Phineas (b. 1812) > Henry Emerson (b. 1857) > Paul Merton (b. 1897) > Ella Jane (b. 1932). This makes Jane my fifth cousin. There have been several articles written about this family, notably in April of 2022 when I wrote about Henry Emerson Hagenbuch's brother, George Eli Hagenbuch, and his family.
Paul Merton Hagenbuch's father, Henry Emerson Hagenbuch, was born in 1857 and died in 1931. In 1886 he married Martha Jane Best, and they had three children: Mary Ellen (b. 1887, d. 1952), Harry Hilkert (b. 1891, d. 1944), and Paul Merton (b. 1897, d. 1976). Henry and Martha had a farm outside Allenwood, Pennsylvania (which is south of Montgomery, southeast of Maple Hill, east of Elimsport). They are buried at the Allenwood Cemetery.
Mary Ellen (b. 1887) married Charles Reaser in 1912. They farmed near Elimsport, Pennsylvania and had 11 children. Some of their story was featured in a May of 2022 article. Mary died in 1952 and Charles died in 1961. They are buried at Green Lawn Cemetery in Montgomery, PA. Our Hagenbuch family knew the Reaser family because they were members of Future Farmers of America at Warrior Run High School, Turbotville, PA when my brother David was a member of that organization. However, we did not know at that time that we were related to the Reasers. Here is another interesting connection which I just realized. A great granddaughter of Charles and Mary, Helen Reaser, was an employee of Elmcroft Assisted Living in Lewisburg where my parents and Jane were both residents. Helen was always very kind to my parents and we knew we were related. Yet, I did not realize that she was also related to Jane—a first cousin twice removed. Connections, connections!
Harry Hilkert Hagenbuch was born in 1891. He married Ruth May Bixler and they farmed, possibly the same farm as his father Henry Emerson. Harry and Ruth had one daughter, Elizabeth Ellen (b. 1921, d. 2016) who married George Muscalino in 1943. Ruth was a registered nurse and George was a plumber. They lived in Bridgeport, Connecticut and are buried at Pine Hill Cemetery, Southbury, Connecticut. They had no children.
As mentioned, Paul Merton and Elizabeth (Pauling) Hagenbuch were the parents of cousin Jane. They also had another daughter, Helen Elizabeth, who was born in 1938. Helen died in a car crash in 1958. I remember when I visited with Jane and her mother back in circa 1981 it was still difficult for them to talk about this tragic incident. Helen's death certificate states that she crashed into the back of a truck and died of head injuries. She was attending Lycoming College in Williamsport at the time; a bright future cut short!
Jane's obituary reports that she passed away at Riverwoods Senior Living which, like Elmcroft Assisted Living where I had visited with her, was located in Lewisburg, PA. Jane is buried with her parents in Montgomery, PA. I do wish I had taken the opportunity to stay in contact with Jane after my parents were no longer at the Elmcroft facility. She leaves me with fond memories of a Hagenbuch lady who enjoyed her life despite personal trials and a family tragedy. Rest in peace, cheerful Jane.