Discovery: Bible Owned By Daniel Hagenbuch (b. 1803)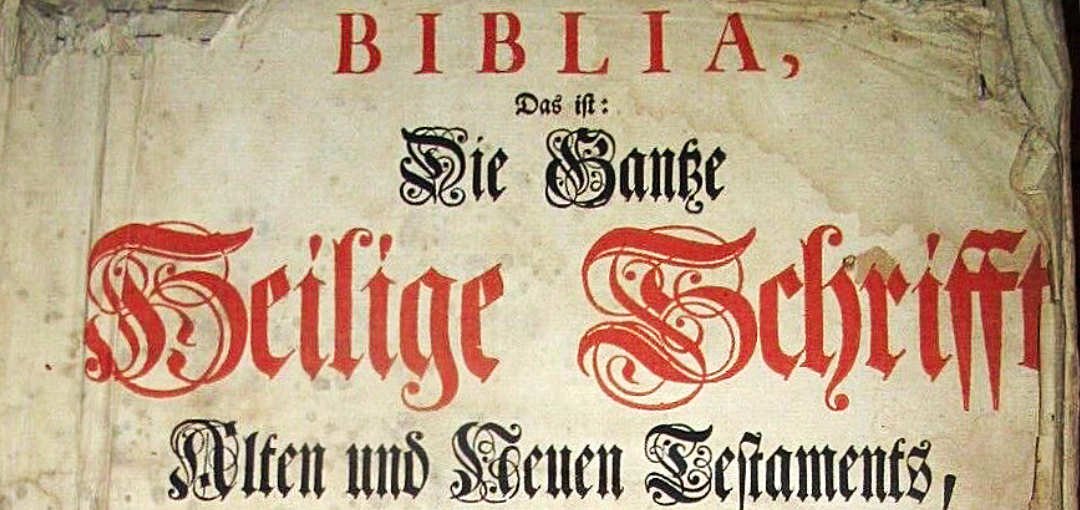 Recently, my father, Mark, and I received a message from Patrick Donmoyer notifying us of a German Bible from 1798 that was for sale on eBay. Patrick is the director of the Pennsylvania German Cultural Heritage Center at Kutztown University and author of the book Powwowing in Pennsylvania. In one picture of the Bible, he had noticed some writing in Pennsylvania Dutch, which he translated it into English. It read:
David Heckman bought the book at the auction of Daniel Hagenbuch on the 24th of March 1882 for 325 cents.
After reading the above passage, my father and I wondered: who was Daniel Hagenbuch and why did David Heckman purchase the Bible at his auction? While we both began to look for answers in Beechroots, my investigation focused first on uncovering the identity of David and then connecting him back to Daniel.
David Heckman was born on February 18, 1827 in Bushkill Township, Northampton County, Pennsylvania to Jesse Adam and Eva Moyer (Meyer) Heckman. On June 7, 1851 he married Maria "Mary" Margaret Hagenbuch at Salem United Church of Christ in Moorestown, PA. Mary Margaret Hagenbuch was born on November 25, 1832 and was the daughter of Daniel and Hannah (Steckel) Hagenbuch. Here was the link between David Heckman and Daniel Hagenbuch that I had been looking for.
Daniel Hagenbuch was born on October 15, 1803 in Allentown, PA (then called Northampton Town) to Jacob and Margaret (Romig) Hagenbuch. His line is: Andreas (b. 1715) > Henry (b. 1737) > Jacob (b. 1865) > Daniel (b. 1803). He was the youngest of the couple's children. Daniel's father, Jacob, operated the Cross Keys Tavern which had been started by his father, Henry.
Jacob died in 1811. In his will, he requested that his four living sons—Jacob (b. 1797), Joseph (b. 1799), John (b. 1802), and Daniel (b. 1803)—be sent to school and "be educated sufficiently that they may be able to do respective business." He also asked that they be brought up in the Lutheran church and that they select "trades all of their own choice, none excepted but the Taylors (sic) and Weavers business." In other words, he did not want them to be tailors or weavers!
True to his father's wishes, Daniel became a successful farmer and married Hannah Steckel (b. 1810) around 1827. The couple had six children: John (b. 1828), Jacob (b. 1830), Maria "Mary" Margaret (b. 1832), Peter F. (b. 1835), Daniel Lewis (b. 1839), and Stephen Andreas (b. 1842). Daniel died on March 6, 1876 and Hannah on December 13, 1881. Both are buried at Salem Union Church in Moorestown, PA.
Using the above information, we can begin to craft the story of the book Patrick Donmoyer noticed on eBay. On March 24, 1882, David Heckman went to an auction of Daniel Hagenbuch's estate. There he decided to purchase his father-in-law's Bible for $3.25. While this tale appears straightforward enough, it isn't the full story of the book.
At the top of the page where David Heckman placed his note, there is a bit of handwriting in English. It reads:
John Robert Wolf
Born August 11th 1840
Cristened (sic) Oct. 25th
This text suggests that someone related to John Robert Wolf once owned the Bible. Since Daniel Hagenbuch lacks an immediate connection to the Wolf family, it may be that he acquired the book from a friend or at a local sale after 1840. It is also possible that this wasn't even his personal Bible—one he would have received in his youth and written in using Pennsylvania Dutch.
Another detail that stands out is that David Heckman records that he purchased the Bible at an estate auction in early 1882. However, as mentioned earlier, Daniel died six years earlier in 1876. What seems to have happened is that after Daniel's wife, Hannah, died late in 1881 the couple's estate was inventoried and put up for auction a few months later in 1882.
Noting the numerous letters and other papers stuffed between its pages, the Bible must have remained with David throughout the rest of his life. David Heckman died on March 26, 1913. He was buried at Salem Union Church in Moorestown, PA near his wife. It is unclear where the book traveled after his death, only that it is now in New York according to the eBay listing.
Family artifacts, like Bibles, can reveal important information about people, especially when they are filled with the names of relatives. In the case of this Bible, once owned by Daniel Hagenbuch (b. 1803), we were presented with only a few personal details. Yet, the simple note written by his son-in-law, David Heckman (b. 1827), provides us something just as valuable—insights into the book's journey and a reminder of the connection shared between these two individuals.
At the time of writing this article, the Bible was sold on eBay.