Missing Person: Thomas H. Hagenbuch, Salesman & Telegraph Operator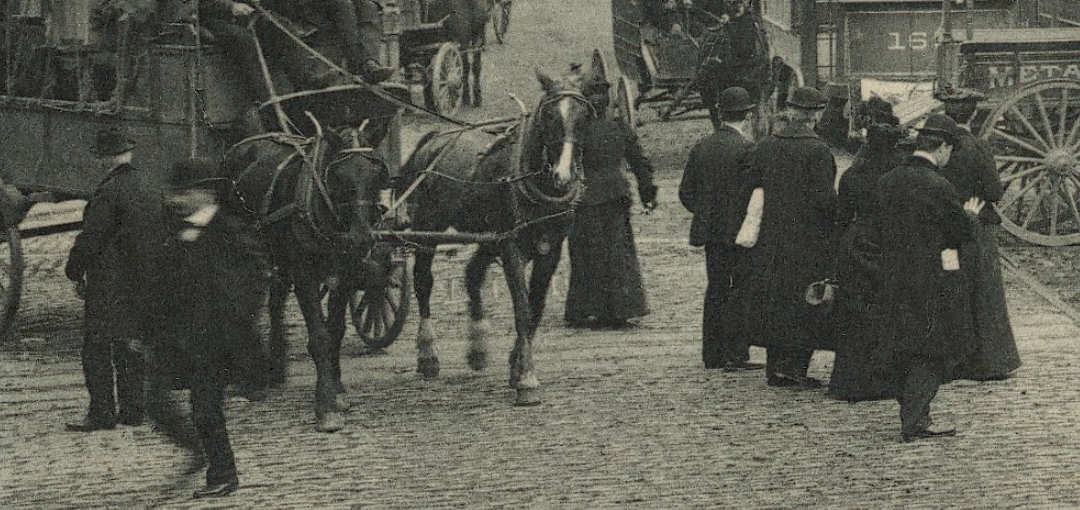 On Friday, August 15, 1902, The Allentown Morning Call ran the following front page headline:
MISSING FROM THEIR HOMES
Mysterious Disappearance of T. H. Hagenbuch of This City
MANAGER OF THE WESTERN UNION
Left Home on Monday Under Great Mental Strain.
The corresponding article described how Thomas H. Hagenbuch had suddenly left town on Monday, August 11th, worrying his family and friends. An initial investigation revealed no foul play or otherwise unusual circumstances. The only reason for his disappearance came from his friends. They stated he was overworked and suggested that he might return home after "a period of relaxation." Months passed without a sighting, then years. Where was he?
My investigation of Thomas began after I purchased a trade card off of eBay. The card advertised Wanamaker & Brown—a Philadelphia-based retailer of men's clothing—and listed the name of one of its salesmen, Thomas H. Hagenbuch. It had been distributed at the 1888 Keystone Agricultural Society Fair held in Kutztown, Pennsylvania. One can easily imagine Thomas, wearing a fine suit, hawking men's clothing to attendees. Interested prospects would have been handed a trade card, so they might remember his name and place of business.
Research shows that during the mid-1880s, Thomas H. Hagenbuch was living in Philadelphia with his brother, Victor E. Hagenbuch, and working as a salesman at Wanamaker & Brown. The retailer was located inside the Oak Hall building at the corner of Sixth and Market Streets in the city. It was here that the pioneering businessman, John Wanamaker, along with his brother-in-law, Nathan Brown, opened a store in 1861. After Brown's death in 1868, Wanamaker built a new, larger store called Wanamaker's Grand Depot. It sold a variety of different goods and become one of America's earliest department stores.
While the history of Wanamaker's is certainly fascinating, what I really wanted to know was more about Thomas, his life, and his disappearance. Thankfully, my father, Mark, had already begun working on his family line back in 2017.
Thomas Henry Hagenbuch was born on September 17, 1851 to Jacob and Elizabeth (Loehr) Hagenbuch in Moorestown, Northampton County, PA. His line is: Andreas (b. 1715) > Henry (b. 1737) > Jacob (b. 1765) > Daniel (b. 1803) > Jacob (b. 1830) > Thomas Henry (b. 1851). By 1870, the census shows that he was working as a telegraph operator in Allentown, PA. In December of 1873, Thomas married Ida Susanna Heist (b. 1853).
The couple had three children together: Joseph Jacob (b. 1874), Edward Allen (b. 1876), and Franklin Thomas (b. 1878). In 1880, the family was living in Upper Saucon Township, Lehigh County, PA and Thomas was still working as a telegraph operator. By the mid-1880s, Thomas joined his younger brother, Victor Eugene Hagenbuch (b. 1859), in Philadelphia. Victor worked as a salesman at Wanamaker & Brown. The two brothers lived together, though it is not clear if their spouses and children resided with them too.
In 1889, Thomas left his position in Philadelphia and returned to Allentown. There he joined Asbury United Methodist Church and began working as a salesman at Menges' Clothing Store which sold apparel for men and boys. He continued in that position for a few years, then worked as a lost car agent for the Philadelphia and Reading Railroad. His duties included locating missing railroad cars and property. In 1896, he was hired as the manager of the Western Union telegraph office in Allentown.
That year, his brother Victor became ill with some form of mental health condition. Thomas took him to the Friends Asylum in Frankford, PA, where he stayed for about six months. Unfortunately, Victor did not recover and was released to his home in Bethlehem, PA. There he died on September 13, 1894—an event that undoubtedly impacted the entire family.
Newspaper clippings reveal other facets of Thomas' life. In August of 1900, The Philadelphia Inquirer reported that he and his son, Frank, went on vacation to Nova Scotia. Then in February of 1901, The Allentown Leader recorded that Thomas formed a company with several other men to operate stage and omnibus lines in Allentown for the purpose of moving people and baggage around the city. The same paper noted in December of 1901 he was running for the Republican nomination for alderman of Allentown's Fifth Ward. In a letter to the editor, Thomas wrote to confirm that although it was rumored he had dropped out of the primary, he remained in the running and on the ballot.
Thomas' youngest son, Franklin, was married to Mabel C. Diehl on July 24, 1902 at Christ Reformed Church in Allentown. The joyous occasion was featured on the front page of The Allentown Morning Call. The couple's nuptials marked an important milestone in Thomas' life too—all three of his sons were now married and leading their own lives.
Therefore, it came as a surprise when just a few weeks later on August 11, 1902 Thomas H. Hagenbuch left town and was never heard from again. In the search for clues, neither my father nor I have found his gravestone or even a death certificate. Yet, I did find some additional articles in newspapers from the time. For example, one year after Thomas' sudden disappearance, The Philadelphia Inquirer published that his family was still looking for him, investigating new leads, and would appreciate any information concerning him.
Then, in May of 1906 his wife, Ida, fell and broke her hip. She was inspired to write her will and included the following paragraph in it:
I direct that my husband, Thomas H. Hagenbuch shall not receive any portion or share whatsoever out of my estate, or in any manner participate or benefit in the distribution thereof, he having willfully and maliciously deserted me on the eleventh day of August, 1902, by withdrawing from our residence without cause. Since said date he has not contributed any sum towards my maintenance and support and his whereabouts since said date are unknown to me.
Almost four years after going missing, Thomas had yet to turn up. Ida died a few months later in November of 1906 and was buried at Linden Street Cemetery in Allentown. The next mention of Thomas came in 1915 when an article in The Allentown Morning Call referred to him as the "late Thomas H. Hagenbuch" implying that he was dead.
What happened to Thomas Henry Hagenbuch? Initially, his family and friends seemed to think he temporarily left to escape work related stress. When he didn't return, his wife appears to have become bitter, perhaps believing he had abandoned her for another life someplace else. However, what appears more likely is that Thomas, similar to his younger brother Victor, may have been suffering from a mental health condition. This could have led him to end his life in a manner that prevented his body from being found or identified, such as jumping into the nearby Lehigh River.
Over the years, my father and I have explored numerous family members, their lines, and their histories. Sometimes we discover uncertainties along the way and, as with the case with Thomas, wonder if something deeply troubling occurred. Even so, the positive legacy of this family group continues through to the present. My father, back in the 1980s, made contact with Edward A. Hagenbuch III, the great grandson of Thomas, and I just recently found Edward III's son and grandson living in Montana. My hope is that we can make contact with them and work together to record the next chapter in their family's history.