Wreaths of Remembrance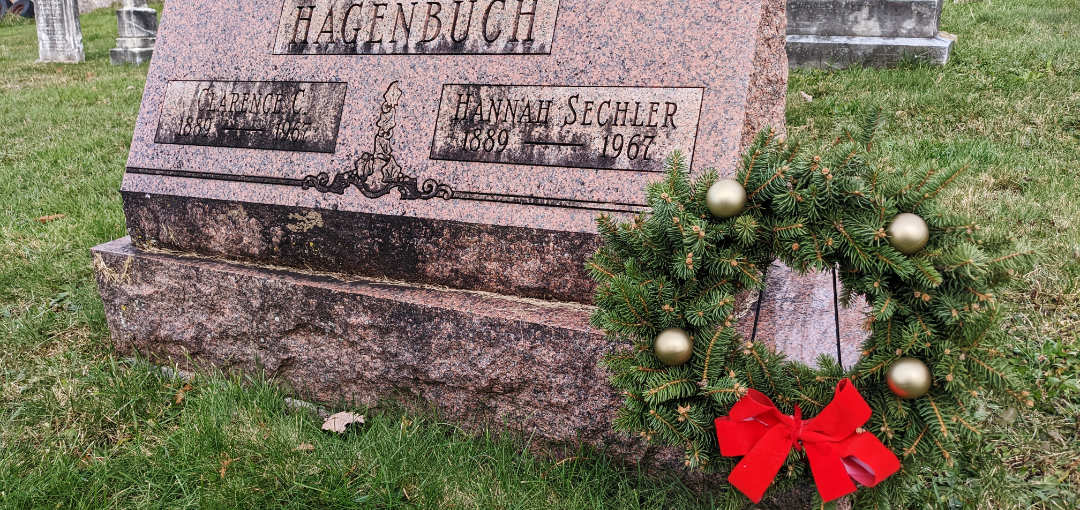 As Christmas approaches, each year for the past several years my wife, Linda, has made evergreen wreaths to give to friends, to hang outside at our abode, and to place on relatives' gravesites. These are wreaths made of gathered bunches of pine, yew, spruce, and juniper greens. Linda learned this skill from her mother, Ethel Irene (Brandt) Gutshall.
Over the years Linda has picked up wire wreath circles and stands from yard sales. She uses the circles and stands over and over again; because once the weather begins to turn back to spring, we visit the gravesites and collect the wreaths and stands that have by then served their purpose for that year. She cleans off the dried-up greens and decorations, then reuses the ornamental items for next year's Yuletide season.
It is always a gratifying feeling to know that Linda thinks enough of our bygone relatives to spend the time to make these beautiful wreaths. When we place them on the gravesites, I always look around at the other graves and think sadly that so many people are forgotten. Oh yes, there are those who have recently died and relatives have placed a wreath or flowers at their final resting place. But, as the years go by, those gravesite rememberers die, the next generation forgets, and the graves become bare forever.
As I watched Linda making wreaths this year for the gravesites of my parents, her parents, my grandparents, other relatives and friends, I wondered when wreath making began. Since the wreath is such an important part of the Christmas holiday, I did some research. I wondered if our early family members in Berks County, Pennsylvania made evergreen wreaths to place outside their homes during the Christmas holidays. I found out that the answer is—probably not. I would date the use of the evergreen wreath here in the United States to around the time of the Civil War, and our Hagenbuch family had mostly moved away from Berks County by then.
However, Andreas Hagenbuch's family and the next two generations of Berks County Hagenbuchs likely did use evergreens to decorate, just not in the wreath form. The Christmas tree arrived in the United States around mid-1800s, along with the Christmas wreaths and Advent wreaths that are used in churches today. The wreath actually appears to date back to 1839 when a Lutheran pastor living near the town of Kassel, Germany created one from a wagon wheel. It was used as an Advent wreath in his church. Soon, wreaths were being made of life-representative evergreens and hung in churches and homes. As mentioned, it took about 20 years for the wreath idea to come to America. Most likely they were in England before this thanks to Queen Victoria's husband, Prince Albert, and his Germanic roots.
In previous years, Linda and I have placed her wreaths on only our closest relatives' graves. This year, it was her idea to branch out and place them at the site of others' final resting places. With loving memories, our daughter Julie placed a wreath on my parents' grave (her Nana and Pop) and also at my grandparents' grave (her great grandparents Pap-Pap and Grandma Hagenbuch). But, we also wanted to remember my great Aunt Julia Hagenbuch who lies at rest nearby my grandparents and whom Julie is named for. My grandparents and great Aunt Julia's graves are near each other, so the one wreath is for all three of these dear ones. Their grave sites are all located in the family cemetery at Oak Grove Lutheran Church near Pottsgrove, Pennsylvania, about which several articles have been written.
Linda's parents are buried at Delaware Run Cemetery, St. John's Church near Dewart, Pennsylvania, where the Hagenbuch reunion was held this year. Along with the wreath which was placed beside her parents' tombstone, Linda's brother, Luther Gutshall, and his wife Crystal attached a "saddle" of poinsettias to the top of the stone. This is a tradition—placing a saddle or spray of flowers to the top of Pastor Roy and Ethel (Brandt) Gutshall's gravestone several times a year. The artificial flora represents each season.
A few weeks ago, Linda asked if we should also place a Christmas wreath at Sergeant Solomon Hagenbuch's grave. Readers may remember an article about Solomon who was killed near the end of the Civil War. The prompting of this was an incident this past summer when I realized there was no U.S. flag placed at Solomon's grave. It was an oversight by those who replace flags in the cemetery for veterans each year. I rectified this by finding another flag and placing it in the Grand Army of the Republic holder that is in the ground beside Solomon's tombstone. Linda remembered this, and I was proud that she wanted to remember our distant cousin this year with one of her beautiful wreaths.
But, Linda had two more wreaths which she had made and wanted them placed at the Delaware Run Cemetery. She asked Luther and Crystal to place those wreaths at the graves of good friends of her parents. They selected Dick and Candy Witmer, and Jim and Nellie "Teeny" Crawford. These folks were faithful members of St. John's Delaware Run Church for many years.
As we journey through Advent to Christmas Day, we see so many types of decorations and ornaments. But, the Christmas tree, the Nativity scene, and the wreath are primary to the belief of Christ Jesus' birth and our eternal life. Christmas wreaths, made of evergreens and placed at the graves, represent the strong faith of our loved ones in an eternal life with the God who sent his son, as a babe, to live among us as a man. May you have a blessed Christmas—a real hope from myself and Linda. Merry Christmas!