One Good Photo: The Heinly Family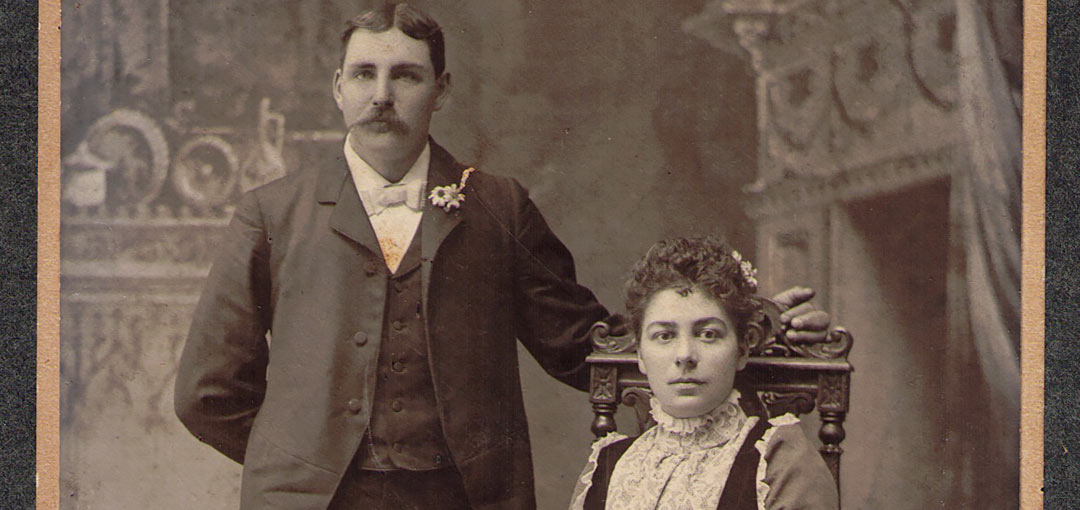 Photographs are so important to genealogists. They give us a window into the world of the past—something that names and dates just can't do. Often, we pull out a photograph of long ago and revel in its detail and beauty. One good photo can lead us into researching and wondering about these people and their lives. It spurs us genealogists into wanting to know more.
This is the case with the wedding photo of Warren William Heinly and Louise Ganiere, which was taken after their marriage on December 13, 1899. Warren's mother was Mary (Hagenbuch) Heinly, the daughter of Charles and Julia (Fosselman) Hagenbuch who were mentioned in a May 2016 article. Warren's line of descent from the patriarch is: Andreas (b. 1715) > Michael (b. 1746) > Jacob (b. 1777) > Charles (b. 1819) > Mary (Hagenbuch) Heinly (b. 1851) > Warren (b. 1873).
Jacob and Mary (Hagenbuch) Heinly were both born in Berks County, Pennsylvania, but as children their parents, David and Hattie (Bennett) Heinly and Charles and Julia (Fosselman) Hagenbuch, moved to Illinois. The families probably knew each other while in Pennsylvania. Jacob and Mary got to know each other very well as they grew up in Illinois and in 1870 they married. Eight children were born to them: Cora (b. 1870, m. Charles Penman); Mary (b. 1871, d. 1875); Warren (b. 1873, m. Louise Ganiere); Eva (b. 1876, m. Wilson Strasser); Irene (b. 1877, m. Harry Bryan); Harrison (b. 1879, d. 1918); Arthur (b. 1881, m. Louise Kopp); and an infant son (b. 1883, d. 1883).
There is an interesting sideline to this story. Mary (Hagenbuch) Heinly died on September 5, 1883 due to the complications of the birth of the infant son who died on September 27, 1883. Soon after, the youngest son, Arthur, was adopted by a local family with the last name of Frost and his name was changed from Arthur Hagenbuch to Arthur Frost. Arthur and his wife, Louise Kopp, raised their children, Alice and Robert, as Frosts instead of Heinlys.
Warren was born July 13, 1873 in Waltham Township, LaSalle County, Illinois. In the 1910 census he is listed as a farmer who is renting the home where he, wife Louise, and daughters Cora and Florence live. Louise died on July 14, 1933 and Warren died on March 9, 1940. They are buried at the Ottawa Avenue Cemetery in Ottawa, Illinois.
Cora Heinly was born on January 30, 1901. She married Merrille Varland and they had one son, Warren LaVerne Varland born on August. 23, 1937. Cora died on December 15, 1980 and Merrille died on March 31, 1969. In 1940, they were farming in the same area as her parents, LaSalle County, Illinois. We know that Warren Varland married Nancy Laugaland and they had two sons: Mark (b. 1965) and Kurt (b. 1967).
Florence Heinly married Wright Finley in 1931, and they had no children. They were also farmers in LaSalle County. Wright died in 1974 and Florence in 1998. The oldest information on this family comes from a booklet entitled Hagenbuch Genealogy which was written by Warren Heinly in 1936. The booklet is small and nicely put together. It is a rewritten publication of Enoch Hagenbuch's history from which Warren then continues up to the time of 1936.
I wondered how this booklet got into my hands. Inside is written the name "Marion Brown." Searching through old letters I came across a July 1980 letter from Marion, who lived in Reading, PA. Marion was born in 1895 and was the daughter of Eva (Heinly) Strasser—a sister of Warren Heinly. In 1980 at the age of 85 she was not well but was willing to send me the booklet and offer more information. Unfortunately, she died in December of 1980, so the visit I had hoped to make to meet her never occurred. She left me the lovely booklet written by her uncle Warren, who is the main subject of this article.
The most recent information about this part of the family came from Florence (Heinly) Finley whom I met in 1980 when traveling with my wife Linda and niece, Melanie Huffman. We were traversing parts of the mid-West that summer and stopped in Illinois, meeting for the first time Chuck and Ethel Hagenbuch, their family, and others of that clan of Hagenbuchs. Along with meeting three of Chuck's and Ethel's sons at that time, we met their grandchildren, one of which was Ben Hagenbuch who was almost four years old that summer of 1980. Ben helped with this article by adding much of the information to Beechroots about the Heinly connection.
Florence wrote me several letters beginning in October of 1980 and the last in 1983. She was a traveler and in 1980 flew east to see first cousins Marion (Strasser) Brown and Alice (Frost) Eichelkraut. Florence had just gotten back from traveling up to Pike's Peak in Colorado. As she wrote in this letter it was her third trip to the peak. "The first one was in 1929, the second 1949 and now this one in 1980." In a letter dated August 1983, Florence was on a tour of Switzerland and Germany. She had hoped to get to the village of Hagenbuch, but she could not get away from the tour to do that.
Returning to the photo of Cora and Florence's parents, Warren and Mary (Hagenbuch) Heinly: Warren is wearing a fashionable suit with a white bow tie. His mustache is trimmed, his hair combed, and in his lapel are what look like two daisies for a boutonniere. What seems to be missing, which was customary for the day, is a pocket watch chain.
Louise is radiant, although unsmiling, with some flowers in her hair and probably holding roses. Her dress is beautiful, having lace and being trimmed with dark velvet. This was taken in a photographer's establishment by the name of "Cole" in Ottawa, Illinois. Warren was 28 years old and Louise was 26 years old.
Photographs like this are the items that make the Hagenbuch archives special. I do not know if I acquired this photograph from Florence Finley or Marion Brown. But, I have saved it after 40 years to share with the readers of this site. Florence, Alice, and Marion were my fourth cousins, once removed. Yet, their Heinly family lives on through this photo of Florence's parents—her mother, Mary, being a great great granddaughter of Andreas Hagenbuch.