What's in a Name?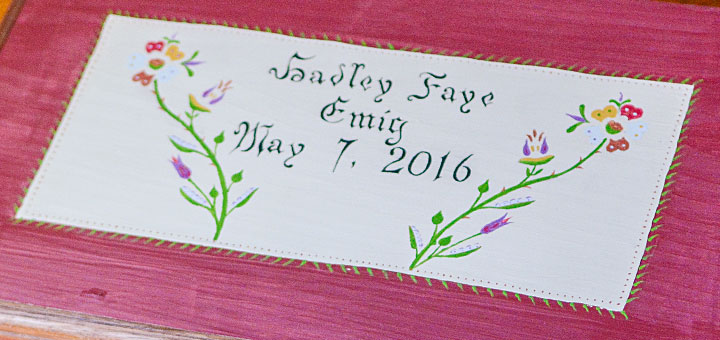 The recent birth of our first grandchild (a sweet, little girl named Hadley Faye Emig; parents – Nelson and Katie "Hagenbuch" Emig) reminded my wife Linda and me how important the naming process of children can be. One of the most important things parents do for a child is to give them a first and middle name that has meaning, tradition, and a proud longevity.
Our daughter, Katie, has told me that she liked the name Hadley ever since she read a book about Ernest Hemingway's first wife, Elizabeth Hadley Richardson. Hadley is also a popular name in Ireland which means "field of heather". And, Faye is my wife's middle name, now shared by her first grandchild. As a genealogist who deals with people's names for much of my daily work, our granddaughter's name is a source of pride: a classy first name and a traditional family middle name; which equals, as I have already stated, "a proud longevity".
When naming our own children, my wife gave me leave to select the names–within reason! However, Hiram and Clarence were not to be considered; Minnie and Magdalena were also nixed. But, in honor of my two great aunts, Kathryn (Katie) and Julia, we named our daughters Katie Irene (Irene being names from both her grandmothers) and Julie Louisa (Louisa being the name of my mother's grandmother, Louisa "Miller" Hilner). Our son's name, Andrew Mark, is certainly self-explanatory: Andrew for our forefather, Andreas, and my name, Mark. These are traditional names that are meaningful.
My siblings and I have middle names that are in honor of family. My sister Barbara's middle name is Catherene, the name of our mother's sister. My brother Robert (Bob) has the middle name Homer (b. 1916) for our father. My brother David's middle name is Clarence for my grandfather Clarence Charles Hagenbuch (b. 1889). And, my middle name is Odis for my maternal grandfather, Odis Guy Faus.
As to our first names, Barb tells me that our parents were expecting to have a boy as their first child. When a girl was born on April 24, 1941, an especially nice nurse named Barbara cared for my mother in the hospital. So, my parents' first child was Barbara Catherene Hagenbuch (now Huffman). Bob was named for a cousin whom my father always liked and respected: Robert Sechler.
I asked my brother David if he knew anything about his naming. He said he thought our parents decided on Biblical names for both himself and me. And, maybe that is why I was named Mark–a Biblical name. But, my mother once told me (tongue in cheek?) that they were hoping for another girl and had the name Marsha picked out. When I turned out to be a boy, they settled on Mark. I'm not sure if I buy this story. But, with my mother gone it's too late to ask questions. Certainly, this is a testament to asking questions of our loved ones before they pass away!
It was traditional in the German families coming to America to name their children after a family member or after the child's baptismal sponsor, which could also be a family member. Andrew (Andreas) is a very common Hagenbuch name, showing up in grandsons and great grandsons of Andreas and follows all the way down to my own son. Andreas's sons: Henry, Michael, Christian, and John named their sons after each other. These four names are repeated so many times in the first several Hagenbuch generations that it is often difficult to keep everyone straight!
In writing our articles for this website and in all the genealogical forms that are kept on each family member, we must assign birth dates to each person so we can tell one Michael from another Michael and one Christian from another Christian. In fact, my son Andrew and I have a running comedic comment, "There are too many Christians!"
Yet another common name is Jacob. In my records I count at least nine Jacob Hagenbuchs, most born in the late 18th and early 19th centuries. Although Andreas did not have a son named Jacob, we believe the name was first used to honor Andreas's brother Philip Jakob Hagenbuch, of whom we know little about.
Female names can be just as much of a problem as male names, although with marriages and the change of the maiden name to married name, it's a bit easier to keep the Marys, Magdalenas and Christinas separated. But, even then it can be difficult as many of the early Hagenbuch girls had the first name of Anna; as it was popular in the 1700s to use Anna as a repetitive first name with the middle name being different.
Researching our family's first names can be very interesting and leads us to know more about what our ancestors were thinking; who, as family and friends, they thought enough of to honor when naming a child. For example, I always knew that my father respected his cousin Robert Sechler. Robert was a WWII Army veteran, worked on the construction of skyscrapers in New York City, and was proud of his family. To me, Robert was always a "hard man" whom I also always looked up to. It was only about 10 years ago in talking about Robert one day, that my father told me that my brother Bob had been named for him. This was a bit of information which gave me insight into my father's thinking back in 1944 when Bob was born and Robert Sechler was serving in fierce fighting in Europe.
So, let's explore a few more first names. Who did my grandparents (Clarence Charles Hagenbuch b. 1889 and Hannah Margaret "Sechler" Hagenbuch b. 1889) honor when they named their eight children: Charles Clarence, Homer Sechler, Wilmer Henry, Lawrence Joseph, Lee Atwood, Florence Margaret, Ellen Lucille, and Mary Kathryn?
My uncle Charles (middle name Clarence) was born in 1915 and was named in honor of his father, my grandfather, Clarence (middle name Charles). However, my grandfather started out life with the christened name of Charles Clarence. As a young man he switched the names and ever after was known as Clarence Charles. But, he went back to the original order in naming his first born; an interesting and somewhat confusing situation!
My father (Homer b. 1916) was given the middle name of Sechler, his mother's maiden name. This was a common practice in that era. So, where did Homer come from? I know the name was not uncommon at that time as other Homers are evident in that period . And, I do know that my grandmother had a cousin named Homer Sechler. However, my grandmother, Hannah, was also a graduate of the Bloomsburg Normal (Teacher's) College, wrote poetry, and loved books. I've always had this thought that my father was named for the famous Greek poet, Homer.
My uncle Wilmer's (b. 1918) middle name of Henry is a family surname. The Henry family was married into my grandmother's Sechler family. As to Wilmer, I believe he had been honored with this name from a first cousin of my grandfather, Clarence: Wilmer Reichard (b. 1897). The Reichards lived not too far from our Montour County Hagenbuchs, and there are several photos of them in the Hagenbuch archives. Clarence's father, Hiram Hagenbuch (b. 1847), was a brother to Emma Frances "Hagenbuch" Reichard (b. 1854) and was the mother of Wilmer Reichard.
The next child born to my grandparents was Lawrence Joseph (b. 1921, d. 1922). The name Lawrence has no known family connection and may have been the name of a friend. Lawrence's middle name is in honor of Joseph Hagenbuch (b. 1852) who was Hiram Hagenbuch's brother.
As for the last son born to my grandparents, Lee Atwood Hagenbuch (b. 1924), I talked to his son Leon the other day and asked the naming questions. He is not sure where the name Lee is from. However, he was told by his brother, Lee Hagenbuch Jr., that the name Atwood came from a poet. This rang true to my previous assumption that my father was named after the poet Homer. However, I can find no poet with the name of Atwood from the time before my Uncle Lee was born in 1924. So, it remains a mystery.
Three daughters were born to Clarence and Hannah Hagenbuch, Florence Margaret (b. 1925) was the eldest. Florence was given the same middle name as her mother, Hannah. As to the name Florence, my grandmother Hannah had a good friend Florence Geringer, as evidenced from an Easter card she received in the early 1900s. Could it be that is where this first name is from? I put Florence's daughter (my first cousin Kathleen "Robb" Shuler) on the trail and she asked the only living sibling, our Aunt Ellen, some name questions. Aunt Ellen thought that her sister Florence was named for a friend of the family, Florence Richards and she was not familiar with a Florence Geringer.
As to our Aunt Ellen's name, she was christened Ellen Lucille and was born in 1926. Upon asking, Kathleen was told by our aunt that she was named for a neighbor lady who was present at her birth – Ellen Schnure. She did not know where the name Lucille was from.
The last child born to my grandparents was Mary Kathryn (b. 1928). Mary is most likely in honor of Clarence's mother, Mary Ann "Lindner" Hagenbuch (b. 1853 d. 1916). And, Kathryn was bestowed on my Aunt Mary as a middle name to surely honor Clarence's sister, Kathryn "Hagenbuch" Roat (b. 1879).
When I started to write this article, I believed it would be rather short, and I was grasping at what details to include. However, the more I wrote the more I wanted to know where some of my closest relatives' names were from. This has led me into gathering more information, specifically on the name Margaret, which my cousin Kathleen told me has been used in her immediate family for five generations. A future article will delve into that unique fact, more information about first and middle names, and research about the naming of children.
To conclude with a short statement: ask questions about the naming of relatives now and the naming of yourself before the information is forgotten or not obtainable. Our first and middle names, along with their histories and traditions, are just as important as our last names.