Sunday School Picnic at Knoebels Grove, c. 1937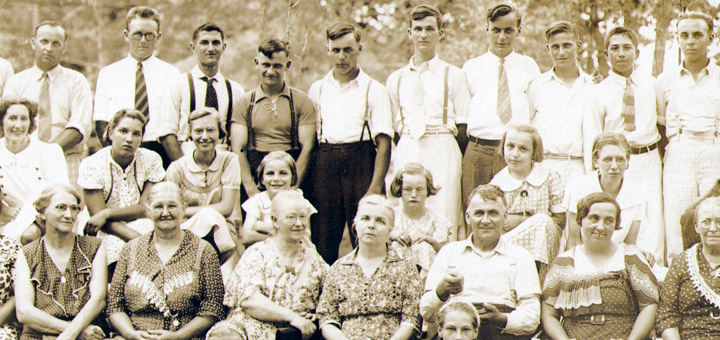 It is a fact that Oak Grove Lutheran Church, which is located between Pottsgrove and Danville, Pennsylvania, was often referred to as the "Hagenbuch Church" during the 1900s.  That is certainly supported by the photograph seen below. It was taken around 1937 at an Oak Grove Sunday school picnic held at Knoebels Grove.
Back row, left to right: Andrew James Hagenbuch, Raymond Joseph Hagenbuch, Bruice Hiram Hagenbuch, Roy Harold Hagenbuch, Franklin Percy Hagenbuch, Homer Sechler Hagenbuch, Norman Edward Hagenbuch, Wilmer Henry Hagenbuch, Howard Tillman Hagenbuch, Clyde Watson Hagenbuch, Raymond Larue Hagenbuch, Lee Atwood Hagenbuch
Second row, left to right: Harvey Yingling, Ida Yingling, Helen Irene Hagenbuch, Arlene Neitz, Ellen Lucille Hagenbuch, Mary Kathryn Hagenbuch, Florence Margaret Hagenbuch, Helen Yingling, Joseph James Hagenbuch, William Paul Roat, Julia Catherine Hagenbuch, Kathryn "Hagenbuch" Roat
Third row, left to right: Israel Hagenbuch, Clarence Charles Hagenbuch, Kathryn Martha Hagenbuch, Mrs. Troxell, Minnie "Keefer" Hagenbuch, Gertrude "Hill" Hagenbuch, Hannah "Sechler" Hagenbuch, Percy Hagenbuch, Emma Charlotte "Tanner" Hagenbuch, Mary Emma "Robbins" Hagenbuch
Fourth row, left to right (kneeling): Gordon Troxell, Pearl Johnson, Emma Johnson, Catherine Johnson
Only nine of the thirty eight people in this photo are not Hagenbuchs; but one of those, Helen Yingling, would later marry Hiram Hagenbuch (not present in photo), son of Franklin Walter Hagenbuch (died 1930), brother to Percy, Israel, Clarence and Kathryn Roat (all present in this photo).  Furthermore, Harvey Yingling had three daughters: Helen, Ida (both in the photo), and Mildred.  In 1942 Roy Hagenbuch (back row) married Mildred Yingling.
The four siblings mentioned previously (Percy, Israel, Clarence and Kathryn Roat) are children of Hiram (Sr.), born 1847 died 1897, and Mary Ann "Lindner" Hagenbuch (Mary Ann was written about in the previous article "One Silver Dollar"). Percy's wife is Gertrude, Israel's wife is Minnie, and Clarence's wife is Hannah. Kathryn's husband, William Roat, died in 1932. They had one son, present in the photo, William Paul Roat.
Of Percy and Gertrude's children, present in the photo are Norman, Franklin and Tillman. Israel and Minnie's children are Andrew, Bruice, and Julia. Their eldest son Walter is not in the photo. Clarence and Hannah's children are Homer, Wilmer, Lee, Florence, Ellen, and Mary. Their eldest son Charles is not present. Hiram Hagenbuch (Jr.), brother to Percy, Israel, Clarence and Kathryn, is not present, but four of his five children are: Roy, Clyde, Helen, and Kathryn. Hiram (Jr.) and wife Bessie "Lake" Hagenbuch's middle child, Paul, is not in the photo.
Emma "Robbins" Hagenbuch was married to Joseph Hagenbuch, brother to Hiram (Sr.). Joseph was born in 1852 and died in 1935.  He was married to sisters: Sarah Robbins who died in 1881 and Mary Emma Robbins (in photo). Joseph and Sarah had two daughters. Joseph and Emma had a daughter and son.  The son was Raymond married to Emma Charlotte (known as Lottie), both in the photo. Their two sons are present at this picnic: Raymond Larue and Joseph James.
Of the Hagenbuchs in the photo there are still three living: sisters Ellen and Mary, and Joseph son of Raymond.
There are many stories and facts about these folks which will be addressed in another article. Here is one small observation made by Bruice Hagenbuch years ago when he and I were looking at this photo. He pointed out that Percy has a big smile on his face and is holding his right hand up in a fist, his left hand is also in an odd position. Lottie, seated next to him is grinning and looking askance as if to say, "Oh Percy!"
Percy was a fun loving Hagenbuch who enjoyed joking around. As Bruice put it, "Looks like he is deviling Lottie." With careful observation there are many other interesting pieces to the photo. This is a photo that is very unique and very important to the Hagenbuch family.