The Last Reunions – End of an Era?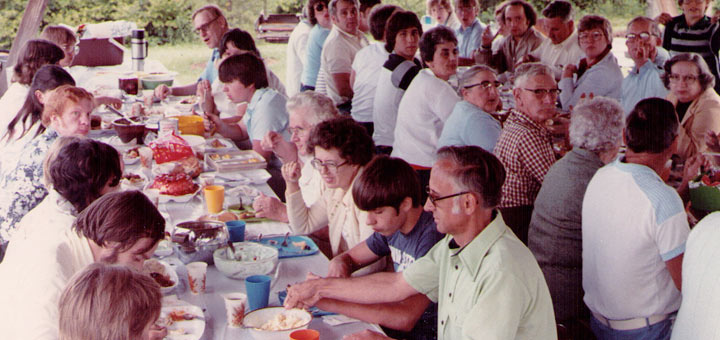 Two articles, published in September and October of 2016, detailed information about the Hagenbuch Reunion which began in 1938. Over the years attendance dwindled with the aging and death of relatives and the movement of relatives away from the Danville area, where most of the reunions were held.
Finally, the last reunion was held in 2014 at Oak Grove Lutheran Church, the "Hagenbuch Church." I did not realize this until just a few months ago when my daughter Julie happened to bump into the reunion secretary, Teresa (Hagenbuch) Hess. Teresa told Julie that she wanted to donate the Hagenbuch Reunion records to the Hagenbuch Family Archives.
Soon after, I gave a call to Fran (Hagenbuch) Van Kirk, who has served as reunion historian for several years, and asked about the reunion. It was then that she informed me that the last reunion was held in 2014. I was ashamed that I had not kept in contact enough with my cousins to know that attendance had dwindled to the point that folks decided not to hold the reunion after that year. I made arrangements, and two weeks ago I met with Teresa to obtain the records. Kept in two binders, the minutes, financial reports, and news articles cover 73 years of Hagenbuch history, highlighting mostly the descendants of William Hagenbuch (b. 18087, d. 1879) and his wife Rebecca (Muffley) Hagenbuch.
The last reunion was held on June 22, 2014 in the outdoor pavilion at Oak Grove Lutheran Church, 130 Hagenbuch Loop, Danville, PA. Only seven people were present. At the previous reunion in 2013, there were 19 people present. When the reunion began in 1938 there were many Hagenbuch clans represented. At the 2013 reunion, descendants of only 4 families from William and Rebecca (Muffley) Hagenbuch were present: descendants of Hiram "Harry" Hagenbuch (b. 1886), of Franklin Walter Hagenbuch (b. 1890), of Luther Hagenbuch (b. 1896), and of Raymond Joseph Hagenbuch (b. 1896).
The records kept by the reunion secretaries over the years are irreplaceable. Beginning with Julia Hagenbuch (b. 1915, d. 2012) and continuing through other Hagenbuch ladies until the last secretary, Teresa (Hagenbuch) Hess, who was assisted by Fran (Hagenbuch) Van Kirk, the reunion information provides names, dates, and other genealogical details that will now be kept safe in the archives. All of those over the years who served as officers for the reunion are to be thanked for their dedication to keeping family relationships and communications strong and positive.
In light of this, I wonder: Can the Hagenbuch Reunion be revived? It should not only be a reunion of the descendants of William and Rebecca Hagenbuch, but should include all descendants of Andreas Hagenbuch and his wives. This site, Hagenbuch.org, reaches many descendants of the first Hagenbuch to come to America. If those of us who read these articles contact others that are Andreas Hagenbuch descendants to organize and attend a reunion, it's expected that hundreds might be there. As a thanks to those who kept the reunion going until 2013 and 2014, it would be memorable to revive the reunion with a group of folks all carrying the DNA of our Hagenbuch forefather, Andreas Hagenbuch.
The Hagenbuch Reunion which began in 1938 and first held at Sunnybrook Park, Danville, PA was most often scheduled for the end of June on a Sunday. Over the years it was also held at Trout Pond Park, Hughesville; Montour Preserve near Washingtonville; Watsontown Park; and the last several years at Oak Grove Lutheran church between Pottsgrove and Danville. At this location, six generations of Hagenbuchs and their relatives are buried, including William and Rebecca (Muffley) Hagenbuch.
I propose that Hagenbuchs and related families convene on Sunday, June 24, 2018 at Oak Grove Lutheran Church – a Hagenbuch church. Check your calendar, and mark it as a date for the largest gathering ever of Andreas Hagenbuch descendants!
Are you interested in attending? Leave a comment below.