A Trip Across America: Family Migrations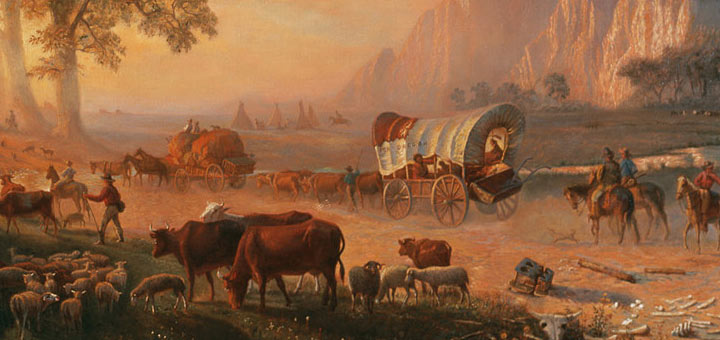 The story of the Hagenbuch family in America is one about migrations. From Andreas Hagenbuch leaving Europe for Pennsylvania in the 1700s to Enoch Hagenbuch traveling west in the 1800s, our family has been and continues to be on the move.
As I have traveled from place to place, I have frequently considered this fact. In 2008, when I relocated from Pennsylvania to California, thoughts of Andreas leaving his birthplace echoed in my mind. Now after spending nine years in "The Golden State," I couldn't help but think of pioneers like Enoch while my wife, Sara, and I road-tripped to the East Coast.
As Americans it might be said that the desire to leave one place for another is in our blood. After all, so many of our ancestors came from elsewhere. My most recent migration across the United States began on May 31st. From the moment we set out, I found myself thinking of settlers crossing the varied and beautiful landscapes of this country.
On day one we found ourselves ascending the Sierra Nevada Mountains and driving through Truckee, California. Here is where the infamous Donner-Reed Party became trapped by snow during the winter of 1846. While their journey was one of hardship and loss, we traversed the mountain passes in a few hours and arrived in Carson City, Nevada by the afternoon.
I couldn't help but marvel at how much travel has changed in the nearly 250 years since our country was founded! Andreas Hagenbuch left his home in what is now southern Germany for Pennsylvania in the spring of 1737. The total trip to Philadelphia took nearly six months and was filled with many dangers.
Andreas traveled west, just as so many who followed him. His great grandson, Enoch Hagenbuch, made the journey west to the American frontier in 1838, nearly 100 years after Andreas. Traveling in a wagon, he went from Pennsylvania to Indiana – a trip that would have taken at least three weeks via rough roads. Settlers going all the way to California had an even more difficult journey in the mid-1800s. The California Trail, which extended from the Missouri River to Sacramento, took between four to six months to travel.
By the 1870s, the completion of the Transcontinental Railroad radically expedited the trip west. Railways made it possible to go from coast-to-coast in about five days. By comparison, my journey across the country took 28 days and was completed in a car, a Kia Soul, which Sara and I lovingly dubbed the "Kia-stoga wagon."
Why did it take so long? Well, unlike our ancestors whose long trips were due to the slowness of their transportation, our trip was purposely lengthened for pleasure. Instead of traveling directly on a highway, which would have only taken a few days to complete, we zigzagged around the United States visiting family, national parks, and other points of interest.
Our Hagenbuch ancestors certainly did not view their migrations as extended vacations, though the adventure of travel very likely had some appeal. We don't know Andreas Hagenbuch's exact reasons for leaving Europe. However, it was probably tied to the opportunities afforded by Pennsylvania at the time: cheap land and religious freedom. A century later, Hagenbuchs such as Enoch would leave Pennsylvania in order to find more affordable land in the West too.
In an agrarian economy, having plenty of land for farming is crucial for a family's survival. Timothy Hagenbuch's 1851 letter to his brother, Enoch, highlighted this fact. In it, he discussed how Pennsylvania's farmland was becoming increasingly expensive and was making families question whether they might be better off in the less populated states of the West.
Given my move east to west and now west to east, the irony of this is not lost on me. California, and in particular the Bay Area where I once lived, has become one of the priciest real estate markets in the world. By comparison, states like Pennsylvania have a lower cost of living and plenty of water (California just went through five years of severe drought).
In addition, unlike our ancestors who left their families to seek out economic opportunity, part of the reason Sara and I left for the East was to have closer proximity to family members. Our families, both immediate and extended, are important to us and being closer to them was a factor in our migration east.
Horace Greeley popularized the phrase "Go West young man, and grow up with the country." Might this phrase, once so core to the American spirit, have finally run its course? It's fascinating to consider such a possibility in light of the changing demographics of the United States.
Whether traveling east to west or north to south, migration has and will continue to be part of the Hagenbuch family experience. Though much of our family is centralized in the Northeast and the Midwest, relatives can be found nearly everywhere. My most recent month-long trip across America is one that I will remember and cherish for the rest of my life. Future articles will explore additional aspects of the trip and how it relates to our shared Hagenbuch history.