The Bedding Connection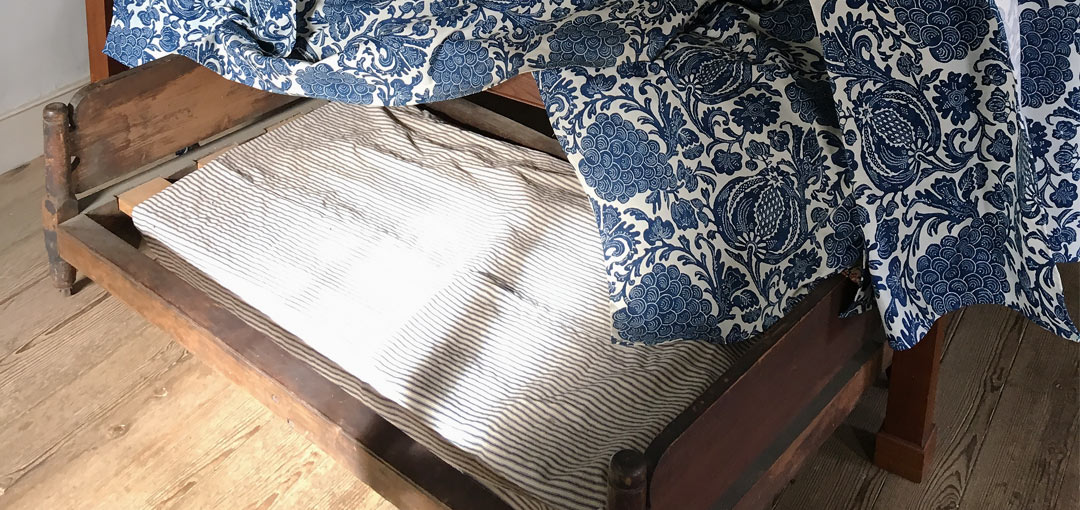 Several weeks ago, we visited friends of ours in Virginia. We stayed two nights. If you are like Linda and me, you never sleep well in a strange bed. In fact, Linda and I are now used to sleeping in separate beds, so it's always a challenge to sleep together!
The guest bed of our Virginia friends was a four-poster and probably a queen size, but still caused us nights of bumping into each other, especially for me as I'm used to splaying out my body. You see, several years ago we added a piece onto our house. Downstairs we added a room onto the back of my library which became the "music room." It houses our grand piano and marimba, and it also has walls covered with old family photos.
Upstairs we added a larger bathroom area and three walk-in closets which connect the master bedroom with another room that was to be a sitting room. However, once it was completed, I decided it was to be my bedroom. Linda and I have very different sleep habits, getting up at varying times of the night; and my snoring certainly is not conducive to her enjoying a sound sleep. So, it made sense that we would have separate bedrooms.
A few days after our trip to Virginia and the accompanying difficult sleep, we visited friends in Maryland and stayed one night. This time we slept in an antique, four-poster bed which was a double sized bed. . The mattress was very soft—so soft that Linda and I gravitated to the middle of the bed as if in a pit. Don't get me wrong. We were grateful that our Virginia and Maryland friends had us stay over, but the Maryland bed was even more of a challenge than the one in Virginia.
After these confessions, where am I headed with this story? Well, "the devil is in the details" as they say. All of this got me thinking about beds of the 18th century and "bedding culture." There are some curious sleeping customs from bygone days that our ancestors may have practiced. Of course, we have no idea if our ancestor, Andreas (b. 1715), and his wives slept together. Maybe I phrased that the wrong way, as we know that he had only one wife at a time!
In Andreas Hagenbuch's will of 1785 a bed is listed to be given to his youngest son John (b. 1763) after his mother dies. This is probably the one bed in which Andreas and his third wife Maria Margaretha slept in together. However, in Andreas' son Michael's (b. 1746) list of effects there is a notation of two beds and a bedstead. The bedstead is probably just the frame without mattresses.
Does this mean that Michael and his wife Eva Elizabeth slept in separate beds or were these extra beds in the house? We will never know. It was common for 18th century folks of the upper class to sleep in separate beds, as they had the money to purchase more than one bed and to have separate bedchambers for husband and wife.
Then we come to Michael's son, Jacob (b. 1777). Jacob died in 1842 and included in his effects are "6 beds with bedsteads." Beds and bedsteads are used interchangeably here, so it is surmised that there are six frames with mattresses. The big question here is: why so many beds?
Were Jacob and his wives sleeping separately (Jacob had two wives but at different times!) and were there still children living with him when he died in 1842? Jacob's and his wife Magdalena's youngest son, Charles, was 22 in 1842, and he was not yet married. Therefore, it is conceivable that one of the six beds was his. Also, Jacob's oldest child, Timothy, never married and probably taught school on the property, so another of the beds was his. Jacob's daughter Esther, born 1807, was cared for by Timothy.  So, it makes sense that another of the beds was hers.  However, once again, we will never know the complete details of the six beds, but Jacob surely had enough places to lay his head.
We can take one more look at Hagenbuch beds by reviewing the effects of Michael Hagenbuch, the last owner of the family homestead in Berks County. Michael was born in 1805 and died in 1855. He was the son of Jacob, mentioned above. There are six beds listed in his effects which was compiled in 1856. Dying at a much younger age than his predecessors, Michael and his wife Abigail most likely had seven of their 11 children living at home when Michael died. This would account for the number of beds in his effects. Common sense leads us to believe that one of those beds was a shared bed for husband and wife.
Beds of the 18th century were made up differently than most of ours today. Instead of a box spring and mattress, there were several layers of feather or straw mats laid on top of each other. These were placed upon a rope frame which formed the sleeping foundation. The ropes on the bed would need tightened, leading to the good night quip: sleep tight and don't let the bed bugs bite.
Some beds were four-posters with a canopy and curtains. The reason behind this was to keep the warmth inside the sleeping area when the curtains were closed. A bed with curtains also provided privacy. Additionally, housed under some of the beds—especially married couples with young children—was a trundle bed. "Trundle" referred to the castors on the bottom of a low bed frame with a thin mattress that could be wheeled underneath the main bed and moved out of the way during the day. Not only was a trundle bed used for children, but it could be utilized for guests.
Instead of a pillow or two, it was common for our ancestors to sleep in a partially inclined position. A wedge type of pillow was on the bed to rest the upper half of the body on. According to bedding historians, there are two reasons for this. First, beds were shorter in those days so propping up oneself on a wedge pillow, or several pillows, would allow the body to fit better in the bed. Second, folks believed they could breathe better while sleeping if they avoided lying completely flat.
Although our Hagenbuch ancestors were not Amish, one of the traditions of the Pennsylvania Germans was bundling. A young man and woman who were courting would be allowed to sleep in the same bed together, fully clothed, and wrapped in blankets. Sometimes a "bundling board" was put between them so they wouldn't touch each other during the night. The idea was that the young couple would get to know each other a bit better, but not that much better! They were expected to talk to each other during the bundling experience and the parents kept a watchful eye on them off and on throughout the night. We have no idea if this was practiced by our Berks County family, but it was certainly known to them.
Another colonial practice was getting up during the night and spending several hours working around the house or even visiting neighbors. Anyone who has experienced the 18th century life with no television, computer, or modern lights knows that going to bed early is natural. Our ancestors probably would "hit the feather mattresses" much earlier than we do and, after 4 hours or so of sleep, be wide awake. Instead of tossing and turning in bed, they would arise and make use of their time, even lighting a lantern and walking to the neighbors for a midnight visit and snack! After a few hours, it was back to bed to be awakened by the rising of the sun and beginning of the day. The term for this is "segmented sleep" and may have been practiced by our early Hagenbuchs and their neighbors.
Noting the above, Linda and my sleep habits may not be so strange after all. We sleep better in separate bedrooms and, most nights, I am not able to sleep past 4 AM. When I come downstairs, Linda has already been awake for a few hours. We sit and talk, we play cards, and then we go back to bed to sleep a bit more. We both sleep in four-poster beds. However, our mattresses are not so soft that we sink into the middle. While my bed has a canopy, it does not have side curtains to close for warmth.
Again, I must state the usual: our genealogical journey isn't just about names, dates, and places. It's just as important to study traditions and habits, so we can better know and understand our forefathers and foremothers. To tell you the truth, researching and learning about our ancestors' daily lives is usually a lot more interesting than detailing people's births and deaths too. The bedding curiosities certainly shed new light on the realities of the past.
Photos of Dill's Tavern's beds are compliments of Northern York County Historical and Preservation Society, Dillsburg, PA. These beds are often slept in by members of the historical society.