Inventory of Michael Hagenbuch's Estate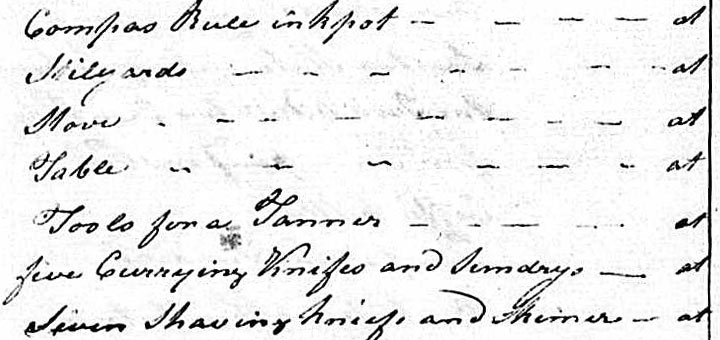 Michael Hagenbuch died in 1809 in Albany Township, Berks County, Pennsylvania. He was born in 1746 and inherited the family homestead from his father, Andreas Hagenbuch (b. 1711, d. 1785).
Michael died without a will. As a result, a full inventory of his estate was completed in order to determine its value. Below is a full record of this inventory. Future articles will examine specific items listed within it and analyze their significance.
---
Inventory of the Goods and Chattels, Rights and Credits of Michael Hagenbuch of Albany Township in the County of Berks and State of Pennsylvania deceased. His estate appraised by us the subscribers 17th Day of April, 1809.
Signed Jacob Kieffer and Philip Braucher
| Item | $ | ¢ |
| --- | --- | --- |
| one still | 36 | |
| one still | 20 | |
| 35 hogsheads with one bottom | 8 | 75 |
| 92 gallons of whiskey with the barrels | 35 | |
| 190 gallons of rye whiskey with the barrels | 61 | 25 |
| kegs and small tubs and trough | 5 | 61 |
| old iron | 1 | 50 |
| 56 bushels of wheat | 56 | |
| old barrels | | 37 |
| crosscut saw, broad ax, twibil ax, shails | 6 | 25 |
| sledge, bar, iron, iron wedges, maul | 4 | 50 |
| six bushels of oats | 2 | |
| one wagon | 10 | |
| one wagon | 60 | |
| two pair of ladders | 3 | 50 |
| two locking chain hand screw | 4 | 50 |
| gears for horses | 12 | |
| chain, grubbing hoe, and tar pot | 1 | |
| cutting box and sundries | 1 | 75 |
| mare | 80 | |
| a mare | 18 | |
| a mare | 80 | |
| one horse | 16 | |
| one mare | 80 | |
| shingles | 1 | |
| two plows and a harrow | 7 | |
| apple mill, trough, and sled | 4 | |
| 160 bricks | 1 | 75 |
| potatoes | 2 | 50 |
| 120 bushels of rye | 80 | |
| windmill, forks, wagon cover, 1/2 dozen of brakes | 5 | 50 |
| two sieves, one barrel | | 75 |
| cow chains and sundries | 3 | |
| 400 bundles of straw | 16 | |
| augers, a square, shears, and sundries | 1 | 50 |
| four scythes, a draw knife | 1 | 50 |
| six hogsheads | 6 | |
| two barrels, two tubs, and sundries | 1 | 25 |
| half hogshead, half barrel whole butter churned | 1 | 50 |
| half hogshead, one barrel | 2 | 25 |
| two barrels with cider ale and two empty barrels | 13 | 50 |
| two stands with hogs lard | 2 | |
| two oil kegs, two bottles, small keg | 2 | |
| one cow | 12 | |
| one cow | 13 | |
| one cow | 7 | |
| one cow | 9 | |
| one cow | 7 | |
| one cow | 7 | |
| one bull | 6 | 50 |
| heifers and oxen | 32 | |
| three calves | 6 | |
| one hog | 5 | |
| nine hogs | 13 | |
| four hogs | 3 | |
| for plaster of paris and grindstone | 15 | 50 |
| for one shaving horse | | 25 |
| two hatchets | 3 | |
| two oil barrels and drum | | 75 |
| musket and sundries | 1 | 12 |
| stove and table | 13 | 50 |
| stove | 8 | |
| one watch | 6 | |
| one clock and case | 9 | |
| one table | 2 | |
| one bed | 5 | 50 |
| one bed | 5 | |
| one Bible | 2 | 50 |
| two books | 2 | 50 |
| three books | 1 | |
| seven books | | 50 |
| five chairs | 1 | |
| lantern slate, a cut looking glass | 1 | |
| one iron kettle and two iron pots | 4 | |
| four frying pans, one pot | 2 | 50 |
| coffee kettles | 1 | 50 |
| lamps and sundries | | 50 |
| buckets, earthen pots | | 50 |
| dresser | | 25 |
| seven pewter dishes | 4 | |
| ten pewter plates | 1 | 50 |
| tinware | | 75 |
| thirteen earthen dishes | | 50 |
| eighteen plates | 1 | |
| two dozen of pewter spoons | | 50 |
| coffee mill, coffee pot, earthen cup | 1 | |
| iron spoons and sundries | | 50 |
| one wheelbarrow | | 75 |
| two hoes and basket | | 25 |
| old iron | 1 | 50 |
| 25 pounds of tallow | 2 | 50 |
| one dozen knives and forks | | 75 |
| seventeen yards of flax linen | 5 | |
| 14 pounds of tow yarn | 1 | 40 |
| raising butts and screws and sundries | | 75 |
| wall and a chest | 1 | 25 |
| wall cards and a chest | | 25 |
| one bed | 2 | |
| bedstead and chest | | 50 |
| one bushel and half of salt | 1 | 50 |
| dock trough and scythe | | 12 |
| line | | 20 |
| beehive with nails | 1 | 50 |
| spinning wheel | | 9 |
| seven barrels each one head | | 50 |
| shaving knife | | 30 |
| four bushels of buckwheat | 1 | 50 |
| 100 weight of gammon | 7 | |
| nineteen bags | 4 | 75 |
| compass, rule, inkpot | | 75 |
| stilyards | 2 | 50 |
| stove | 14 | |
| table | | 75 |
| tools for a tanner | 1 | 50 |
| give currying knives and sundries | 5 | |
| seven shaving knives and shimmer | 3 | |
| three stove plates, earthen pots, and sundries | | 87 |
| table and a cut chisel and brush | | 50 |
| about 150 feet of boards | 1 | 50 |
| 100 feet of walnut boards | 2 | |
| staves and shingles | 4 | |
| leather | 21 | |
| leather | 9 | |
| leather | 4 | 75 |
| Spanish hides | 107 | 56 |
| twelve hides | 18 | |
| razors and spectacles | | 75 |
| 30 acres of grain | 87 | 50 |
| 9 acres of grain | 8 | |
| 4 sheep | 6 | |
| book of debts | 1121 | 61 |
| one bond | 266 | 67 |
| in cash | 118 | 28 |
| | 2812 | 65 |
Berks County
On the 19th day of April 1809, personally appeared before me the subscriber one of the justices of the peace in and for said county, Jacob Kieffer and Philip Braucher, who were sworn according to law and who both clear and say that they appraised the afore effects, articles by articles, as the estate and property of Michael Hagenbuch late of Albany Township deceased to the best of their understanding
Signed Jacob Kieffer and Philip Braucher
Sworn and subscribed before me the day and year above said
Signed Jacob Kimmel