Inventory of Jacob Hagenbuch's Estate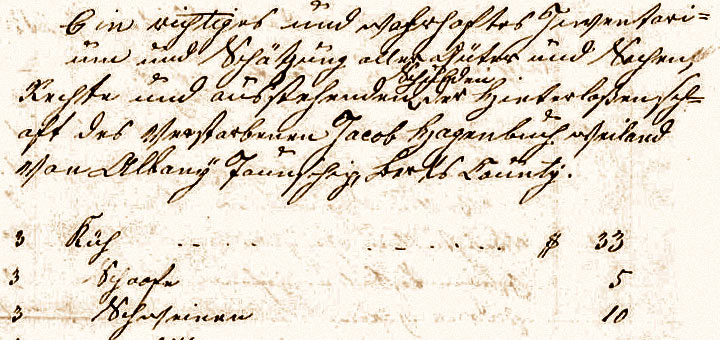 Jacob Hagenbuch died in 1842 in Albany Township, Berks County, Pennsylvania. He was born in 1777 and inherited the family homestead from his father, Michael Hagenbuch (b. 1746, d. 1809), who had received the property from his father, Andreas Hagenbuch (b. 1711, d. 1785) .
Jacob died without having written a will. So when it came time to divide up his estate, a local judge ordered a complete assessment of the property. This document was written in Pennsylvania Deitsch. However, thanks to the gracious work of Alan Keyser, an English translation has been provided below.
The 1842 inventory of the homestead provides a fascinating look into the lives of the Hagenbuch family during the early 19th century. Future articles will examine specific items listed within the document and analyze their significance.
---
A correct and true Inventory and appraisal of the goods, things, rights, outstanding debts, and remaining property of Jacob Hagenbuch late of Albany Township, Berks County.
| Item | $ |
| --- | --- |
| 3 cows | 33.00 |
| 3 sheep | 5.00 |
| 3 hogs | 10.00 |
| 3 hogs | 2.25 |
| 1 scutching mill | 4.00 |
| 1 pleasure carriage | 16.00 |
| 1 pleasure sleigh | 8.00 |
| flax break | 1.00 |
| a quantity of boards | 2.00 |
| 5 bushels of clover seed | 25.00 |
| buckwheat | 4.00 |
| 1 sieve and half bushel measure | .55 |
| potatoes and sugar beets | 12.00 |
| 32 bushels corn | 16.00 |
| oats | 8.00 |
| 2 forks and a manure hook | .50 |
| still, condensing coil, and cap | 2.50 |
| sausage machine and funnel | 3.00 |
| washing machine | .10 |
| a table, a plane, and rake | .50 |
| plaster of Paris | 2.25 |
| for scrap iron | 2.00 |
| 1 patent wagon, brake, plows, and plow irons | 7.00 |
| Carriage harness and others | 5.00 |
| a quantity of flax | 2.50 |
| cooper wood | 1.00 |
| lime bucket and shovel, etc. | .40 |
| a quantity of wheelwright wood | 2.50 |
| a grain cradle | 1.00 |
| a quantity of cooper wood | 1.50 |
| wool and spinning wheels | 2.00 |
| loom and harnesses | 10.00 |
| iron kettles and pots | 2.00 |
| earthen pots | 1.00 |
| water bucket | 1.00 |
| a kitchen cupboard with dishes | 4.00 |
| 1 coffee roaster | .50 |
| 2 bellows, fire tongs, and lamp | 1.50 |
| 3 chests | 1.50 |
| a quantity of pewter dishes and knives and forks | 2.50 |
| 2 wash lines | .25 |
| 6 sickles and baskets | 1.31 |
| 1 piece of tow fabric | .90 |
| old barrels with salt | 1.50 |
| tallow and a box | 1.00 |
| a quantity of trade tools | 5.00 |
| a balance scale | 2.00 |
| saddler's tools | .25 |
| 2 scoop shovels | .40 |
| a fishnet and a rope | .25 |
| 3 spinning wheels and a reel | 1.00 |
| splitting equipment, shovels, and a scythe | 1.50 |
| 3 barrels with vinegar | 4.50 |
| a number of tubs | 1.00 |
| 1 barrel of cider royal | 4.00 |
| lard, pork loin, and sausages | 5.00 |
| a fowling piece | 2.00 |
| 2 scythes | .25 |
| a number of pans | 1.00 |
| 2 hackles | 2.00 |
| a number of bags | 4.00 |
| a dough trough and baking baskets | .60 |
| a chest and a wardrobe | .50 |
| a quantity of linen fabric | 25.00 |
| a quantity of satinette | 15.00 |
| a quantity of hackled flax | 5.00 |
| 6 beds with bedsteads | 30.00 |
| 3 stoves with stove pipe | 18.00 |
| 1 corner cupboard with dishes | 4.00 |
| 1 wood chest and benches | 1.00 |
| 1 table and chairs | 2.00 |
| 24 hour clock and case | 4.00 |
| silver pocket watch | 5.00 |
| telescope | .50 |
| a number of books | 8.00 |
| shingles and a grindstone | 20.00 |
| knife for scraping hides | .50 |
| lime and hair | 2.50 |
| 8 cords of bark | 15.00 |
| a side saddle and meat | 1.00 |
| 25 sides of sole leather | 10.00 |
| 1 copper kettle | 7.00 |
| 29 calf skins | 14.00 |
| 32 sides of leather | 32.00 |
|  a quantity of leather | 10.00 |
| a set of tanner's tools | 3.00 |
| a note with interest | 61.95 |
| book of debts | 440.76 1/2 |
| auction bill | 99.71 |
| cash money | 324.61 |
| a twenty dollar note from the Commercial Bank of Florida | 20.00 |
| |  1,558.29 1/2 |