Settling in Pennsylvania in 1737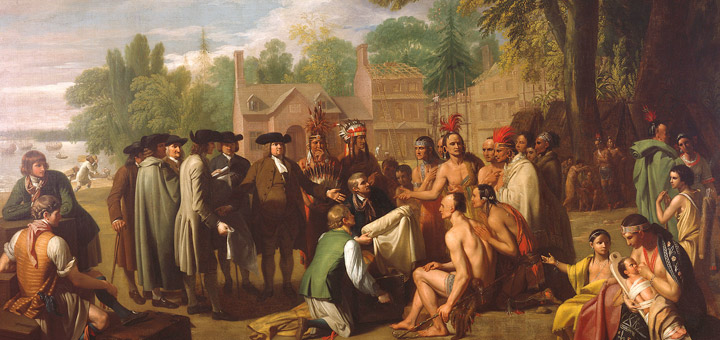 Andreas Hagenbuch and his family landed in Philadelphia, Pennsylvania on September 18, 1737. They had endured many hardships during their months aboard the Charming Nancy, including poor food, disease, and cramped quarters. However, many more challenges lay ahead for the Hagenbuchs.
The Province of Pennsylvania was founded on March 4, 1681. The land was given to William Penn by the English King Charles II to settle a £16,000 debt with Penn's father, Admiral Sir William Penn. Penn had hoped the province would be named "New Wales" or simply "Sylvania." However, the King insisted it be named Pennsylvania (meaning Penn's Woods) in honor of the Penn family.
William Penn arrived in Pennsylvania in 1682. As a Quaker, he valued peace and wanted Pennsylvania to be a safe haven for all people regardless of their religion. True to his beliefs and as a gesture of good will, he signed treaties with the local Lenape Indians and compensated them for their lands.
On his arrival, William Penn also established Pennsylvania's first capital, Philadelphia. He wanted it to be less like the cramped, medieval cities of Europe, and more like a rural English village. Philadelphia's streets were laid out in an orderly grid pattern. The lots were large enough to have gardens and orchards.
That said, the early residents of Philadelphia quickly modified this design. They began subdividing their spacious lots and developing the open spaces. In time, Philadelphia became a densely populated, bustling city.
When Andreas Hagenbuch and his family arrived in Philadelphia in 1737, its population was about 12,000 people. While this seems small by today's standards, remember that it was larger than New York City, which had a population of around 11,000.
By the 1730s, immigrants had been coming to Pennsylvania for five decades. The Penn family and their emissaries actively recruited people from Europe, especially in German speaking areas, to come and settle in the colony.
War, religious intolerance, and poor economic opportunities in Europe all made immigrating to Pennsylvania an attractive prospect. While starting over in a new place came with its own hardships, it gave many the hope of a better life along with the chance of owning land – something Pennsylvania had plenty of.
1737, the year Andreas Hagenbuch arrived in Philadelphia, was also the year of the infamous Walking Purchase. This opened up new areas of Pennsylvania frontier land for settlement, something that would directly affect the Hagenbuchs and other settlers in the years to come.
After William Penn died in 1718, his sons John and Thomas took over the proprietorship of Pennsylvania. They claimed that in the 1680s the Lenape had agreed to sell to the Penns a parcel of land beginning around modern day Easton, PA and extending west as far as a person could walk in one and a half days. However, the Lenape leaders had no memory of such an agreement.
In 1737, the population of Pennsylvania was growing and settlers were already moving into the areas in question. Through the Walking Purchase, the Penns hoped to make these encroaching settlements legal as well open up additional lands for development.
Eventually, the Lenape leaders agreed to a modified Walking Purchase treaty, with the walk beginning around Wrightstown, PA. This began on September 19, 1737. Though it was to be a walk, three excellent runners were chosen: Edward Marshall, Solomon Jennings, and James Yeates. Only Edward Marshall would complete the "walk." He managed to run about 65 miles from Wrightstown to a point near what is today Jim Thorpe, PA.
Not surprisingly, the Lenape felt cheated by the Penns, tainting the good relations that both parties had previously enjoyed. Anger over the Walking Purchase would come to a head during the years of the French and Indian War (1754-1763) and, as we will later explore, impact frontier families like the Hagenbuchs.
Immigrants saw Pennsylvania's land as the key to a better life. And, what began as a trickle of German-speaking newcomers was quickly becoming a flood. The Provincial Council of Pennsylvania became concerned by all of the non-English citizens. In 1727, they passed a resolution requiring all males 16 and older to sign the Oath of Allegiance to the King and the Oath of Abjuration. Andreas Hagenbuch did this on October 8, 1737.
Given the number of Germans in Philadelphia at the time, the Hagenbuchs would certainly have found people to settle with. They may have even have had family or friends in the vicinity. As is common in immigrant communities today, many Germans would have kept separate from the English culture and maintained their own traditions.
It was autumn when Andreas Hagenbuch arrived in Philadelphia. It is likely that the Hagenbuch family stayed in the city through the winter, surviving on what money they had and earning what they could. We know, however, that they were not poor.
Many immigrants arrived in the colonies as indentured servants. Without the means to pay for their own passage, they signed a contract promising to work for their sponsor until the travel costs had been repaid in full. Typically, the term of such contracts was many years.
Andreas Hagenbuch was indentured to no one. During the winter, he must have started through the process to acquire land in Pennsylvania. We know this because on March 25, 1738 he received a warrant for 200 acres of property in the Allemangel, a region in what is today Albany Township, Berks County, Pennsylvania. Within six months of landing in America, the Hagenbuchs already had a place to call home.
In the next article in this series, we will explore Andreas Hagenbuch's efforts to establish a homestead in the Allemangel on the Pennsylvania frontier.