Music of Andreas Hagenbuch's Time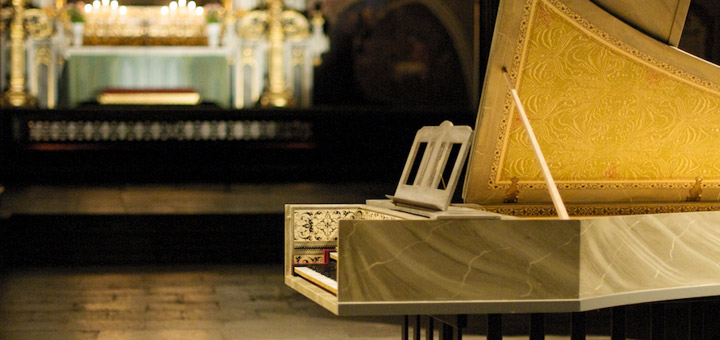 Music can reveal a great deal about people and their culture. This is true whether those people are from the present or the past.
Andreas Hagenbuch was born in 1711 in Lomersheim, Germany. He died in 1785 in Berks County, Pennsylvania. During his lifetime, Western music was undergoing significant changes. Today we understand these as the shift from the ornate Baroque style to that of the more structured Classical.
While living in Germany, Andreas and his family would have been exposed to both secular and sacred music. Outside of the aristocratic courts, the secular music in the early 1700s is best described as folk music. It was the people's music. Songs were rarely written down and, therefore, were passed from one generation to the next.
Common European instruments included the flute and recorder, various horns, hurdy-gurdy, violin and guitar, and dulcimer. Many instruments were considered a luxury, especially those using keyboards such as the clavichord, harpsichord, and organ.
That said, the voice was free, and German folk songs (volkslieder) were widespread. "A Dark Cloud is Blowing In" (Es geht eine dunkle Wolk herein) is a volkslied written around 1646 that was inspired by the destruction of the Thirty Years' War.
Andreas Hagenbuch and his family were Lutherans, as were many Germans in that region after the Reformation. They undoubtedly attended church and were exposed to a vast repertoire of sacred music.
Paul Gerhardt (1607-1676) was a prolific writer of Lutheran hymns. "Put Thou Thy Trust in God" (Befiehl du deine Wege) can be found in a German 1759 hymnal published in Germantown, Pennsylvania. It is likely that the Hagenbuch family heard and sang hymns such as this.
German composer Johann Sebastian Bach (1685-1750) made huge contributions to Lutheran music, basing many of his cantatas on hymns by Martin Luther. While it is doubtful that Andreas Hagenbuch ever heard of Bach, he certainly would have recognized the Lutheran melodies within the composer's music.
J.S. Bach's cantata Oh God, Look Down from Heaven (Ach Gott, vom Himmel sieh darein) was first performed on June 18, 1724 in Leipzig, Germany for the second Sunday after Trinity. Bach based the work on a 1524 hymn by Martin Luther.
Along with his contributions to sacred music, J.S. Bach also wrote secular music, often for wealthy patrons. Much of this included the harpsichord, since the piano was only just beginning to emerge in the mid-1700s. Because of this, it is unlikely that Andreas ever heard the sound of a piano.
J.S. Bach's Concerto for Three Harpsichords in C-Major was written sometime between 1735 and 1745. It represents the apex of the Baroque style of music.
Another German composer during the time of Andreas Hagenbuch was George Frideric Handel (1685-1759). Handel is perhaps best known for his operas. Combining music and theater, his operas were written in Italian and performed for wealthy audiences.
While Handel was a German, he lived most of his life in England. This happened as a result of his employer, prince George of Hanover, becoming King George I of Great Britain in 1714. One of Handel's most successful operas was Giulio Cesare in Egitto (Julius Caesar in Egypt). It premiered in London on February 20, 1724 and included arias like "Da Tempeste il Legno Infranto."
Not all opera was a high brow affair. In fact, the first opera to be performed in Britain's American colonies occurred in New York in 1750. It was a production of The Beggar's Opera by John Gay (1685-1732).
The Beggars Opera had originally debuted in London on January 29, 1728. It was a bawdy story of crime and social ills that was set to familiar tunes of the day. For instance the song "Since Laws Were Made" was sung to the melody of "Greensleeves."
When Andreas Hagenbuch and his family arrived in Philadelphia in the fall of 1737, it was little more than a town of 12,000 people. By comparison, London had around 650,000. American cities were hardly metropolitan and had yet to develop musical styles of their own.
That isn't to say America was devoid of music. To the contrary, it was bustling with diverse music brought by the immigrants who had chosen to settle there. We can imagine English and German tunes being heard in Philadelphia and around Pennsylvania.
"Drink to Me Only with Thine Eyes" was a popular English song during the 1700s. It was sung to several different tunes, including this one:
Once the Hagenbuch family left the city for the wilderness of Berks County, they would have been in frontier areas primarily populated by Germans. We know very little about the music from here during the early 18th century. Though, Rufus Grider gives us some tantalizing insights from the nearby town of Bethlehem, Pennsylvania which was founded in 1741 by Moravian missionaries from Germany.
According to Grider, an attack by American Indians in 1755 was averted by playing a dirge on trombones. Grider also notes that the first organ was installed in a Bethlehem church in 1751. Benjamin Franklin wrote to his wife that "he heard very fine music in the church; that flutes, oboes, French horns, and trumpets, accompanied the organ."
New Bethel Church – where the Hagenbuchs attended in Albany Township, Berks County – likely began as a log structure and lacked an organ for many decades. As was common during that time, hymns would have been sung without accompaniment.
Additionally, Andreas Hagenbuch's 1785 will makes no mention of any instruments. Given the value of something like a violin, it is reasonable to assume that if the family owned something like this it would have been listed.
Yet, we know that frontier families had instruments in their possession. Grider describes that Bethlehem farmers as far back as 1746 "…never failed to carry along besides (sic) their sickles, also their flutes (dauces,) and French horns, drums, cymbals, &c." Even if the Hagenbuch family was without these instruments, they certainly knew people who owned and played them.
While the melodies have changed, music today is just as powerful as it was then. It transcends the centuries and enables us to breathe warmth and color into past. To know the music of Andreas's time is to hear the sounds that he and his family may have heard. This brings us closer to them and helps us to see their lives more clearly.