Special Edition: Ode to a Hagenbuch Father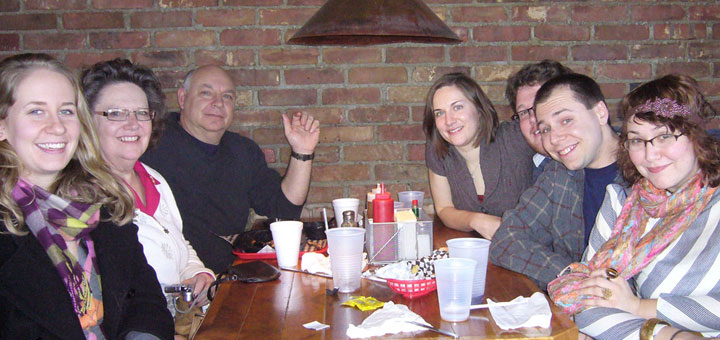 Today is Father's Day, which is celebrated in the United States on the third Sunday in June. It also happens to be the birthday of one special father, Mark Odis Hagenbuch (b. 1953). Noting this coincidence, today my sisters and I honor fatherhood with a few thoughts on the holiday as well as some fond memories of our dad.
One of the first Father's Day celebrations was organized in 1910 by Sonora "Smart" Dodd and held at a YMCA in Spokane, Washington. Dodd's inspiration was none other than the newly recognized Mother's Day. Yet, it would not be until 1966 that a presidential proclamation would be signed officially declaring the national observance of Father's Day in June.
Like mothers, brothers, and sisters, fathers form one of the most basic units of the family. Their importance in our lives cannot be overstated. As Hagenbuchs living in the United States, most of us share an ancestral father, Andreas Hagenbuch (b. 1711, d. 1785).
Andreas was a father to 12 children. While we have no written account of his fatherly mannerisms, we do have his will. Clues in this indicate that he was firm with his eldest son, kind to a daughter who could not see properly, and thoughtful of his youngest son's religious growth. In some ways, Andreas sounds much like a modern father tasked with guiding his children to maturity.
Our father, Mark Hagenbuch, cofounded this website and previously founded The Beech Grove newsletter. For many Hagenbuchs, his half-century passion for genealogy has helped to connect us across distance and generations. He has brought our family tree to life and filled us with the joy that comes from knowing our relatives past and present.
Today, as you honor your father and the generations of fathers before him, please take a moment and share in our celebration of our dad.
Andrew Hagenbuch (b. 1981)
My earliest memories of my father are of being in the truck with him. As my father's only son it was a foregone conclusion that he would teach me about being a man.
When my father cut wood, I was in the back of the truck loading it (Dad always drove a truck, usually an extended cab with an eight foot bed). When he started doing historical reenacting, I was dressed as a colonial boy and went camping with him. When he went hunting and I was old enough, I was given a gun and placed at his side. We even took the hunter's safety training course together, since he never needed it growing up. Dad even claims he sold himself his first hunting license!
In time, my passions diverged from my father's. I got into computers and digital media, opting to skip reenactments and other events. Yet, my father always supported my passions, though they were not his own.
One can only imagine his surprise in 2010 when I started asking about Andreas Hagenbuch. The genealogy bug had bitten me, and it initiated countless hours of discussion between my father and I. Working with my dad to document our family and share it with others has been a hugely fulfilling part of the last several years.
One final memory of my dad I'd like to share is a trip we took in the summer of 2001. Great uncle Charles Hagenbuch (b. 1915, d. 2001), older brother to my grandfather Homer Hagenbuch (b. 1916, d. 2012, and known to me as Pop) had died. My dad offered to take Pop to the funeral in Worcester, Massachusetts. So, three generations of Hagenbuchs loaded into the truck and went on a road trip. I remember getting to the hotel and staying together in a room. Pop was in one bed, Dad had the other, and I got a cot.
We had dinner in the hotel restaurant. Pop was out of his element and didn't know what salad dressing to order for his salad. He said Nana (Irene "Faus" Hagenbuch, b. 1920, d. 2011) always took care of that for him! The "Three Gen Trip" as it came to be known is something I will cherish all my life. Besides being fun, it exemplifies the love my dad has for his family both immediate and extended.
Katie "Hagenbuch" Emig (b. 1983)
As my siblings and I were growing up, Dad would tell us about the long legacy of the Hagenbuch family, take us along to historical reenactments, and identify trees when we walked through the woods. Many of my memories with my father are centered around learning because he always finds a way to make it fun.
I thought of one of these memories when I was visiting with my parents the other day. Dad was holding my newborn daughter, Hadley, and singing a song to soothe her:
"Hurrah! Hurrah! For Southern rights, hurrah!
Hurrah for the Bonnie Blue Flag that bears a single star."
Of course he would choose a Civil War song as a lullaby! It was a sweet moment.
I remembered that Dad came along as a chaperone on my 5th grade class trip to Gettysburg. He had the idea to print out Civil War song lyrics and make a few songbooks for our bus. I wasn't sure that anyone would participate in a sing-a-long. Would everyone think it was a lame idea?
On the way to Gettysburg, he passed out the booklets and stood up in the front of the bus to teach everyone the tunes. To my amazement, everyone joined in! The only thing I remember from the trip is how much fun our bus had singing together as we went from place to place along the battlefield. I always think of that day when I hear "Bonnie Blue Flag", "Dixie", or "The Battle Hymn of the Republic". Thanks, Dad!
Julie Hagenbuch (b. 1986)
When I was a kid–probably 12 or so–my dad told me during a drive home from school that his best friend was my mom. He was closest with her, he said. After that, his best friends were me and my siblings.
As the youngest in the family, I depended on him for many things, one of the most regular of which was getting me to and from school. His truck was a place of conversation–a sort of extension of our home–and after my siblings moved out, it was a place where he and I reshaped what we knew about each other as we both grew older. In the front seat, we'd talk about our days and ideas, our friends and futures.
And no matter where we were, he always had a question to ask, a suggestion, a task to help me learn something new.
One summer when I was a teenager, my dad asked me to meet him outside of the house.
"Get a tin can and fill it with water," he said, "then follow me."
We walked across the yard to the family garden, where he pointed to a row of plants.
"Want to help me water these sweet potatoes?" he said, "They're yours now." He asked me to help care for them throughout the rest of the summer.
This year, I'm living in the country for the first time in years, with a screened-in porch and a yard out back where I can plant a proper garden of my own. Earlier this spring I cubed a batch of potatoes, an eye in each piece, and as I dug them into the ground, I thought of those plants my dad said were mine when I was a kid. He'd thanked me and told me what a good, important job I'd done. He taught me to be proud of my work.
On this Father's Day that's also my dad's birthday, I'd like to thank him for the good, important job he did of being a dad.
My garden's now as tall as my knees from the spring rain.
Happy Father's Day & Happy Birthday, Dad!
Love, Andrew, Katie, and Julie