Joseph Hagenbuch, Liberty Township Farmer: Part 1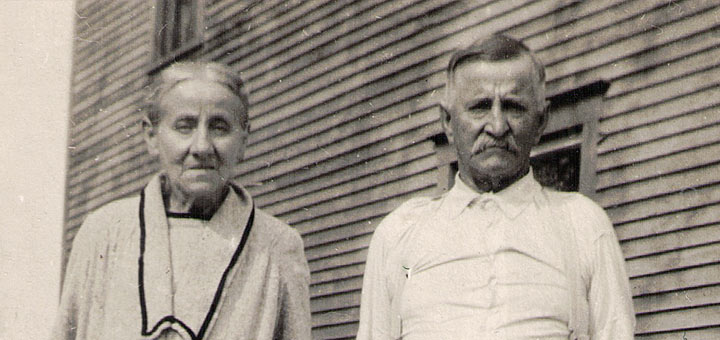 There have been several articles written about the Hagenbuch family church, Oak Grove Lutheran, which is located in Liberty Twp., Montour County, a few miles southeast of Washingtonville and Pottsgrove in Pennsylvania. There has also been an article about the farm that William Hagenbuch (b. 1807, d. 1879, great grandson of Andreas Hagenbuch) owned just down the road from the church. Lying between those two sites is another farm which was owned by William's youngest son, Joseph (b. 1852, d. 1935) and currently owned by Joseph's grandson, also named Joseph.
As written in the previous article on William's Liberty Twp. farm, he purchased it in 1853. Upon his death in 1879 the farm passed to his 5 youngest children: Mary Ann Foust, Hiram, "Tillie" Reichard, Joseph, and Emma Reichard. The eldest son Hiram, who died in 1897, owned his own farm outside Milton, Pennsylvania. After Hiram's death, his widow, Mary Ann (Lindner) Hagenbuch, inherited his portion of the Liberty Twp. farm and within a few years moved there. She then bought out the other four children's portions and passed the farm to her son, Israel Hagenbuch. Hiram's brother, Joseph lived nearby on a farm owned by Fred Robbins, a relative of his two wives who were sisters. The 1910 census lists Joseph renting a farm on Berger Road in Liberty Township. When Joseph was 65 years of age, probably the year 1917, he purchased the "Stump farm" which lies between Oak Grove church and the farm which had been William's.
Joseph Hagenbuch was born on April 14, 1852 in Centre Twp., Columbia County the year before his father and mother, William and Rebecca (Muffley) Hagenbuch, purchased and moved to the farm in Montour County. It seems that Joseph was closest to his youngest sibling, Emma Frances (Hagenbuch) Reichard (b. 1854 d. 1938) as they had several photos taken together during their lifetimes.
Joseph was married twice, to sisters, and is buried between them at Oak Grove Church Cemetery. He married Sarah Elizabeth Robbins on May 24, 1877, and she died Dec. 5, 1881. They had two children: Martha Jane (b. April 6, 1878) and Mary Emma (b. Nov. 28, 1879). Mary Emma was named after her mother's sister, whom Joseph would later marry.
Martha Jane married Charles White in 1905 and she died May 4, 1972. They had no children. They are buried at the New Rosemont Cemetery, Espy, Columbia County, PA.
Mary Emma married Raymond Taylor, also in 1905, and she died on Nov. 25, 1965. Raymond and Mary Taylor are buried at Greenmount Cemetery, Cumberland, MD. They had eight children: Andrew Warren (b. 1906, m. Lorena Walkenshaw), Grace Gertrude (b. 1907, m. Roy Pitzer), Marion Anna (b. 1909, m. Thomas May), Robert Joseph (b. 1913, m. Lola Mease), Ray Wilbur (b. 1915, m. Marion Bozich), George Norman (b. 1917, m. Sara Dean), Claude Linwood (b. 1920, d. 1928), and Charles Edward (b. 1923, m. Kathryn Williams).
For five years after Joseph's wife Sarah died, he raised his two daughters on his own. On Oct. 14, 1886, Joseph remarried to his first wife's sister, Mary Emma Robbins. Mary Emma was born July 30, 1860 and died on April 15, 1942. Joseph and Mary Emma had two children: Annie Frances and Raymond Joseph.
Annie was born on May 19, 1889 and married Charles Masteller in 1910. They had no children. Annie died on Dec. 28, 1911. She and Charles are buried at Dutch Hill Cemetery, Columbia County, PA.
Raymond Joseph Hagenbuch was born July 21, 1896 and died Nov. 2, 1977. He married Emma "Lottie" Charlotte Tanner on June 18, 1921. Lottie was born June 16, 1900, and she died May 19, 1976. They are buried at Washingtonville Lutheran Church Cemetery, Washingtonville, PA. Raymond and Lottie had two sons: Raymond Larue (b. May 26, 1922) and Joseph James (b. Nov. 25, 1927).
Raymond Larue, who was always referred to as Larue, married Dawn Rosemarie Shultz on May 1, 1948. Dawn died May 28, 1984. In 1987 Larue remarried Lera (Laidacher) Hagenbuch the widow of his second cousin, Lee Hagenbuch who had died in 1985. Larue died Oct. 8, 2011. He and Dawn are buried at Washingtonville Lutheran Church Cemetery near to Larue's parents, Raymond and Lottie Hagenbuch. Larue and Dawn had three daughters: Patricia Ann (b. 1949), Linda Marie (b. 1952), and Susan Louise (b. 1960).
Patricia married Larry French in 1969. They have one daughter, Michelle, who was born in 1971. Michelle has one son, Adam Buttaccio, and is now married to Drew Hammond.
Linda is not married. She has a great interest in family history and has collected photos and stories about her family line. Several of the stories will be the subject matter of part 2 in this series on Joseph Hagenbuch.
The youngest daughter, Susan, married Paul Shane Fidler in 1979. They have two sons: Jesse (b. 1981) and Kristopher (b. 1984).
Raymond and Lottie (Tanner) Hagenbuch's youngest son, Joseph "Joe" James Hagenbuch, married Bernice Jean Bennett on Jan. 19, 1958. Bernice died in 2013. They have two daughters: Teresa Lynne (b. 1963) and Lisa Kay (b. 1966).
Teresa married Neil Hess in 1988. Neil for several years has served on the Oak Grove Church council. They have two daughters: Kelsey (b. 1995) and Katie (b. 1998). Lisa married Andrew Jones in 1991. They have two daughters: Mallory (b. 1996) and Mackenzie (b. 1997).
Part 2 of this series will highlight stories from this family as shared by Linda Marie Hagenbuch, great granddaughter of Joseph Hagenbuch and his second wife, Mary Emma (Robbins) Hagenbuch.