Book Review: "Washingtonville: Taking a Step Back in Time"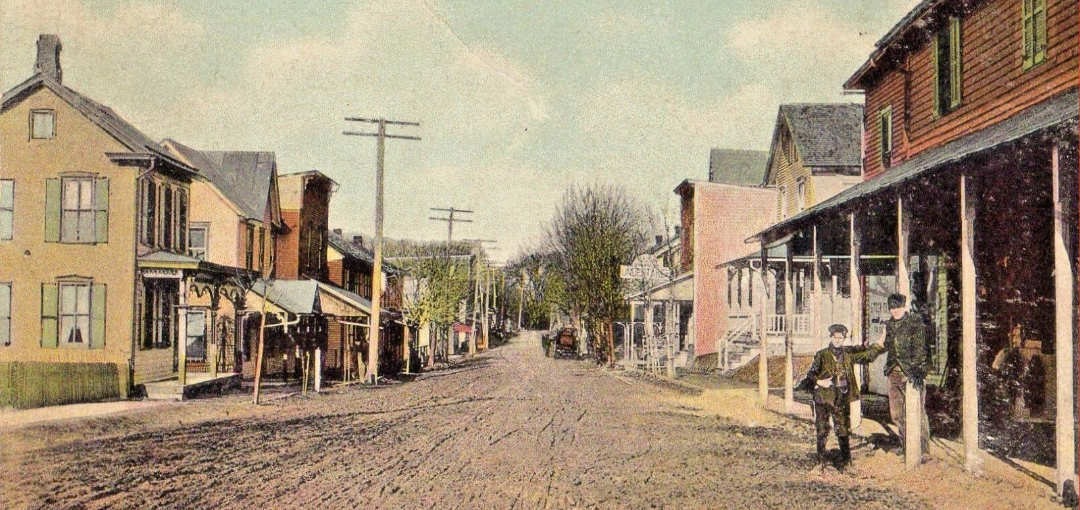 Be prepared, readers, to enter a world of memories and recollections that I possess about the village of Washingtonville. This town helped to form my childhood identity, and my friend and author, John Marr, has written a series of books about it.
An often used phrase in my articles is: "Genealogy is more than just names, dates, and places." Let me clarify that statement for one of those points. Places are very important if the memories of those places link directly to a family's history. That's what happened as I read John Marr's recently published book about Washingtonville—a small village in Montour County, Pennsylvania. To me and my immediate family, Washingtonville holds many memories which directly impacted us growing up. When I drive through Washingtonville, I am going home, in a way, and the landmarks that still exist in town, although changed, generate visions of people and experiences from my childhood.
As a child, Washingtonville was the place where I got my first haircuts; where our family car was repaired; where I received my polio vaccines; and where I experienced my first stage shows, amusement rides, and funerals. When our family went to Washingtonville for any of these aforementioned events, we usually entered the village from the south on Route 54 or Water Street. Before turning onto this route, straight ahead was Berger's Garage and the Turkey Restaurant. Heading into town on the right we would pass, what my teetotaler father would call the "Beer Garden" as well as the barber shop on the left. The Lutheran minister's parsonage came up on the right and Pip Cotner's small grocery store was found on the left. If we continued on to head out of town, the firehouse was on the left. However, before passing the firehouse, we would often turn right and there was the Lutheran church whose minister was shared with my family church, Oak Grove. Finally, on up the hill from the church was the DeLong Memorial Hall and the elementary school.
Each one of these places hold memories which taunt my senses, even after 60 plus years have passed. Berger's Garage reminds me of the smell of grease and oil, and the dirt that always covered owner Leon Berger's face along with his assistant Neil Martz. The Beer Garden was such an unsavory place to my father that I was even afraid to look at it as we drove past! However, not long ago, this local bar has been found to include an original log cabin from the 1700s. It has been moved to the local fair grounds to be preserved and is an important part of local history.
My barber shop remembrances also have smells, sights, and sounds associated with them. The wax of my flat top haircut, the powder and perfume brushed over the finished customers, the buzz of the clippers, and click clack of scissors are strong in my memory. I have a shady memory of the barber, possibly Mr. Shellenberger, talking about a "skeleton in the closet" and all the older customers laughing. The barber opened the closet door and there was indeed a skeleton hanging in there! Which reminds me of Emerson Heffner's funeral home. It's where my great aunts, great uncles, and grandparents lay before their burials. As a child, the smell of sympathy bouquets, the sad hymns I heard playing in the background, the tears, and the sobs all flood back to me when I think of this place.
The minister of Oak Grove and Washingtonville Lutheran was Pastor Elwood Stahl, who lived in the parsonage with his wife Bessie and his two children who were older than me. Pastor Stahl was well known in the area for his Biblical lessons taught through chalk pictures, which he drew during Sunday worship. When I was 11 years old, I became the church organist at Oak Grove and worked with Pastor Stahl in that capacity until I turned 18 and went off to college. Once in a while our family would attend an event at the Washingtonville Lutheran church and that's where I learned the Lutheran catechism with 5 other students who attended that church. Pastor Stahl was the instructor and I remember him fondly as a knowledgeable teacher, my religious shepherd, and my "boss" on Sunday mornings as we conducted the church service together.
Our family didn't buy many groceries at Pip Cotner's small grocery/general store. But, we knew Pip, his wife Esther, and their two children—Elmer and Amy—well, as did everyone in Washingtonville. The fire trucks in the firehouse bring forth memories of a clean smell, and I recall the sight of shiny, red behemoths. Parties were held in the large, attached room beside where the fire trucks waited for a house or barn fire, tragedies that unfortunately would take place to folks we all knew. In about 1960, we would stop at the fire hall after church on Sunday to receive our oral polio vaccine. Up behind the church was the Jane E. DeLong Memorial Hall and elementary school.
When I was a young boy, the Montour-DeLong Fair was held on the elementary school grounds with displays set up in the school. The fair is where I first rode amusement rides like the merry mixer and the parachutes. It's where I played a few of the carnival games, even though my father frowned on me spending my few quarters on such stuff. And, it's where I chased girls and got a few bloody noses with other boys who were chasing the same girls!
In my opinion, the crowning touch in Washingtonville is the Jane E. DeLong Memorial Hall, which had been a Presbyterian church and remodeled by Frank DeLong in 1928 as a gift to the people of Washingtonville. The musical shows and plays I watched on the small stage in that building will never leave my recollections. The balcony was a special refuge for us young boys. Watching from that balcony, we boys laughed at one young man who, during the annual talent show, sang The Air Force Song off key. The basement housed wonders such as a flying helmet worn by Charles Lindbergh and hundreds of old books. This special building has too much for me to write about here, as are so many of my memories about Washingtonville. So, buy the books!
I have written "books" because Volume 2 in the series about Washingtonville, PA has just come out, and it chronicles the life and contributions of Frank DeLong. Volume 1, titled Washingtonville: Taking a Step Back in Time, is sitting beside me as I write this. Matt Jones wrote recently in the local newspaper, the Standard-Journal: "[Volume 1] clocks in at 266 pages and includes an encyclopedic accounting of the businesses, places and people that have shaped the community, between the mid 1800s and the 1940s." It is filled with photos and stories of the many people who once lived and worked in Washingtonville. Pictures of maps, antiques, posters, and other ephemera grace the pages of John Marr's accomplishment.
John's book is a treasure trove of Washingtonville memorabilia and residents who, just like so many other small towns, were related through business, friendships, and DNA! My Hagenbuch and Sechler families are part of Washingtonville's story. Reading this book triggered so many memories, some of which I wrote about at the beginning of this article. But, nothing beats having your own copy of John's book to browse through—over and over. Even though you may not have lived in the Washingtonville locale and are not familiar with this part of Pennsylvania, it is a mirror image of many small towns across America where our ancestors lived and prospered.
The title of John's new book, Volume 2 in the series, is Frank DeLong and Washingtonville, The Village that Captured His Heart! You can purchase both of these books by emailing John Marr at johncsmarr (at) aol.com or by messaging him through Facebook. His mailing address is John Marr, 2663 Continental Blvd., Turbotville, PA, 17772. John's Volume 3 is in the works too and should be available in October. It is titled: Washingtonville: The Talk of the Town!
To conclude, it is worth noting that our Montour County Hagenbuchs know John's family very well. I went to elementary school with John and his older sister and brother. John's aunt Cleota (Marr) was married to Cyrus Hagenbuch (b. 1905), who was my father's first cousin. All of this is what unique and interesting genealogy is about—people and places that touch and impact our family history.